Reading Public Library, Reading, MA—This year, Reading Public Library (RPL)'s summer reading program for adults has a special purpose. Participants aged 18 and up are invited to log their minutes read (or listened), and when we collectively hit a target number of minutes, a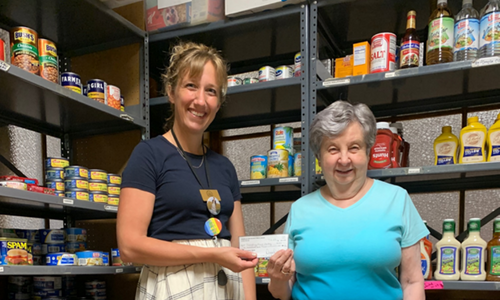 donation to a local charity is activated. When we work, read, or listen together, we can achieve so much good. As of this week, you all reached the first level with 2,500 minutes read. For reaching our first target, a generous donation was made to the Reading Food Pantry.
Don't stop now! Our next goal, 5,000 minutes unlocks a donation to Plant a Tree (for the front of the library), and the final goal of 10,000 minutes will grant a donation to a local summer camp for kids. And remember, when we say reading, that means books, e-books, magazines, graphic novels, AND listening to audiobooks and e-audio!
All participants in the adult summer reading program will be entered into our Grand Prize Drawing: a National Parks Annual Pass which grants free access to more than 2,000 US National Parks and Recreation Areas for one year. Read more than 100 minutes a week for an automatic additional entry.
The Grand Prize and all donations are kindly supported by The Friends of the Reading Public Library, who are celebrating their 50-year anniversary. For more information on the Friends, including how to join, visit www.friendsofreadingpl.org.
You can join summer reading at any point, visit: bit.ly/RPLSummerReading for more information. Just be sure to log your final time by 5:00 pm on Saturday, August 13.
"Read Beyond the Beaten Path" summer reading program is sponsored by The Friends of the Reading Public Library, the Massachusetts Library System, the Massachusetts Board of Library Commissioners, and the Boston Bruins.
❦
The Reading Public Library is committed to evolving together to strengthen communication, equity, collaboration, and learning in our community. Our mission is to be a center and resource for learning and civic engagement. We provide a place and platform of, by, and for the people who can benefit as individuals as well as contribute to the well-being of the community. We work to achieve these goals and commitments by focusing on education, equity, accountability, and access.