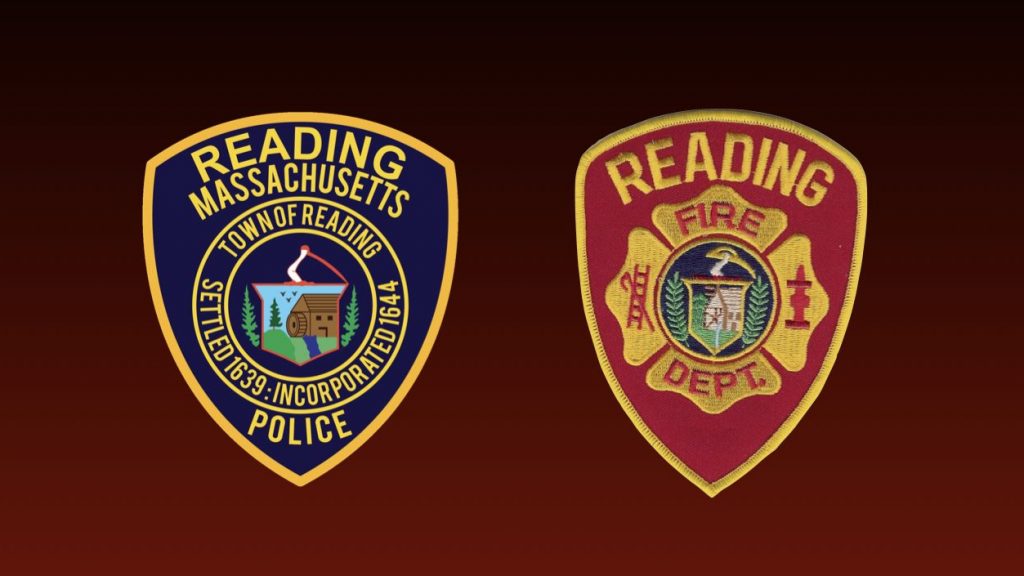 Reading, MA – Excerpts from the Reading Police and Fire Log:
Monday, June 27, 2022
3:18am – Directed patrol – General Way
6:56am – Lost and Found – Money found in the middle of Union Street
8:20am – Fire Box Alarm – Gazebo Circle – contractors working
9:34am – Lift assist Archstone Circle
9:38am – Residential alarm Summer Ave – accidental by contractors
10:25am – Officer assisting with traffic on Walkers Brook Drive
11:13am – Traffic enforcement – West Street
11:53am – Fire Box Alarm – Longwood Place. Water leak, residents evacuated.
12:06pm – Suspicious motor vehicle – Breton Circle
12:16pm – Truck unloading cars at intersection – West Street and County Road
12:45pm – Fire alarm Woburn Street – work crew struck a gas line
1:33pm – Animal call – Loose german shepherd Charles Street
1:50pm – Low hanging wire over Grove Street
4:29pm – 911 hang up Bear Hill Road – Accidental on callback
4:36pm – Fire alarm Main Street – Female fall with head strike
5:09pm – Harassing phone calls/emails Main Street
6:27pm – Lift assist Fairview Avenue
7:07pm – Lowell Street caller concerned daughters boyfriend will come to house
8:18pm – Commercial alarm – Walkers Brook Drive
9:53pm – Kids playing basketball after hours – Birch Meadow Drive
9:55pm – School Alarm at RMHS. Building is secure.
Tuesday, June 28, 2022
1:11am – Commercial building checks – Haven Street
1:17am – Officer checking on vehicle in Austin Prep parking lot
1:30am – Drug violation in motor vehicle on Walkers Brook Drive
3:14am – Suspicious motor vehicle parked in front of driveway Middlesex Avenue
7:39am – Accidental 911- Criterion Road
8:28am – Accidental 911 – Dustin Road
8:54am – Construction workers with no detail officer – Pratt Street
9:24am – Traffic enforcement West Street – 0 citations
9:49am – Motor vehicle stop Willow Street. Verbal warning for unsafe passing
10:45am – Traffic light twisted Willow Street and Lowell Street
11:17am – Traffic enforcement Grove Street
11:20am – Erratic operation Charles Street and Main Street
11:41am – Accidental 911 Walkers Brook Drive
11:43am – Fire box alarm Haven Street
12:10pm – 911 hang up call Town Hall
12:19pm – Traffic enforcement Charles Street – 1 citation
12:49pm – Howard Street development removing trees that aren't supposed to be removed
1:09pm – Traffic control Main Street. Officer out with crew in road
1:25pm – DPW notified of deceased skunk on Warren Avenue
1:45pm – Smoke detector activation James Road
1:48pm – Howard Street blocked by crane at West Street
1:55pm – Traffic enforcement Salem Street and Bay State Road – 0 citations
2:04pm – Male received threatening voicemail – West Street
2:27pm – Disabled cement truck with flat tire Haverhill Street and Rustic Lane
3:49pm – Accidental 911 Haven Street
4:05pm – Male in PD lobby reporting two lost phones
4:35pm – Accidental 911 New Crossing Road
4:39pm – Traffic control South Street. Ongoing issue with speeding motor vehicles
5:04pm – Officers standing by for high school graduation
8:38pm – Traffic enforcement Haverhill Street and Charles Street – 0 citations
9:53pm – Commercial alarm Pond Meadow Drive
10:05pm – Commercial alarm Main Street
10:13pm – Traffic enforcement South Street and Main Street – 0 citations
10:21pm – Sign down South Street and West Street, DPW notified
11:08pm – Residential alarm Landers Road
Wednesday, June 29, 2022
1:01am – Commercial building checks Haven Street
2:06am – Building checks General Way
6:57am – Commercial alarm Walkers Brook Drive
7:15am – Road closed – Manning and Salem Street
7:18am – Road closed – Walnut Street and Hopkins Street
7:19am – Vehicles parked in front of no parking sign – South Street and Hopkins Street
7:36am – Female being followed by a silver Honda SUV
7:53am – Road closed Salem Street Wilson Street
8:26am – Motor vehicle stop Main Street and Avon Street. Verbal warning for registration
8:35am – Commercial alarm Walkers Brook Drive
10:01am – Road closure Village Street and John Street
10:12am – Suspicious male in the library
11:09am – Traffic enforcement Haverhill Street and Symonds Way – 0 citations
11:19am – Low hanging wire – Oak Street
11:27am – Traffic enforcement Franklin Street and Susan Drive – 0 citations
11:30am – Traffic enforcement South Street and Gleason Road – 0 citations
11:36am – Sick or injured raccoon – Oak Ridge Road
12:02pm – Fairview Avenue resident upset about dog poop in her dumpster
12:34pm – Request for lift assist Longview Road
2:46pm – Two trucks double-parked causing traffic – Woburn Street and Lowell Street
2:56pm – RV blocking the roadway – Colonial Drive and Linnea Lane
4:46pm – Female reporting past MVC in parking lot of Stop and Shop
6:15pm – Traffic enforcement Lowell Street and Bancroft Avenue – 0 citations
6:21pm – Arcing electrical equipment Main Street
6:23pm – Two males selling candy bars without permission Stop and Shop
6:31pm – Traffic enforcement Main Street and Veterans Way – 0 citations
6:37pm – Traffic enforcement Westcroft Road and County Road – 0 citations
6:40pm – Caller reporting hit and run – Pearl Street
6:59pm – Contractors working with loud generator – Howard Street
9:00pm – Open 911 call – Arthur B Lord Drive
9:48pm – Light seen in the backyard of construction site Prescott Street
10:19pm – Disabled motor vehicle – Lowell Street and Causeway Road
11:40pm – Report of street sign in the road – Haverhill Street and Camp Curtis