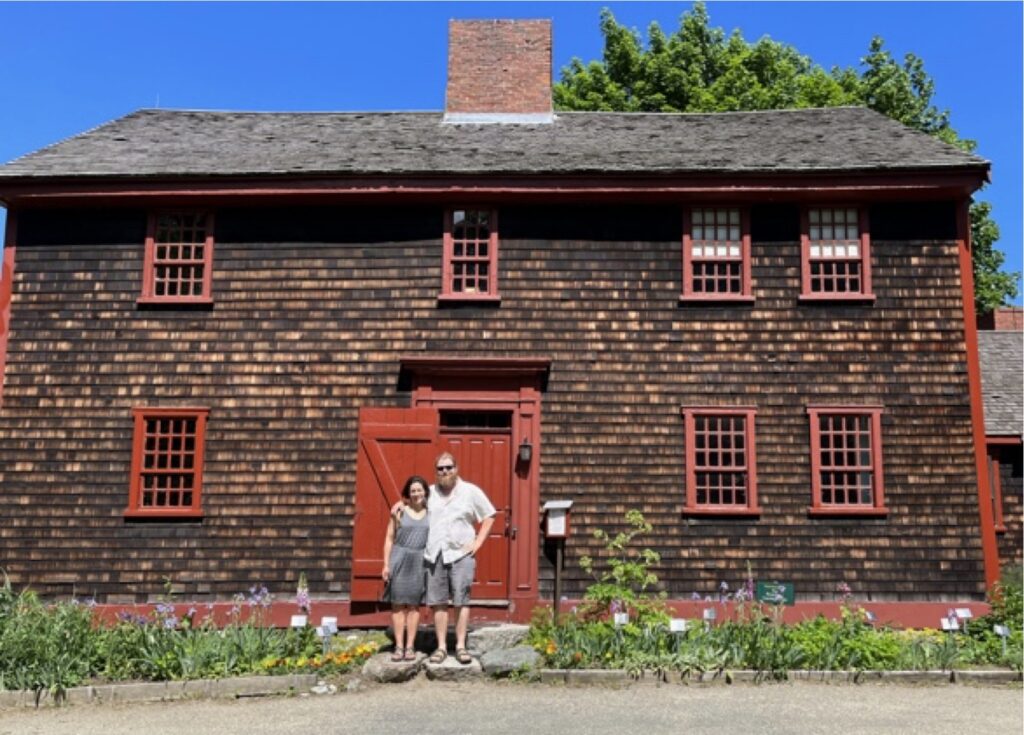 The Reading Antiquarian Society, which owns and maintains Parker Tavern, has welcomed new caretakers – Lydia Slocum and Scott Pedemonte.
Lydia is a native of Concord Massachusetts. After spending time in St. Louis, MO (as a Project Associate in the Preservation Research Office) and in the Pacific Northwest (as a Project Assistant in the Housing Development Office), she returned to Massachusetts for graduate studies. She just completed her Master's Degree in Public Policy at Brandeis University. Congratulations, Lydia. She works in Affordable Housing development and planning and loves learning about local buildings, young and old.
Scott is a native Oregonian. He graduated from the University of Oregon with a degree in biology and received his master's degree in teaching from Concordia University. He has a passion for the outdoors, whether that is swimming, walking, gardening, or learning about permaculture farming. His love of gardening has led him to volunteer with AmeriCorps VISTA and Forest Park Forever in St. Louis, MO, and to work for Portland Parks and Recreation in Portland, OR. He also taught earth science, chemistry, and biology to both middle and high school students in Portland. Since 2020 he has worked at the Arnold Arboretum, currently a plant technologist there, responsible for all aspects of greenhouse management. And we also hear that he is a terrific cook!
We hope that members of the Reading community will take advantage of the chance to welcome Scott and Lydia to Reading when you visit and tour Parker Tavern with them. Parker Tavern, located at 103 Washington Street, is open on Sundays, May through October from 2-5PM. And while you are there, please enjoy the flower and herb garden maintained by the Reading Garden Club. And don't miss the vegetable garden. How many vegetables can you identify?