Plate honors fallen Massachusetts service members and their families
BOSTON – The Registry of Motor Vehicles is now accepting applications for the newly-created Medal of Liberty license plate, which seeks to honor fallen Massachusetts residents who made the ultimate sacrifice while serving in the US military and their families.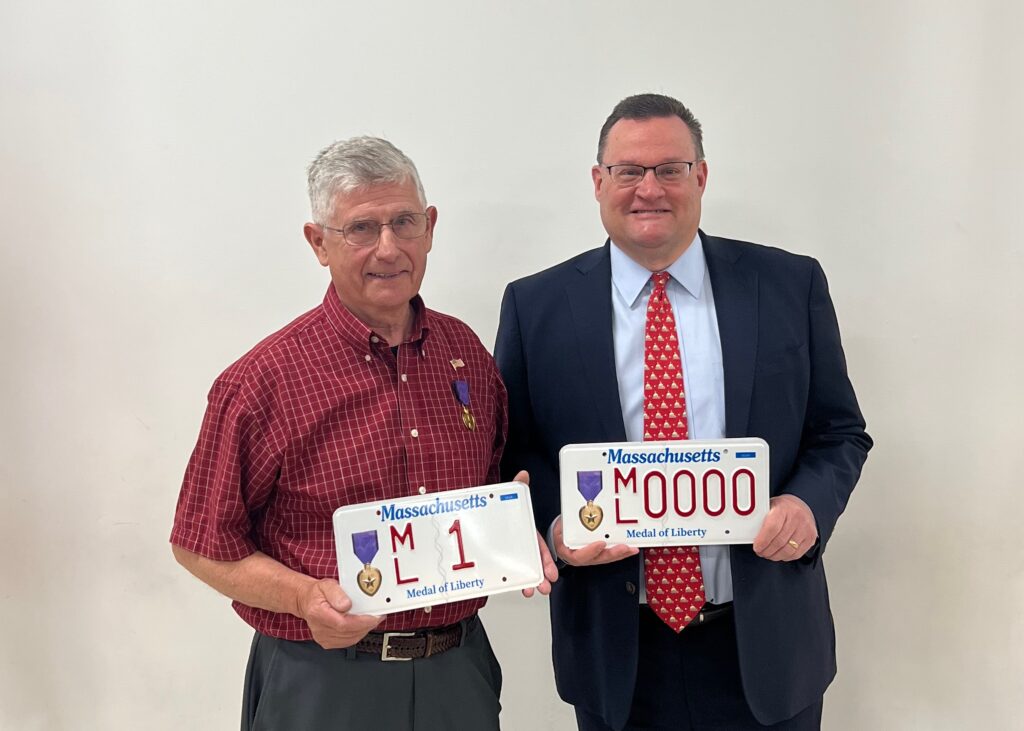 The new plates were unveiled by Registrar Colleen Ogilvie during a ceremony held at the Wilmington RMV branch on May 23. Also participating in the official unveiling were State Representative Brad Jones (R-North Reading), who authored the legislation creating the new plates and filed it with the support and co-sponsorship of State Representative Richard M. Haggerty (D-Woburn); Reading resident Arthur Vars, a 2019 Medal of Liberty recipient who first approached Representative Jones with the idea of creating a special plate; and Colonel Jason D. Oberton, representing the Massachusetts Adjutant General, Major General Gary Keefe.
"The Registry of Motor Vehicles is pleased to offer the new Medal of Liberty license plate to honor servicemen and women who lost their lives while working to protect and serve our country," said Registrar Ogilvie. "The specialty plates, which are available at no cost to eligible customers through an application process, will help family members continue to pay tribute and memorialize the service of their fallen loved ones."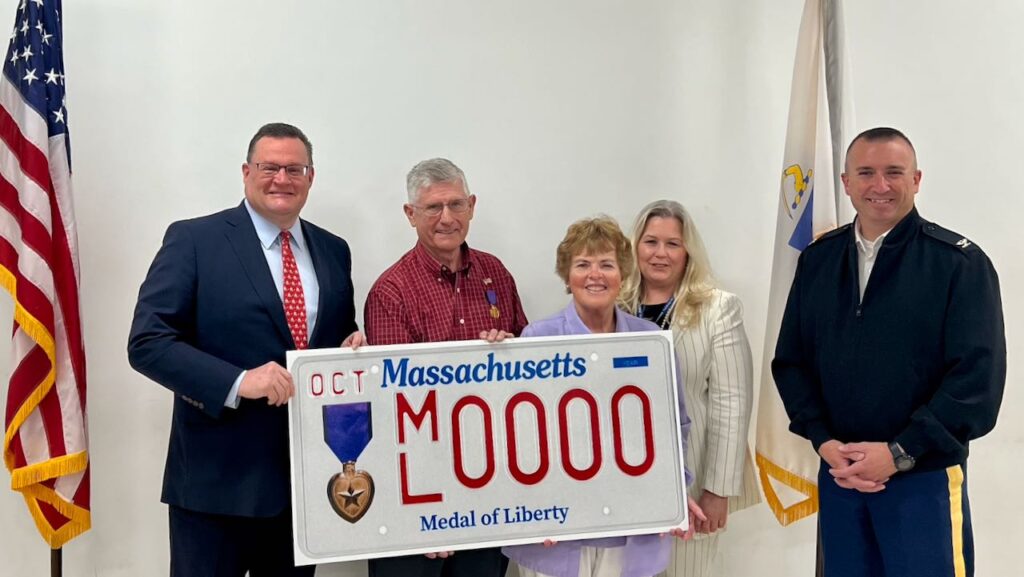 Initially filed as a stand-alone bill, the Medal of Liberty Plate was authorized through a Jones amendment co-sponsored by Representative Haggerty and included in the FY22 state budget that was signed into law last year by Governor Charlie Baker. The special plates are now available exclusively to recipients of the Medal of Liberty, a state-issued military honor created in 2009 and presented to the next of kin of Massachusetts service members who were killed in action, died in service while in a designated combat area in the line of duty, died as a result of wounds received in action, or died as a result of a training accident in the line of duty. The medal is awarded in conformance with the standards and protocol of the Purple Heart, with recipients selected by a three-member commission consisting of the Adjutant General and two field grade officers.
Applications are now available on the RMV website at https://www.mass.gov/doc/application-for-medal-of-liberty-plates. Each qualifying applicant can register one private passenger motor vehicle owned and principally used by the applicant. The Medal of Liberty Plate is a passenger vehicle plate that is renewable every two years but is not available for motorcycles.
"It is fitting that the Medal of Liberty license plate is being unveiled today, just one week before Memorial Day, since both honor those individuals who answered the call to serve in our nation's military and made the ultimate sacrifice," said Representative Jones. "Arthur Vars and his family know all about the many sacrifices made by our nation's veterans, and his advocacy and perseverance on this issue on behalf of our state's veterans and military families is why we now have a new way to honor them for their service."
"We must never forget the sacrifice of those service members who have died for our nation and their families. I hope families apply for this license plate so we are all able to properly recognize the service of these heroes," said Representative Haggerty. "This Medal of Liberty license plate is a fitting tribute and a constant reminder of the price that has been paid for the freedoms we enjoy every day."
Arthur Vars is the nephew of US Army Sgt. Christopher Young Vars, a member of the Greatest Generation who served in both World War II and Korea as a member of Company E, 9th Regiment of the 2nd Infantry Division. Sgt. Vars was officially declared as Missing in Action on November 29, 1950 after his unit was overrun by Chinese forces near the Chosin Reservoir in North Korea. Although he was initially thought to have been killed in battle, Sgt. Vars was actually captured and held as a Prisoner of War in Pyoktong, North Korea, where he died in captivity.
For 65 years, the Vars family never had a sense of closure as Sgt. Vars remained Missing in Action. Finally, in 2015, Sgt. Vars' remains were identified through DNA testing and returned to his family for a proper burial at Woodlawn Cemetery in Everett.
Applications for the Medal of Liberty Plate can be submitted online or by mail. The RMV will mail plates to eligible applicants approximately 20 days after their application is approved.
Application materials required by the RMV include:
a completed application for Medal of Liberty Plates;
a recommendation for the Massachusetts Medal of Liberty form (TAGMA form 3367) approved by the Office of the Adjutant General;
the service member's DD-214, DD Form 1300, Deployment Orders, or NGB 22; and
a completed Registration and Title Application stamped by an insurance company.
Eligible customers can also request a KIA decal to affix to the plate if the service members' DD Form 1300 indicates they were "Killed in Action" in category box 4C.
For more information on the Medal of Liberty, please visit https://www.massnationalguard.org/images/Docs/Medal-of-Liberty-2019.pdf. Additional information about other veterans and military plates offered by the RMV can be found at https://www.mass.gov/service-details/veteran-and-military-license-plates.