Cavicchio Family Spotlight Colonial Chorus Players' Guy and Dolls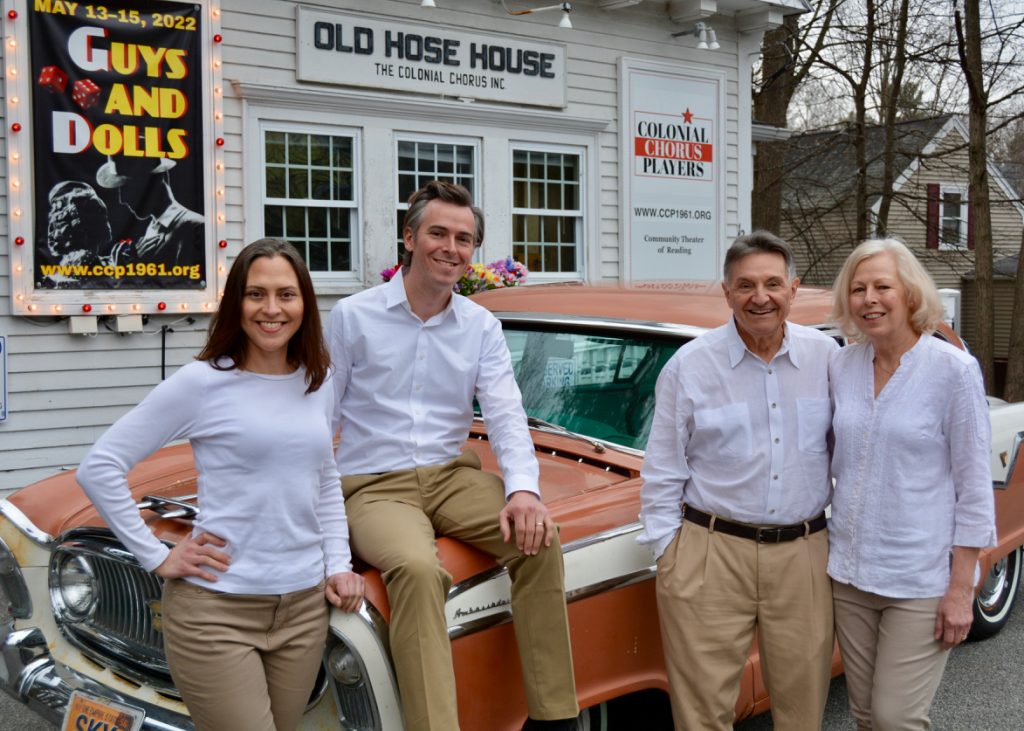 "The family that plays together, stays together" is a catchy saying that the Cavicchio family of Reading has always taken to heart quite literally.
For nearly 20 years, the whole family—parents Ron and Laura along with children Crista and Peter—participated in community theater with Colonial Chorus Players in Reading. From 1982 to 2000, the Cavicchio name appeared in a total of 23 CCP show programs.
Then came another 20-year period when college, careers, and other life changes seemingly put an end to the family's playing days together. But with CCP's upcoming production of the Broadway classic Guys and Dolls, the family has returned to their old playground.
In Guys and Dolls, which runs May 13–15, Peter has the leading role of gambler Sky Masterson—the same role Ron played in 1994 with CCP. This go-round Ron portrays Big Jule, Crista is one of the Hot Box Girls, and Laura is on the set painting crew.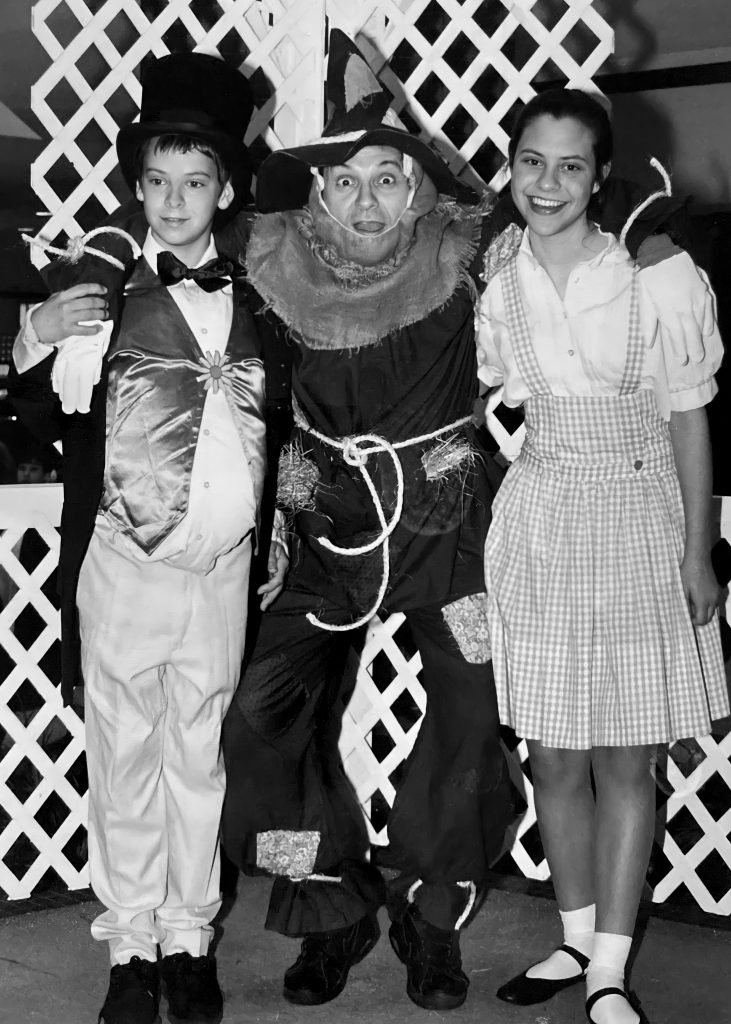 The four Cavicchios sat down together at the Old Hose House on Main Street after rehearsal one recent Sunday afternoon to reminisce about their long history with CCP. "This place always felt like a second home when we were growing up," says Peter, now married and expecting his first child with his wife, Carla.
"I had my first kiss in this room," Crista recalls with a smile. That kiss came from the teen actor playing Rolf in The Sound of Music, in which Crista, then 15 going on 16, portrayed Liesl von Trapp. In that production, Peter played Friedrich von Trapp, Laura was in the ensemble, and Ron served as the show's music director.
It was actually another Cavicchio—Ron's sister Nancy Seavey—who first started performing with CCP in the 1980s. After seeing Nancy in a few productions, Ron decided to audition himself, winning a role in Anything Goes in 1982.
That show was followed by Carousel in 1983, with Ron playing Enoch Snow. When the producers couldn't cast Enoch's youngest daughter, four-year-old Crista was recruited for the part. Then Laura decided to get into the game, becoming involved on the props team.
A production of Annie in 1989 featured the whole family on stage for the first time: Crista in the title role, Ron as Rooster Hannigan, and Peter and Laura in the ensemble.
In 1993 Crista starred as Dorothy in The Wizard of Oz, alongside her father as the Scarecrow and brother as Mayor of Munchkinland, with Laura doing set design and painting. "For me, it was such a wonderful family activity to be able to do it together," says Laura. "Everybody had a place."
When Ron starred in Guys and Dolls the following year, both Peter and Crista remember really loving the show and wishing they could be in it too, though they were too young at the time.
Throughout the many productions, Laura swears she doesn't remember feeling stressed out by late-night rehearsals and school and work schedules. "We just became this theater family," she says.
Ron shares a slightly different recollection, which brings laughter from everyone. "Laura was the one who always encouraged us to do whatever show would pop up," he recalls. "But during production week, she'd be running around getting the kids all together, and she'd say, 'We are never doing this again!' And then six months later, she'd say, 'Ooh, they're doing The Music Man.'"
By the late 1990s, Crista and Peter had headed off to college, and Laura had started seminary to become an ordained minister. A new job as an investment consultant required Ron to travel four days a week.
Continuing to participate in community theater became nearly impossible. Though Ron and Crista returned to CCP in 2000 to perform in the musical Oliver! the family's life in theater appeared to be relegated to videotapes, scrapbooks, and fond memories.
But about three years ago, after two decades away from the stage, Peter started performing again. And then came January 2020, when CCP announced auditions for a new production of Guys and Dolls.
"When I found out they were auditioning for this," Peter says, "there was no question I was going to audition." He wowed the directors and won the role of Sky Masterson. But Peter's return to CCP would have to wait two years because of pandemic-related delays.
The Cavicchios were reunited with their theater family in October 2021 at CCP's 60th-anniversary gala. Ron and Peter surprised the gathering with a duet of "Luck Be a Lady," Sky Masterson's signature song.
Finally, in February 2022, CCP started up the production again but needed to replace cast members who had left during the interim. When Peter told his family about the new auditions, Ron's immediate response was, "Why not? I'll do it!" With Crista and Laura also both onboard, the Cavicchios were back in the game.
How does it feel being back at the Old Hose House? "It feels like it was just yesterday," says Crista. Her dad agrees, saying, "It feels like the old days."
"It's kind of weird being back here as an adult," Peter jokes. "I still feel like I'm a kid when I'm at CCP."

The Cavicchio family is playing together once again, and hopefully, they'll be staying for many more years—and shows—to come.
Guys and Dolls runs one weekend only, with performances May 13 and 14 at 7:30 PM and May 15 at 2 PM at Parker Middle School, 45 Temple Street in Reading. Tickets are $22 for adults and $20 for seniors and students. Visit ccp1961.org for information and tickets.