UPDATE – Construction to start on 16 May 2022 and complete by 3 June 2022.
Each of the three locations should take 3-4 days, starting with Main and Haven locations. Working to minimize disruptions and to create more reasons for patrons to visit these sites.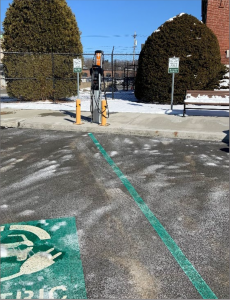 Reading, MA — In 2021, the Reading Municipal Light Department (RMLD) was awarded multiple MassEVIP Public Access Charging (PAC) Program grants from Massachusetts to install a total of five level 2 dual-port public electric vehicle (EV) charging stations within its service area. Three stations will be installed in Reading, and two will be installed in Wilmington.
The grant funding will cover a portion of the cost of the installations. The RMLD will contribute funding and operational support.
Reading Locations
The locations of the charging stations were confirmed by the Reading Select Board following input from the Town of Reading and the RMLD. Locations are as follows:
580 Main Street Parking Lot
Lincoln Street Parking Area (by MBTA station)
Reading Public Library Rear Parking Lot
Current parking policies will remain at each site (example: 580 Main Street maintains a two-hour limit).
UPDATE – Construction Timeline
Construction at Reading sites are scheduled to start on 16 May 2022 and be complete by 3 June 2022. All efforts will be made to minimize the disruption associated with this construction. Details will be added at www.rmld.com as plans solidify.
Community Benefits
This initiative will expand available EV charging infrastructure as well as increase public awareness; both of which are important components to increasing the adoption of EVs. The electrification of transportation is a key component to reducing carbon emissions locally and across the Commonwealth.
Charging stations are an added amenity and are expected to attract more customers to local businesses.
Information and Updates
For more information and updates, please visit rmld.com/public-ev- charging.
Questions may be directed to Charles Underhill, RMLD Director of Special Projects: cunderhill@rmld.com 781-942-6462