Reading, MA — The Reading Cultural Council (RCC) Annual Survey is now open. Let your Cultural Council know how you want us to allocate your funds.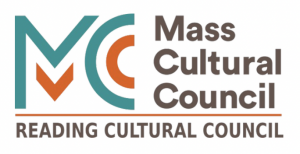 The Mass Cultural Council receives an annual appropriation from the Commonwealth, as well as support from the National Endowment for the Arts for support of the arts in Massachusetts. The Reading Cultural Council is one of 329 local councils who are responsible for disbursing that money to local programs and events. Last year we disbursed $23,500 in grants to local individuals and organizations to support art and culture in Reading.
In order to know what types of programs you would like to see supported we reach out to the residents of Reading with an annual survey. You can fill out our survey by clicking on the link below to let us know what you think.
https://forms.gle/1TWJQD3rxv34J6jE6
This is your Cultural Council, so please take a few minutes to make your voice heard.
About the Reading Cultural Council
The Reading Cultural Council is part of a network of Local Cultural Councils (LCC) serving all cities and towns in the Commonwealth. This is the largest grassroots cultural funding network in the nation, supporting thousands of community-based art, science and humanities projects every year. The Massachusetts state legislature provides an annual appropriation to the Massachusetts Cultural Council, a state agency, which then allocates funds to each community cultural council.
Consider Joining the Reading Cultural Council
If you have a passion for local arts and culture, or just want to work to continue to make Reading a great place to live, please consider joining our Council. Members of the Reading Cultural Council are volunteers appointed by the Reading Board of Selectmen. To learn more, visit the Reading Cultural Council page on the Town of Reading website, contact us by email, or speak to the Reading Town Clerk.