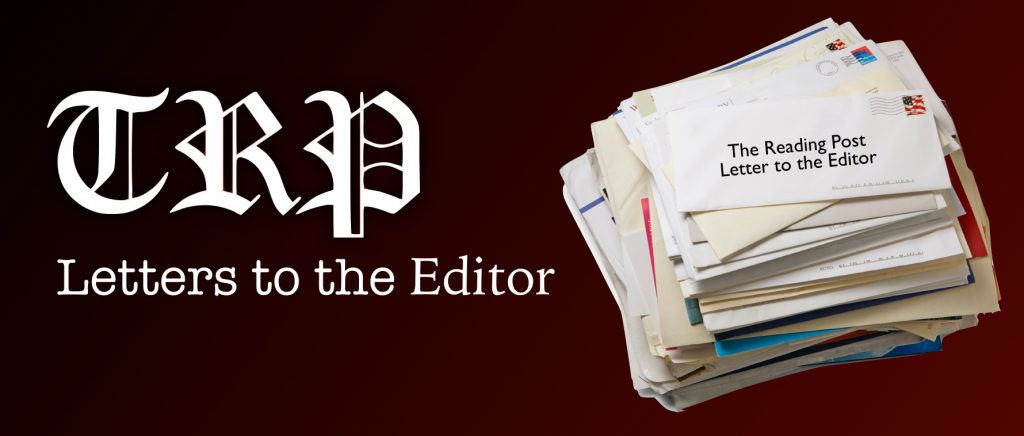 The Reading Post accepts Letters to the Editor. All letters must be signed. The Reading Post reserves the right to edit or not publish any letters received. Letters do not represent the views or opinions of the Post. editor@thereadingpost.com
---
I made it a conscious effort to never reply to letters to the editor, regardless of their content, because individuals can watch a meeting and see for themselves if the letter/feedback was an accurate representation of what actually happened. Unfortunately, this is not one of those occasions because it contains statements I allegedly stated after the meeting concluded and contradict my actual stance on the matter. I received a similar email on Sunday, April 10 from a resident, that also happens to live with the one who just drafted this letter to the editor. I'm still confused that after I replied Sunday with what is written below, why five days later and without reaching out to me or replying, these claims are still being made? Here is a copy of that reply:
Hi Anne-Marie,
I appreciate the email but I'm a bit confused on where my statements came from? At that meeting, I only asked two questions; If you could have a new senior center here, would you want it. Then would you be willing to pay for it.
Everyone indeed will have to pay for it. If that question is never brought up, I'll always be the one to ask it because everyone in that room needed to be aware of the implications. 
I also mentioned privately, perhaps it was you, that it will have to pass town meeting. Not that it never will, nor did I ever mention the select board. If a new center or relocation was the will of the senior/all community, I would be voting yes. 
I hope this clarifies things and would be happy to speak with you further on things.
Thank you,
Christopher Haley
-Reading Select Board-
Office: 781.604.2539 | Cell: 781.604.2539
Christopher.Haley@ci.reading.ma.us
I hope this finally clarifies my position on where I personally stand on this issue. I will never shy away from asking the difficult questions because all members of this community should be aware of the positives and negatives from easy to hard decisions being made. I also look forward to all feedback from my fellow residents. My contact info is above, and I'm always open to calls/emails or meeting you around Reading for a coffee. Lastly, I have advocated in my role on the ARPA committee, to set aside funding for a first-floor bathroom and options to relocate additional needed programming offsite. A benefit our senior community can immediately start enjoying.
Thank you,
Christopher Haley
Tennyson Road