The following article has been submitted by a candidate for the April 5, 2022, Reading Election
---
\My name is Patrick Egan and I am running for a position on the Reading Board of Library Trustees. I respectfully ask for your vote on April 5th.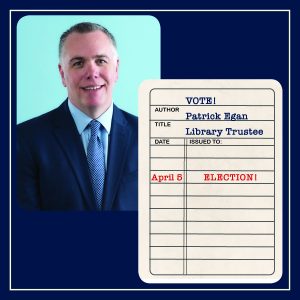 I have been a resident of Reading for over 20 years. From the outset, my family and I have been active members of the Library. From children's reading programs, to touch-a-truck days, to pre-pandemic life when "working from home" meant finding a quiet corner in the non-fiction stacks, I have benefited from the Library's many services, programs and events.
Currently, I am a Board Member and President of the Reading Public Library Foundation, a non-profit that fosters the strong public-private relationship so vital to our town. The Foundation raises funds to support Library services and initiatives that fall outside the Town's budget. Through this role, I have come to further appreciate the many challenges and responsibilities of the Library and its Trustees. If elected, I look forward to deepening my involvement.
I am running to provide careful oversight of the Library's budget and operations, with a commitment to providing a safe, open and welcoming environment for all patrons. At a time when people are increasingly worried about finances, education, and general misinformation, the Library can and should serve as a focal point to provide programs to encourage learning and curiosity. The Library has served this role for over a hundred years. It is a special place that welcomes and serves a broad cross-section of our community, from new families through retirees. Even during the pandemic, use of the Library and its many online resources remained steadfast, a testament to the dedication and expertise of the Library's outstanding staff.
My professional and volunteer experience will assist me in this role. As an attorney representing public entities in financial litigation, I am comfortable managing complex projects and working with public boards. As a volunteer with the Foundation, as well as the Reading chapter of the Society of St. Vincent de Paul, I understand the dual roles of careful financial stewardship, while helping to promote and meet the needs of all members of our town. I would be honored to apply those skills to serve our Library.
I would appreciate your vote on April 5th. Thank you.
Patrick T. Egan
Oak Ridge Road