Reading, Massachusetts – In our first return to in-person events, Whitelam Books is thrilled and honored to host the book launch party for Reading author/illustrator Scott Magoon as he presents his new graphic novel, "The Extincts: Quest for the Unicorn Horn (The Extincts #1)" on Sunday, March 27 at 2:00 pm.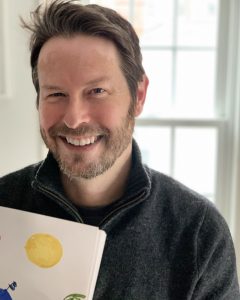 Whitelam Books is located in downtown Reading at 610 Main Street, near the intersection of Haven Street and Main Street. Books will be available for purchase and signing. This event is free and open to the public – all are welcome to help celebrate the newest book of a Reading author!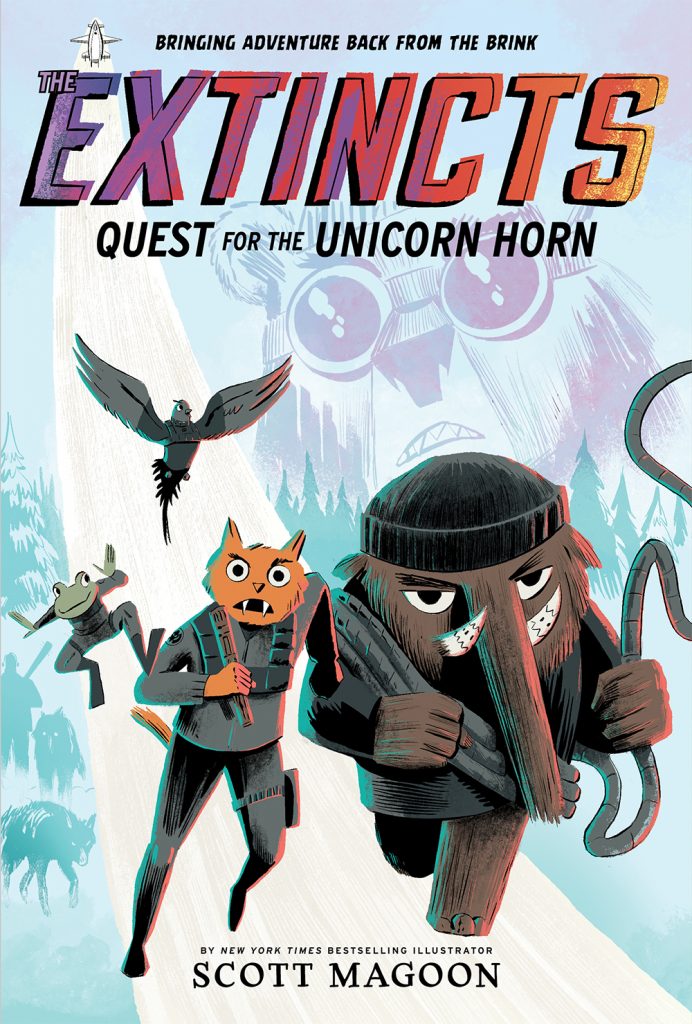 About the Book:
A team of genetically enhanced extinct animals embark on top-secret missions around the world in this new graphic novel series.

Meet Scratch, Martie, Lug, and Quito, members of a secret organization called R.O.A.R., or the Rescue Ops Acquisition Rangers. When their boss, Dr. Z, finally calls on them for their first big mission, the team heads to Siberia to retrieve an ancient unicorn horn from the thawing permafrost. Scratch is thrilled at the chance to prove his worth to Dr. Z—but as soon as they land, the team runs into a mysterious enemy determined to take them down.

With exciting missions, plenty of humor, and an environmental angle, this series starter from New York Times bestselling illustrator Scott Magoon is an action-packed adventure from start to finish. The book will also include nonfiction back matter about extinct animals, climate change, and what kids can do to help!
Anyone unable to attend the book launch event can purchase " The Extincts: Quest for the Unicorn Horn (The Extincts #1)" at Whitelam Books upon its release on Tuesday, March 29.
About the Author:
Scott Magoon has been designing, writing and illustrating books for young readers since 2003.
Scott has created over 25 picture books, included as the author and illustrator of LINUS The Little Yellow Pencil, Breathe and The Boy Who Cried Bigfoot!
He also illustrated Spoon and Chopsticks by Amy Krouse Rosenthal, Rescue & Jessica: A Life-Changing Friendship by Jessica Kensky & Patrick Downes, and Misunderstood Shark by Ame Dyckman. Visit Scott online at scottmagoon.com.
PRAISE
"Part A Team, part Captain Planet, part Ninja Turtles, this first book in Scott Magoon's new Extincts series is a blast to read! Filled with fun and crammed with action, readers of all ages will enjoy the tonal artwork, be absorbed by the thrilling storyline, and crack up over Scott's mastery of humor and puns. I can't wait for kids around the world to get their paws on this book!"
Ryan Higgins, #1 New York Times bestselling author of We Don't Eat Our Classmates and the Mother Bruce books
—
"Scott Magoon's fantastic graphic novel debut is part Indiana Jones and part James Bond nicely packed together with puns, action, and laughter. I look forward to reading more of this series!"
Dan Santat, Caldecott Medalist and #1 New York Times bestselling author and illustrator
—
"The Extincts is such a blast! A masterful blend of action, laughs, science, and so much heart. After reading book 1, Quest for the Unicorn Horn, kids will be ROARing to go on lots more adventures with The Extincts."
Matt Tavares, New York Times bestselling and award-winning author and illustrator of Dasher and Red
—
"The Extincts is filled with phenomenal art, fascinating facts, and rip-roaring adventure. Long live the Extincts!"
Victoria Jamieson, Newbery Honor winner