Reading, MA– The Reading Cultural Council (RCC) has awarded $23,500 to support the arts and humanities programming of thirty (30) organizations and individuals for activities that take place during 2021 and 2022. The Reading Cultural Council received 34 requests totaling $44,040 for this funding cycle. Awards from the Reading Cultural Council are competitive based on the number of requests and the funds available. The RCC tries to at least partially fund worthy projects.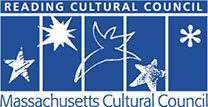 Funds were awarded to the following organizations:
J.W. Killam Elementary Parent Teacher Organization, Inc. for Killam 3rd Grade Arts Field Trip
Susan McFarlane for Guided Watercolor Landscape focus
Birch Meadow Elementary School for New Perspectives in Enrichment Programming
Melanie Carlson for The Music Porch
Pamela Means for The Power of the Protest Song: Our Shared History & Present Day Struggles
J. Warren Killam Elementary School for Reggie Laurent and J.W. Killam Grade 4 Create!
Understanding Disabilities, Inc. for DEAFinitely: Performance and Panel Discussion with UD
Joshua Eaton School for Multi Cultural School Assembly
J. Warren Killam Elementary School for Reading Community Task Party!
Reading Memorial High School for Equity, Justice, and Inclusion Speaker Series
Reading PorchFest Committee for Reading PorchFest 2022
Greater Boston Stage Company for Discounted Theatre Tickets for Reading Students and Seniors
Alex Leff for Cycle of Memory
Susan McFarlane for Virtual Art Classes
Reading Civic Concert Band, Inc. for Purchase of additional music
Northeast School of Ballet, Inc. for Tales of the Spirit
CATO – The Coalition of Us for Reading Remembrance Tour
Reading Art Association, Inc. for Fall Exhibit
North Suburban Child & Family Resource Network for Hula La Family Concert
Arts Reading for Discover the Arts Day Cultural Festival
Alice M. Barrows Elementary School for Race and Music . . . continued!
Howard Newman for Music for Seniors
Downtown Reading Art Walk for Downtown Reading Art Walk
MUSIC Dance.edu for Hip Hop Dance Chair Exercise for Seniors!
Matt York for Songs and Stories – The Highwaymen
J. Warren Killam Elementary School for RSTAR (Reading Students and Teachers Against Racism)
Quannapowitt Players, Inc. for Suburban Holidays Ten
The Delvena Theatre Company for Bon Appetit, Julia!
Reading Community Singers, Inc. for RCS Celebrates the Holidays: Live and In Person
Walter S. Parker Middle School for Science Olympiad
"This fall our committee received a large number of funding requests," notes Brian Kimerer, committee Co-Chair. "Thanks to the generosity of Reading Town Meeting, which donated $8,000 to our funds, we were able to grant more funds than we have in previous years. However, because of the large number of requests, we were still limited to partial funding for some projects. However, many of the smaller requests received the full amount of their request. "
About the Reading Cultural Council
The Reading Cultural Council is part of a network of Local Cultural Councils (LCC) serving all cities and towns in the Commonwealth. This is the largest grassroots cultural funding network in the nation, supporting thousands of community-based art, science and humanities projects every year. The Massachusetts state legislature provides an annual appropriation to the Massachusetts Cultural Council, a state agency, which then allocates funds to each community cultural council.
Consider Joining the Reading Cultural Council
If you have a passion for local arts and culture, or just want to work to continue to make Reading a great place to live, please consider joining our Council. Members of the Reading Cultural Council are volunteers appointed by the Reading Board of Selectmen. To learn more, visit the Reading Cultural Council page on the Town of Reading website, contact us at, readingculturalcouncil@gmail.com or speak to the Reading Town Clerk.