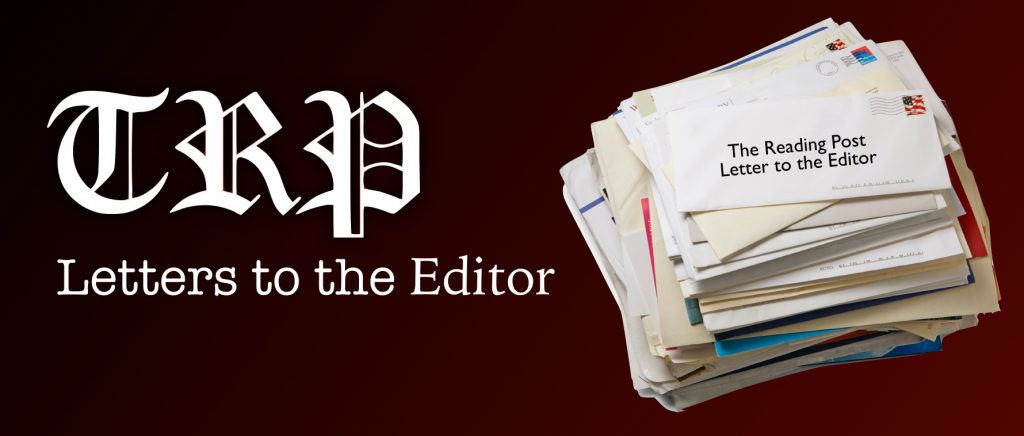 The Reading Post accepts Letters to the Editor. All letters must be signed. The Reading Post reserves the right to edit or not publish any letters received. Letters do not represent the views or opinions of the Post. editor@thereadingpost.com
---
Dear Editor,
There are so many opportunities in our town to make our community a better place to live. So many ways to volunteer, to learn, and to nurture positive relationships. The Citizens Police Academy is one of these great opportunities! Many thanks to Officer Kristen O'Shaughnessy for planning the interesting and thorough curriculum, and much appreciation to the officers who came to introduce us to their realm of policing.
Each of the 9 classes was fascinating, from our tour of the police station, dispatch, and the holding cells; to learning about traffic safety, firearms, tazers, and domestic violence; to learning about the Coalition for Prevention and Support, the Crisis Intervention Team, and School Resource Officers. With each class, we met a different group of officers, were able to ask questions, and heard about their training and challenges. The culmination of the course was a Ride-Along with an on-duty officer.
With all of the harsh realities about the abuses perpetrated by some police across the country, this academy offered me an opportunity to learn about what our Reading Police Officers do on a daily basis, what their challenges are, and who they are as people. I was touched and impressed by their understanding of the hardships of people within our community, their commitment to doing their jobs well, and their frustrations by some of the limitations imposed by the system to help people they have sworn to serve and protect.
The culmination of the Academy was an evening 'ride along' with a police officer. I specifically requested our upcoming Civil Rights Officer, Sergeant Pat Silva and although he was not amongst those slated to host ride-alongs, he invited me to join him. Ours was a quiet evening with a few police calls, but it was filled with conversation. We talked about The Northeastern Massachusetts Law Enforcement Council (NEMLEC), the training involved, and the officers who work on-call with this regional Police organization to show up when other communities have a crisis, and those who show up to our community when we have need additional support. We talked about his work teaching 'up and coming' police officers at Merrimack College and the trainings he conducts, along with the questions and surprises experienced by his students at some of the realities and the limitations of the law.
It was exciting to hear him speak about his vision for his upcoming role of Civil Rights Officer. This role was "recommended" by the Police Reform Bill, and Reading has risen to this opportunity, appointing Sgt. Silva to the position. He will be starting at its foundation to help explore and define the potential of this role. It has not yet been well defined and will be a challenge, but I was impressed with Sgt Silva's ideas and intentions. I had heard about this new position at the MA Human Rights Coalition Meetings and how training is being formulated as the roles are being filled. Not all communities have appointed Civil Rights Officers – I am very proud of Reading for acting on this need and very impressed with Chief Clark's choice of Sgt. Silva.
Sgt Silva has personal experience with the detrimental power of bullying and a deep commitment to serving everyone in his jurisdiction.  He recognizes the tensions in the perception of police and the need for training.  He also stressed the need to recognize not only "hate crimes" but also "hate incidents" because both factor into how safe citizens feel in their community.  He also recognized how essential it is to document and enter into a statistical database both the hate crimes and incidents in a way that will enable our police to recognize problems and protect the rights of the "named classes" of people, and others who might not fit one label or another.  He is determined to provide protection and a voice to those who need it in our town.  He spoke of the state's efforts to collect more inclusive data, create training, and address Racial and Social Justice needs in Reading and beyond.  
We discussed how to let folx know about his role and encourage them to share their stories – to come forward when they have an issue. I have seen that he is already visiting committees such as the Human Relations Advisory Committee and getting the word out through the local newspapers. We discussed the training that he foresees for his colleagues in the Police Department. We discussed his collaboration with the new Director of Equity and Inclusion at the library, with the schools, with the Coalition for Prevention and Support, as well as with other Human Rights, Racial and Social Justice organizations in town. He recognizes the challenges to surmount within the Police Department and across the town. We shared the belief that progress is going to rely on building relationships based on education, trust, and communication. His goal is to build and encourage relationships that will nurture the assumption of 'positive intent' . Through and because of these relationships, folx will be more inclined to discuss mistakes and challenges while working together to update state laws to protect minorities, and the marginalized. He discussed how this has to be coupled with providing public education, police training, and improved ways to report civil rights and hate incidents.
I am very grateful for the education afforded to me by the Reading Citizens Police Academy and my Ride-Along with Sgt Silva. It is with excitement and anticipation that I look forward to Sgt Silva and his work as our Civil Rights Officer! If you have a chance, please sign up – you will be glad that you did!
Thank you for this opportunity to share my experience with your readers!
With Best Regards and a Love of this Town,
Linda Snow Dockser
Beaver Road