Covid Update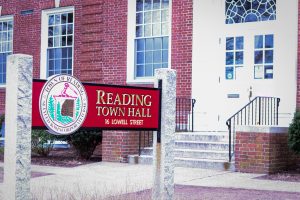 Reading, MA — Board of Health chair Dr. Richard Lopez reported that there are 350 active COVID cases in Reading as of Thursday, though Reading's daily incidence rate is lower than contiguous communities. He also shared that feedback from the recent indoor mask mandate has been about 50% in favor and 50% against and shall be reviewed monthly.
Health Director Adetokunbo Solarin reported that 75% of all Reading residents have been vaccinated, with 42% having been "boosted." The next vaccination clinic will be on January 24 at Coolidge Middle School. FinCom has authorized $80,000 of its reserve funds to purchase 15,000 COVID tests for Reading residents.
Select Board Reviews Economic Development
Erin Schaeffer, Economic Development Director for the Town of Reading, reported to the Select Board on January 18 regarding economic development activities in town during 2021. Since the creation of the downtown smart growth district, Schaeffer shared that redeveloped properties have increased in assessed value from $5.11 million to over $74 million, providing $958,000 in new growth tax revenue to the town.
These new developments have created 41,000 square feet of new commercial and retail space while also providing 192 new housing units, 43 of which are deed restricted. Sadly, Schaeffer reported, three businesses in town closed their doors in 2021. One of those closures was COVID-related. Five new businesses opened in the downtown in 2021, with three new businesses opening on South Main Street. "All newly constructed commercial spaces are under lease agreements," Schaeffer reported.
Postmark Restaurant Update
Attorney Josh Latham, speaking for the Coangelo family, proprietors of the Common District Meeting House slated to open in the former post office space, shared that permits for the build-out took longer than anticipated but have been secured as of January 10. It is expected that the restaurant will open in May.
Business Improvement District (BID)
Local business owner Liz Whitelam reported on progress being made to establish a Business Improvement District (BID) in the downtown. This would be a non-profit organization with the goal of promoting downtown businesses through the use of supplemental programs and other services in the downtown district. The BID would be able to pool resources to accomplish more than anyone property owner could accomplish on their own. Members of the BID committee will be seeking support of the downtown property owners over the next several weeks.
American Rescue Plan Act
The board spent significant time discussing the creation of an advisory committee to recommend how to use the $7.6 million in American Rescue Plan Act funds received from the federal government. The Finance Committee (FinCom) spearheaded the creation of a committee consisting of two Select Board members, two School Committee members, and three Finance Committee members. Both the School Committee and the Finance Committee have appointed their members.
Concern was expressed that the committee should report to the Select Board, as it alone has the ability to spend the funds. There was also discussion regarding whether or not the committee should consist of seven or six members. Select Board member Mark Dockser also suggested that the committee, as suggested by FinCom, has too narrow a scope and should seek broader community input and consider broader community needs. Chair Karen Herrick will develop a draft plan and charge for the committee to be considered at the Select Board's February 1 meeting.
The board also received an update on a planned community garden to be located at the Mattera Cabin and voted 5-0 to add Juneteenth to the municipal holiday calendar.
The Select Board adjourned to executive session at 10:50 pm.