January 1, 1937 ~ January 10, 2022
Florence Barbara Otis, age 85, peacefully died on January 10, 2022, in Reading, MA.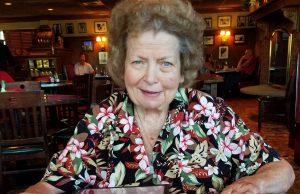 Her husband, Donald Otis, predeceased her, and together they shared three children: Ed (Linda) of Myrtle Beach, South Carolina, Barbara Kozlov (Matt) of Florida, and Robert (Erin) of Oakwood, Ohio. She was a devoted Nana to her beloved grandchildren: Jessica, Michael, Jason, Eric, Andrew, and Sandy, and great-grandchildren: Ryan, Abigail, Logan, and Shawn.
Anyone who met Florence knew how proud she was of her family! She was a lifelong Red Sox fan and a dedicated volunteer with the Aleppo Shriners. Florence was quick to laugh with a wicked sense of humor. She loved the holidays, making big meals, and listening to Elvis. Florence never said goodbye without telling her family she loved them, and her generosity for love will never be forgotten.
A memorial service for friends and family will be scheduled at a later date. In lieu of flowers, the family requests that contributions in Florence's memory be made to Shriner's Children's Hospital.