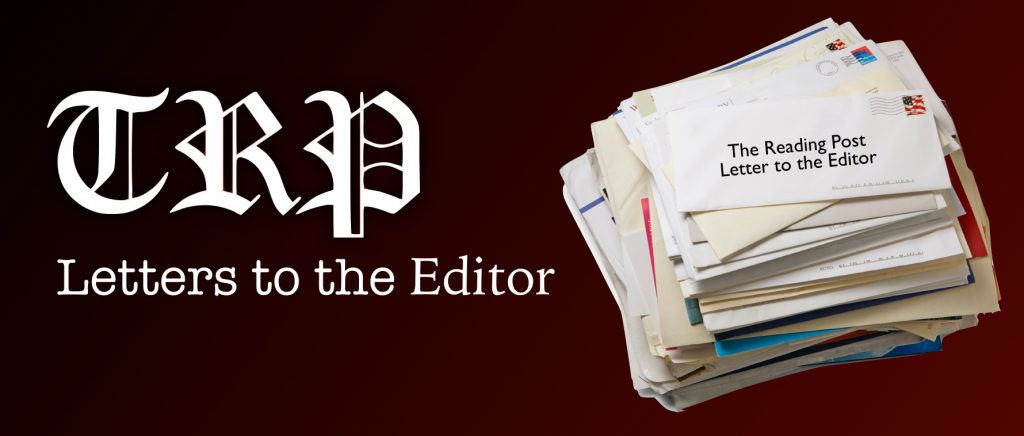 The Reading Post accepts Letters to the Editor. All letters must be signed. The Reading Post reserves the right to edit or not publish any letters received. Letters do not represent the views or opinions of the Post. editor@thereadingpost.com
---
Dear Reading Select Board & Town Manager
I felt compelled to write a follow-up note to Monday nights' Town Meeting discussion.
First, I want to thank Select Board members for sharing their voting rationale on Article 5. As I said during the meeting, members rely on your guidance especially for significant spending and/or policy (bylaw) changes. My additional comment would be that in the face of future uncertainty to err on the side of holding off articles until they are fully vetted. There is nothing wrong with holding special town meetings during the year for critical items (this has been done in the past on multiple occasions).
Second, I would like to address a specific item that has been on the town's priority list for a few years. In June 2017, the following report was issued: "Aging in Reading, Massachusetts: A community needs assessment." If you haven't read the report, it can be found on the website using the link below:
https://www.readingma.gov/sites/g/files/vyhlif1116/f/uploads/reading_ehs_report_final.pdf
There was a comment made during Monday's meeting that I interpreted to mean that only certain "operational needs" of the town should be deemed as priorities. While there are certainly items that will always need to be prioritized to ensure the town is capable of operating (lights are on, heat is available, roofs don't leak, etc.), I would argue that items, such as additional Elder Services resources (including space), are operational needs as well. These needs, while currently not implemented, represent our community members stated intentions for improving their lives.
I believe we could address the Elder Services space and resource needs in the short term without the need for a new building. There appears to be commercial office space available for lease in town that would allow us to at least double their footprint (from the existing 6,000 sq. ft. to 12,000 sq. ft. – the specific amount should be reviewed). A 3-year lease with a 2-year option to extend would provide the opportunity to (immediately) expand the Elder Services offerings in a time where our growing population of Seniors have expressed the need for more support (especially due to the pandemic).
I have heard that some in our community have questioned the need for this space and whether such programs would draw enough residents to have benefit. This approach would allow us to assess this without having to commit to a significant capital dollar expenditure. I would caveat that any such effort must be accompanied by addressing other aspects of the Elder Services resources (transportation, outreach, any build out etc.) to give them the opportunity to be successful. As an added benefit, this would open interim space at Pleasant Street.
I want to thank you for your efforts and would be happy to discuss any of the above items with you.
Respectfully submitted,
John Sasso
Town Meeting Member Precinct 2