Deadline for Applications – October 15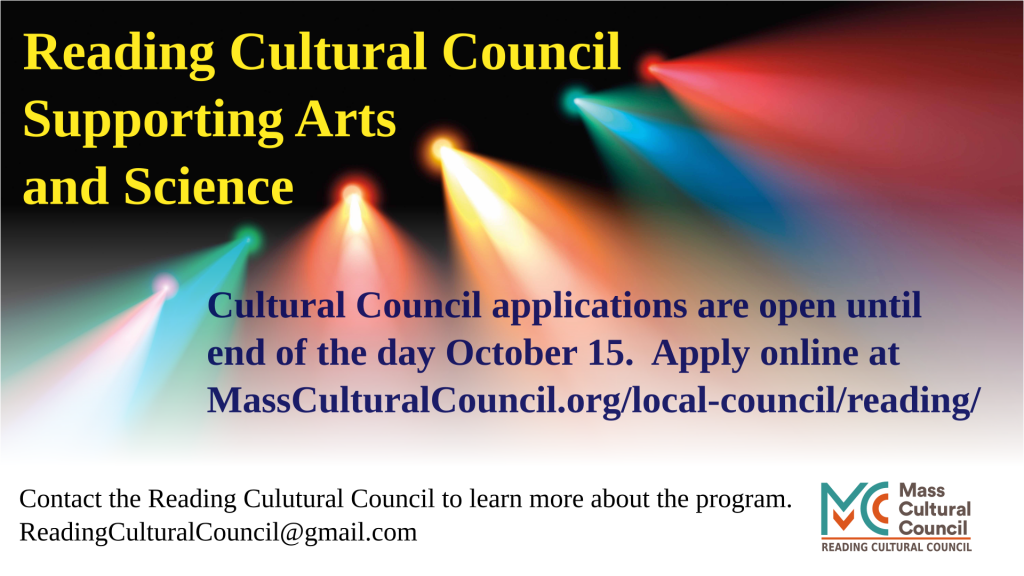 The Reading Cultural Council grant applications are open for the FY22 grant cycle, so it is time to consider applying for a grant. The grant cycle closes at 11:59 p.m. on October 15.
Projects applying for grants should contribute to the cultural vitality of the Reading community and be performed at an accessible Reading venue (field trip projects excepted). Before submitting an application, please review the Reading Cultural Council's guidelines and priorities which are listed here: massculturalcouncil.org/local-council/reading/
When you are ready to apply, scroll down to the bottom of the page and click on the button that says, "Apply Now". That will take you to a page where you can register and log in to begin your application.
This year, the Mass Cultural Council has migrated to a new Grants Management System. Most of the contents of your application remain the same as in previous years, but some of the details have changed. On September 9, 2021, the MCC conducted a webinar with a walk-through of the new process. A recording of the webinar has been posted on the MassCulturalCouncil youtube channel,
https://www.youtube.com/watch?v=yD7mPcAroKI&t=4s
The Reading Cultural Council is part of a network of Local Cultural Councils (LCC) serving all cities and towns in the Commonwealth. This is the largest grassroots cultural funding network in the nation, supporting thousands of community-based art, science and humanities projects every year. The Massachusetts state legislature provides an annual appropriation to the Massachusetts Cultural Council, a state agency, which then allocates funds to each community cultural council.