Reading, MA — Come to Parker Tavern on Saturday, September 11, from 10 AM to 4 PM to enjoy a Colonial Faire. Members of Col. Bailey's 2nd Massachusetts Regiment will set up camp on the grounds of the Tavern.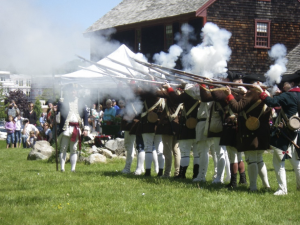 In 1988, the unit of reenactors was officially incorporated under the laws of the Commonwealth of Massachusetts as a non-profit, educational organization. To learn more about the group, their history, and events that they participate in, visit their website 2ndmass.org.
The regiment will be celebrating colonial life by setting up tents, cooking over a campfire, conducting musket firings and military drills. There will be a blacksmith and hands-on activities for the kids. Due to limited space in the Tavern, there will be sign-up for tours of the Tavern, no more than four a time. All tour participants will be required to wear masks while in the building.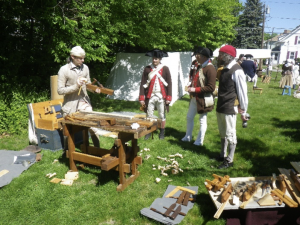 Whether you have visited the Tavern in the past, or have never visited, this is a great opportunity to walk through a living history encampment. Parker Tavern is Reading's oldest 17th-century structure. It is owned and maintained by the Reading Antiquarian Society, a private 501-c-3 organization, and is supported through membership and donations. It is located at 103 Washington Street. There is plenty of parking at the Depot.
This program is supported in part by a grant from the Reading Cultural Council, a local agency that is supported by the Massachusetts Cultural Council, a state agency.
September 11 will be a busy day in Reading. Take time to enjoy the encampment, but also please don't forget about 9/11 Commemoration on the Common and Porch Fest. Come out and enjoy all that Reading is offering. And on September 12, continue the fun with the Fall Street Faire from 12-5 PM.