Reading, MA — The Reading Food Pantry has been a beacon of hope since its inception in the 1980s, but as the pandemic unfolded in March of 2020, Reverend Jamie Michaels and Phyllis Maxwell of the Reading Food Pantry found themselves on the frontlines of an unfolding crisis.
Sherri VandenAkker interviewed the pair on the third episode of Community Connections; the RCTV program highlights community leaders who worked to connect the Reading community during COVID-19.
Phyllis Maxwell has been an active member of the Reading Food Pantry for over 13 years and has seen the operation grow from a single closet to the program it is today.
"The Food Pantry started in the 1980s with one closet with food and that, and small bags of food were given out at that time. And someone who worked in the mental health field came here to supply her clients also. So it started growing and growing, and now you can see what we are. You don't do something for 13 years as a volunteer unless you're right for it.
I love my clients, and I love my volunteers," said Maxwell.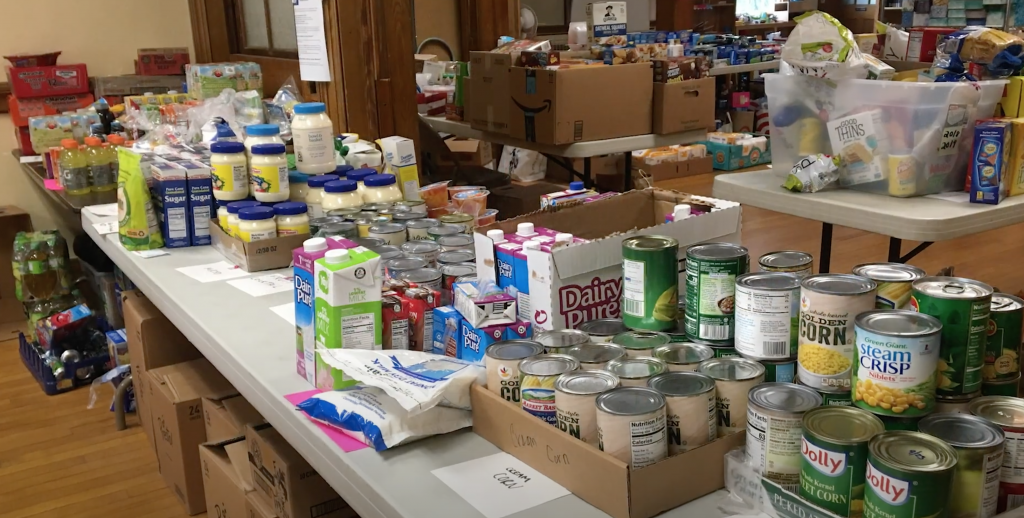 While the Food Pantry has been a staple of the Reading community since its inception, the organization had a large uptick in clients during the early part of the COVID-19 pandemic.
"[Need in the town of Reading] got more dramatic as time went on, especially during the first part of COVID when people lost their jobs. That is evening out now because of all that the government has done for these people. So now we're dealing more with people that are just on the edge of not being able to feed their families or feed their families well. Half of our clients are approximately over 65 years of age and have lived in Reading for a number of years, and now find they can't keep up with the taxes increase in food, utilities, all those kinds of things. So that's where a lot of our clients come from now," said Maxwell.
"Sometimes, the picture that we have of food insecurity is that it lives in places that don't look like the town of Reading. But a lot of what we see is folks who are maybe one or two paychecks away from a real crisis, and folks who are struggling with some long-term stuff like being uninsured or underinsured, and some facing medical bills. Property taxes — because they've lived here for a long time — are increasing and facing those sort of higher costs of living that are making it harder for some of our clients to care for themselves and their families, and lots of our seniors have other family members living with them, so that's a factor as well," said Reverend Michaels.
For residents in need who might be hesitant to reach out to the Food Pantry, Reverend Michaels and Maxwell were quick to state that they are here to help everyone.
"We're here to meet your needs. It doesn't mean any stigma attached to it — we're all part of the town of Reading. We want to make sure that everyone in the town is well taken care of," said Maxwell.
"What I would say to folks is please use the service. There's no judgment here from the staff or the volunteers. We want you to have enough, and we want your kids and your families to have enough," said Reverend Michaels.
That generosity is not limited to just people who volunteer at the Food Pantry. Reverend Michaels pointed out that many clients of the Reading Food Pantry are just as eager to give back to the community when they find they have a surplus of something.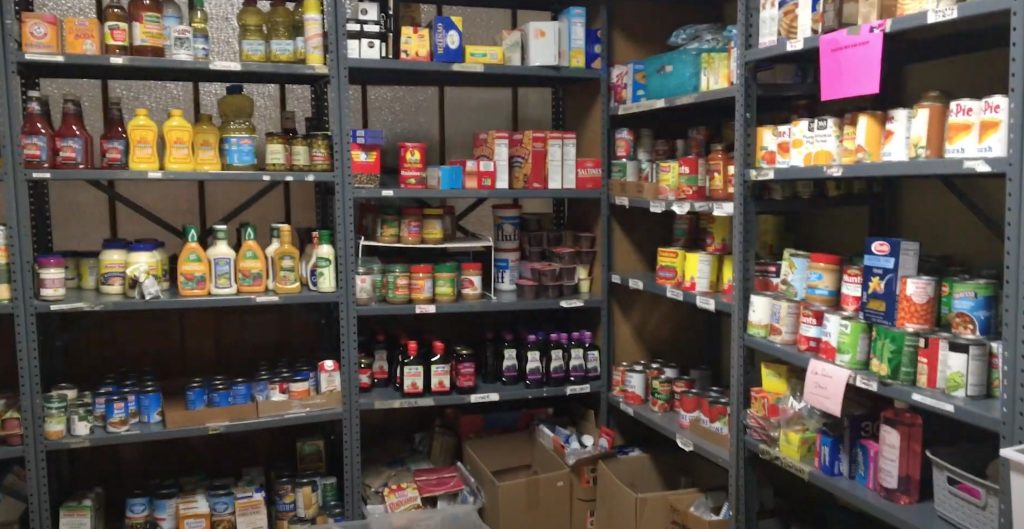 "I know we have several clients on our delivery date who, when we call to make their list, will say, 'I don't need that this week; we can leave that for somebody else.' Because even our clients are trying to participate in this community sharing, they see themselves as part of a community. They want to make sure that there's enough for everybody. I think that really is the spirit here that comes from a place of believing that everybody should have enough to eat. What you're seeing behind us is just a small fraction of what we have here," said Reverend Michaels.
For people interested in getting involved in the Food Pantry, either through giving their time or making a monetary donation, Reverend Michaels and Maxwell were quick to point out that there are myriad ways to get involved.
"You can always send things here to the Church at Six Salem Street. You can follow our Facebook and our website. What we need most are folks who can make a long-term commitment. So always feel free to reach out to us — you can email us through the website, or you can message us through Facebook, and we'll let you know what's available. Keep an eye out on our Facebook page, especially if you have some flexibility, especially during the days you know a lot of our work gets done during the workday," said Reverend Michaels.
As for foods that the Food Pantry is always looking for, canned meat was high on both Maxwell's and Reverend Michaels' lists.
Any kind of canned meat. Canned chicken, canned turkey — it's a great way to get protein into your diet in a way that doesn't require a lot of refrigeration. Or it might be difficult for our clients to cook fresher foods, and so having that stuff on hand is a great way to add protein into your diet," said Maxwell.
Maxwell also stated that she posts a sheet of paper at both the Stop & Shop and Market Basket monthly, listing what the Food Pantry is most currently in need of.
The thing that Maxwell and Reverend Michaels have found they have missed the most throughout the pandemic were everyday interactions with Food Pantry clients.
"The food pantry for me has always been our first line of defense against other things people are experiencing. So we might see them at the Food Pantry, but they often have other needs. As a clergy person, I can then report back to the Clergy Association and say, for example, we've got a lot of people right now who are in need of heating assistance — what programs are available, what can we offer to folks. That can help us get a better sense of what's going on in the community. That's really hard during COVID. The food pantry has grown from just a church mission into a vital town service. And as we've grown, we have wanted to address the other needs in the community that isn't currently being met, where are people falling through the cracks," said Reverend Michaels.
To hear more about how the Food Pantry has adapted over the course of the pandemic, watch the full episode of Community Connections here.