Reading Resident Receives Dean of Academics' Scholarship Award at Penguin Hall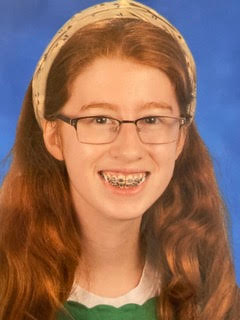 WENHAM, MA — Molly Tittemore, eighth-grader at St. Joseph's School, was awarded a prestigious scholarship from The Academy at Penguin Hall, (APH).
Given annually, the Dean of Academics' Scholarship is awarded to an incoming student who demonstrates high academic achievement, creativity, leadership in the classroom, and a unique global perspective that will enrich the academic discourse at Penguin Hall. The Dean of Academics Scholarship is only available to students who apply during the Early Admission period, and the student receives a $2,500 award that is renewable for all four years.
"Molly's keen intellectual mind and strong goals for her future were apparent throughout her application, recommendations, and interview. Molly is recognized as an academic scholar by her St. Joseph's teachers and is a voracious reader and writer, especially enjoying storytelling," said APH Dean of Academics Jan Healy. "Her dedication to her studies, personal commitment to excellence, and strong sense of self speaks to Molly's commitment to her community – values we celebrate at Penguin Hall."
Tittemore is a mature and determined young woman with an appetite for learning and a deep passion for writing. She devotes a great deal of time to perfecting her skills in order to prepare herself for a hoped for a career as a screenwriter. As Tittemore said in one of her application essays, "Meaningful stories are ones that create those magical human connections. Human stories are ones with heart, they are personal ones that make you laugh, cry, and smile all in one. Writing is my calling, and storytelling is my passion."
But Tittemore's student accomplishments are not limited to writing; she has established a strong academic record across all subjects. In addition, Tittemore is an actor in her school's drama club and in two drama clubs outside of school. She also participates in the school's speech and debate clubs and plays field hockey.
APH Director of Admission Dean Tsouvalas said "Molly was an easy choice for our Dean of Academics' Scholarship by the way she stood out in not only academic excellence but for her passion for learning and writing. Molly was clear that APH was her first choice for the range of classes (including scriptwriting) and for the community of young women who are united in learning and developing their own leadership skills to make a difference in the world. "
President of The Academy at Penguin Hall Molly Martins especially valued Tittemore's parents' comments on what they hoped Penguin Hall would offer their daughter. They, like most parents, "want a school that will encourage Molly to voice her opinions and thoughts in a classroom setting, and then use that skill throughout her life and career. They want her to build those lifelong friendships and be able to look back on her high school years with positive thoughts and memories." As President of Penguin Hall, Ms. Martins reflected, "The principles of our school are to provide a truly rigorous curriculum specifically developing critical thinking and the ability to speak on many topics, while also discovering the camaraderie and unity that girls can find in an all-female school. Our girls feel that caring and respect through their teachers and student relationships. We are very proud of the community at APH."
Tittemore will be joining Penguin Hall as a first year student this fall. To learn more about Penguin Hall, please visit: www.penguinhall.org
About The Academy at Penguin Hall
The Academy at Penguin Hall is the only all girls college preparatory high school North of Boston. Located in Wenham, Massachusetts, Penguin Hall welcomes young women and their families to learn more about the school. Applications are being accepted for Fall 2021. For more information or to schedule a tour, visit penguinhall.org or call 978-468-6200 and ask for Dean Tsouvalas, Director of Admissions.