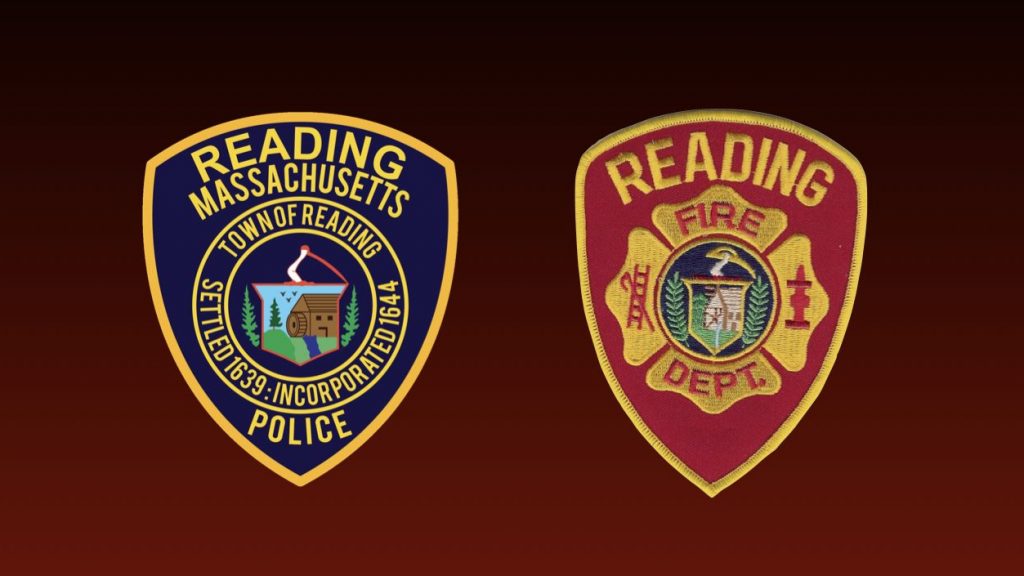 Reading, MA — Excerpts from the Reading Police and Fire Log:
Monday, June 21, 2021
12:32am – Unoccupied Vehicle Spotted in Mattera Cabin Parking Lot.
6:33am – Lift Assist for Main Street Resident.
8:27am – Report of Construction Cones Left Behind on Fairchild Drive.
9:34am – Keys Found at Hunt Memorial Field Turned in at Station.
10:23am – Green Street Resident Reports Possible Stolen Package.
10:45am – Officers Standing by with DPW on Lowell Street.
10:46am – Text-a-Tip Report of a Vehicle Which Ran a Red Light on Sunday.
11:11am – Tree Down Hitting Wires on Garrett Road.
11:47am – Libby Avenue Resident Reports Suspicious Vehicle Parked in Front of Home for Several Days.
11:50am – Report of Dropped Packages in Roadway on Village Street.
12:49pm – Report of Boxes in the Street on Walkers Brook Drive.
1:05pm – Lift Assist for Summit Drive Resident.
3:01pm – Loose Dog reported on Prescott Street.
6:16pm – Suspicious Person Wandered onto Longfellow Road Property.
7:17pm – Fire Alarm Sounding in Main Street Building.
7:45pm – Lindsay Lane Resident Reports Missing Dog.
7:48pm – Main Street Business Reports Sticky Substance on Mailbox.
7:58pm – Verbal Warning Issued for Left Turn Violation on Charles Street.
8:02pm – Report of Items Stolen at Salem Street Business.
8:44pm – Fire Alarm Sounding in Main Street Building.
8:57pm – Alarm at RMHS.
9:08pm – Investigation of Vehicle Crash on Harnden Street.
Tuesday, June 22, 2021
12:24am – Fire Alarm at Adams Way Residence.
1:22am – Fire Alarm Activation at Main Street Building.
2:21am – Fire Alarm Activation at Main Street Building.
8:56am – Suspicious Persons Reported at Main Street Business.
9:18am – Investigation of a Past Vehicle Crash on Willow Street.
10:26am – Sunnyside Avenue Resident Reports Suspicious Persons on their Property.
12:46pm – Suspicious Vehicle Reported in Main Street Parking Lot.
3:38pm – Lights not Cycling Properly at Main Street and Franklin Street.
4:20pm – Louanis Drive Resident Reports Fraudulent Activity.
5:57pm – Report of Damaged Light Pole on Bay State Road.
8:04pm – Suspicious Vehicle Driving in Reverse Down Wescroft Avenue.
9:30pm – State Probation Requests Check on Main Street Resident.
10:22pm – Lift Assist for Haverhill Street Resident.
Wednesday, June 23, 2021
2:27am – As a Result of Outstanding Probation Warrant, One Suspect Arrested.
6:40am – Commercial Alarm at Main Street Business.
9:01am – Report of Cement Pillar in Roadway on Salem Street.
9:20am – Parking Enforcement in Depot Area.
10:08am – PD & FD Informed of Inmates Working a Clean-up Detail at Camp Curtis Guild.
10:11am – Traffic Enforcement at Coolidge Middle School. One Citation Issued.
10:57am – Investigation of Minor Two Vehicle Crash on Haverhill Street.
11:40am – Traffic Enforcement on Woburn Street. No Citations.
12:40pm – Report of a Hit and Run on Main Street.
12:45pm – Officers Standing by to Secure Prescott Street Residence for Lynn PD.
2:16pm – Lakeview Avenue Resident Reports Vehicle Littered with Trash and Unknown Substance.
2:17pm – Traffic Enforcement on Mill Street. No Citations.
2:29pm – Tree Fell in Summit Drive Parking Lot Damaging one Vehicle.
2:31pm – Fire Alarm Sounding in Riverside Drive Residence.
3:02pm – Dog Complaint on King Street.
5:23pm – Curtis Street Resident Reports Smell of Smoke in the Air.
6:33pm – Officers Found Boxes Near Pleasant Street Dumpster with Resident Info.
9:12pm – Fire Alarm Sounding in Salem Street Residence.
9:50pm – Report of Mail Boxes Struck and Damaged on Buckingham Drive.