Reading, MA — By a vote of 5-0, the Community Planning and Development Commission (CPDC) approved a major modification to the site plan review for the Auburn Street Water Tower site. After the modification, the planned temporary cell tower will be placed on the eastern portion of the site, in the area that will eventually be a proposed small park. The initially approved site plan placed the temporary cell tower in the northwest corner of the site.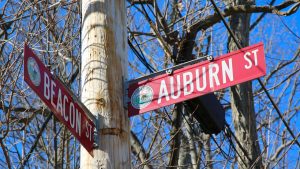 Town Engineer Ryan Percival explained that the excavation needed to construct the new water tower would encroach upon the "zone of influence" of the originally proposed placement of the temporary tower and potentially compromise its base. The new location will still be in the construction zone and surrounded by the security fence. At the suggestion of abutter Mark Delany, the CPDC also requested that a power line that crosses the entire site be rerouted as part of the process.
Percival continued to share that the temporary cell tower would likely be erected mid-fall and stay in place for eighteen months. He continued to assure the CPDC that the new placement of the structure would have no future impact on the area once the tower is removed.
CPDC also reviewed site plans to build a new water pumping station at 160 Hopkins Street. The station's purpose would be to improve water pressure issues in the neighborhood for residences and fire protection. "It will serve multiple benefits to the neighborhood," Percival explained.
Bruce Adams, project engineer from Weston and Sampson, shared that the new station would be accessed by extending Cedar Street towards the Gazebo Circle neighborhood and would include a driveway and chain link fence for security. Six trees would have to be removed, but several will be replaced once the project is completed. Adams commented that the small sixteen-foot by twenty-five-foot building is designed to "blend in" to the neighborhood, and to the casual observer it will look like a garage. At its peak, the building will be seventeen feet high. Abutter Anne Manna expressed concern over possible flooding as a result of the driveway. CPDC Chair John Weston suggested the use of porous material for the driveway to decrease this possibility. The public hearing was continued until July 12 at 8:30 pm.
The scheduled continued public hearing on the proposed 40R development at 18-20 Woburn Street was continued again to July 12 at 7:30 pm at the developer's request. Development Director Julie Mercier also reminded the commission about the Local Rapid Recovery Planning Phase One presentation at 7:00 pm on Wednesday, June 16. This meeting, held on Zoom, is designed to share ideas about helping downtown businesses recover from the pandemic.
CPDC adjourned at 10:00pm.