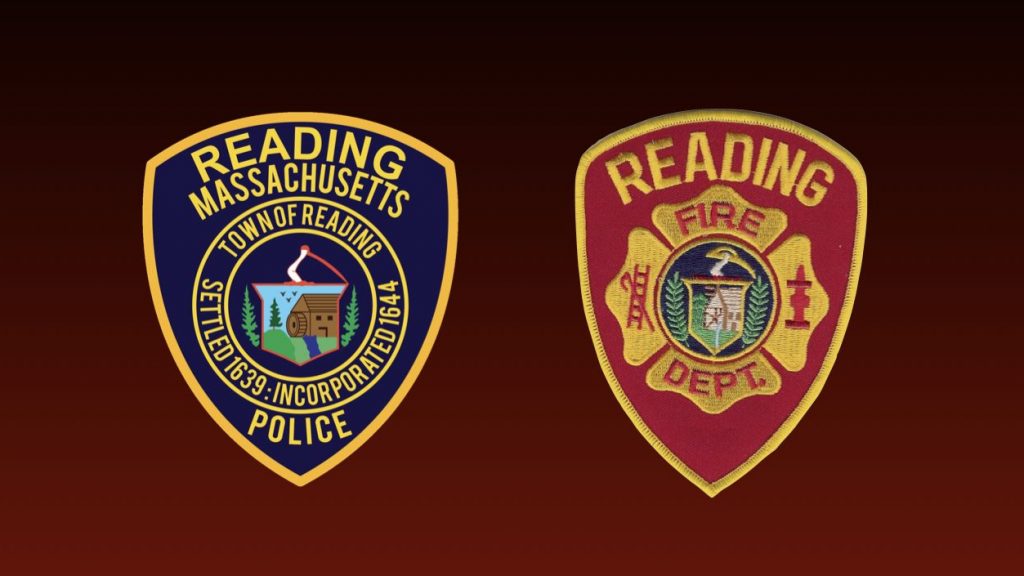 Reading MA — Excerpts from the Reading Police and Fire Log:
Monday, May 10, 2021
8:18am – Grove Street Resident Reports Threatening Snapchats.
9:28am – Gould Street Resident Complaint Regarding Ongoing Issue with Construction Workers on Property.
11:28am – Debit Card Found in Main Street Parking Lot.
2:12pm – Augustus Court Resident Reports Credit Card Fraud.
2:59pm – Outdoor Odor of Gas Reported on Haven Street.
3:57pm – Report of Verbal Altercation on Haverhill Street.
5:15pm – Group of Youths Throwing Eggs at Vehicles on Park View Road.
5:15pm – Summer Avenue Resident Reports Runaway Dog.
5:21pm – Crash Investigation in General Way Parking Lot.
5:51pm – Haverhill Street Resident Reports Fraudulent Tax Return Filed.
6:33pm – Blue Smoke Coming Out of Chimney on Summer Avenue.
7:00pm – Officers Standing By at RMHS for Town Meeting.
9:23pm – Person Exited Vehicle and Spit on Driver on Franklin Street.
10:01pm – Disabled Vehicle on Main Street.
Tuesday, May 11, 2021
7:52am – Disabled Vehicle on Summer Avenue.
8:01am – Deceased Cat in Road Reported on Franklin Street.
8:51am – Suspicious Person in Neighbor's Yard on Hemlock Road.
8:58am – Issue with Fire Alarm at Walkers Brook Drive Business.
9:10am – Officer Located Damage to RMHS Field House.
9:52am – Verbal Warning Issued for No Parking on Roma Lane.
9:54am – Parking Enforcement on Sunset Rock Lane.
10:12am – Main Street Resident Reports Giving Social Security Number to IRS Fraud Call.
11:10am – Officer Assisting with Funeral traffic on Sanborn Street.
11:27am – Sanborn Lane Resident Believes There is a Rattlesnake in the Backyard.
11:44am – Complaint Regarding Multiple Vehicles Stopped on Street at Main Street Business.
11:51am – Speed Board Deployment on Summer Avenue.
12:01pm – Eastway Resident Reports Credit Card Fraud.
1:23pm – Adopt-an-Island Flower Barrel and Dirt in Road on High Street.
2:14pm – Follow-up Visit with Washington Street Resident.
3:28pm – Report of Exhaust Pipe in Road on Walkers Brook Drive.
4:51pm – Unknown Tractor Trailer Unit Parking in Walkers Brook Drive Parking Lot.
4:57pm – Main Street Resident Reports Water Issue.
6:10pm – Report of Grill Fire on Warren Avenue.
9:18pm – Gazebo Circle Resident Reports Water Leaking from Tower.
11:51pm – Main Street Resident Reports Someone Hammering on Fire Escape.
Wednesday, May 12, 2021
6:09am – Main Street Resident Reports Finding Neighbor's Unit Open with No One Home.
6:13am – Alarm at Birch Meadow Elementary School.
8:09am – Traffic Lights at Birch Meadow Drive and Main Street not Cycling Properly, Causing Traffic Back-up.
9:51am – Officers Assisting with Funeral on Sanborn Street.
10:22am – Hit and Run in Walkers Brook Drive Parking Lot.
12:55pm – Augustus Court Resident Seeks Advice Regarding Ongoing Issue with Loud Neighbors.
1:16pm – Report of Road Rage Incident on County Road.
1:32pm – Victoria Avenue Resident Reports Losing $1,000 in Ebay Scam.
3:22pm – Repossession Notice Received Via Fax.
3:24pm – Chapin Avenue Resident Reports Online Scam Involving Gift Cards.
4:42pm – DPW Gate on New Crossing Road Opened for Delivery Driver.
8:14pm – Soccer Bag Taken from Football Field at RMHS.
9:41pm – Wakefield Street Resident Reports Front Door Open Since this Morning.