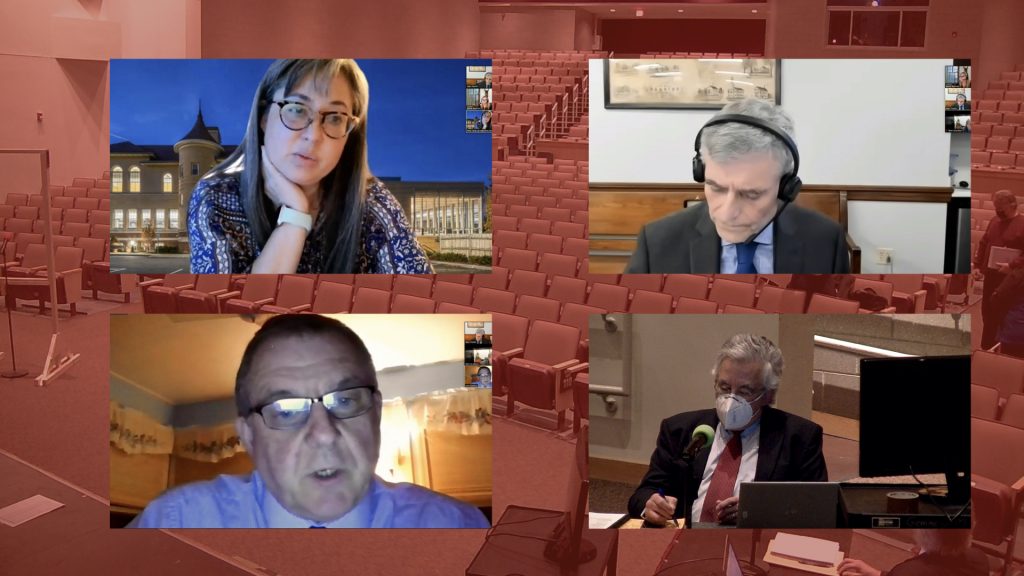 Reading, MA — Town Meeting voted 159-9 to approve the $125,051,354 Fiscal Year 2022 budget during its fourth session on Thursday. Of this amount, $49,695,998 is for the school department, and the remainder is for the municipal departments and the enterprise funds. Last Thursday, $80,000 was added to the public safety portion of the requested budget by Town Meeting for the purpose of hiring a mental health professional.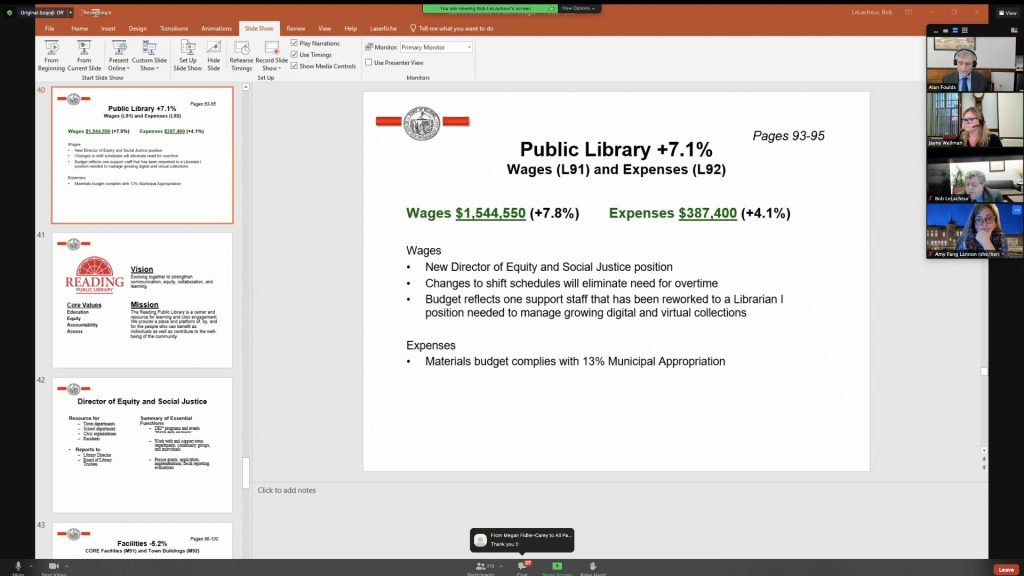 The evening's deliberations began with some confusion. Several members felt that debate could continue on the need for the library budget's equity and social justice director. The moderator pointed out that the issue was already dealt with, both with a determining vote and an overwhelming vote to end debate. After reconsidering the situation, the moderator ruled that discussion about the position could continue, but not on the decision to create or remove it.
Town Meeting member Barry Berman was then able to voice his opinion that the new position is only a beginning for the town on social justice and equality issues. "Don't make your vote on Monday your last act; make it your first," Berman urged.
Town Meeting member Carla Nazzaro also weighed in, requesting that the Library Board of Trustees carefully consider how the advisory committee will constitute the new equity position. Member Kerri Parry questioned why there is no funding for programming and educational activities for the new division of Equity and Social Justice in the budget. Library Director Amy Lannon answered that grant funding and free offerings would be used to develop programming.
Several other questions about the duties of the new position and the advisory committee's role were asked, with Lannon responding that specifics are unknown at this time and will not be until the person is hired. Lannon did answer that the hiring process would follow similar practices as used for other senior positions in town.
A motion to end debate on the entire budget without allowing review of the school department, facilities, and enterprise funds budgets was defeated by a roll call vote of 12-163-2.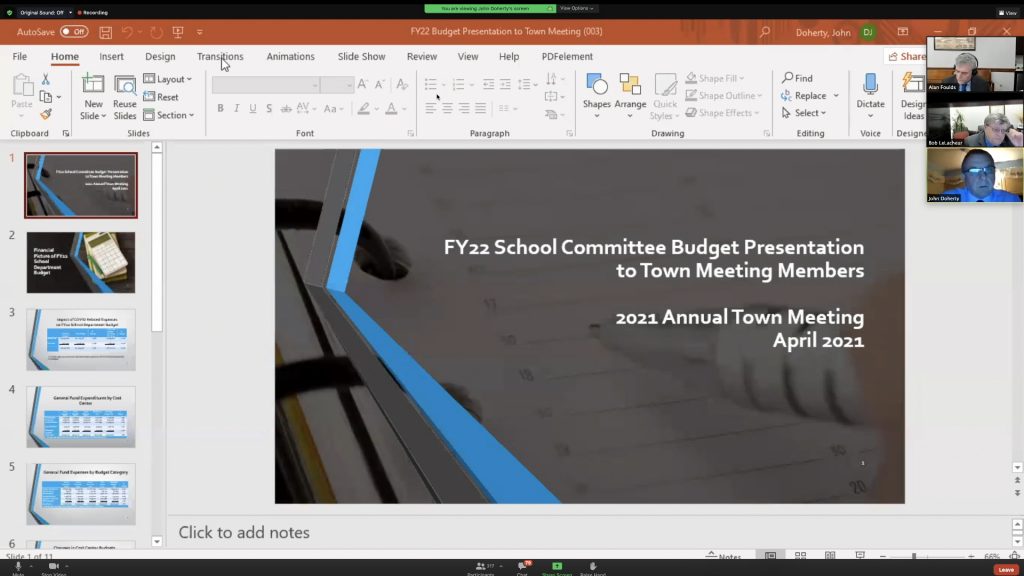 Superintendent of Schools John Doherty presented an overview of the $49 million school department budget, which consists of a new special education literacy coach and increases in art instructional and middle school physical education and health FTEs. The school department budget represents a 2.6% increase over Fiscal Year 2021. Doherty described the special education role as a bridge between general education and special education and called the addition a "cutting edge" solution to helping students with literacy needs. He also indicated that having the position would help reduce out-of-district placements for some students.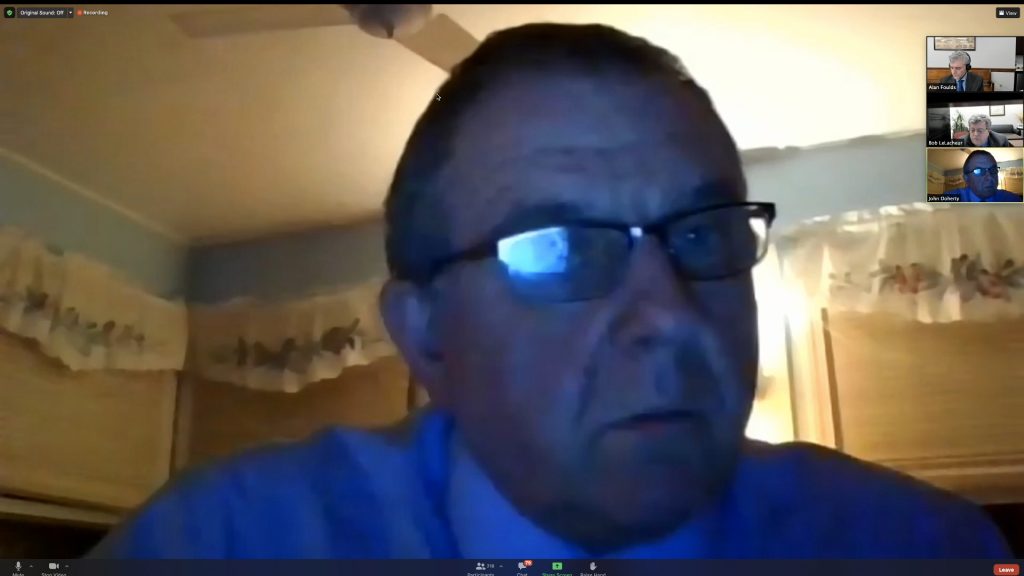 Doherty concluded by thanking Town Meeting for its continued support of the schools and their students during his twelve-year tenure as superintendent. "You have always had the interest of students in mind, even in lean budget times," Doherty declared.
Town Meeting also approved changes to the Fiscal Year 2021 budget under Article Five by a vote of 162-3. Town Manager Robert LeLacheur highlighted almost $800,000 in savings from health insurance costs, which will allow more funding toward the Other Post Employment Benefits payments the town must make. Other increases are vocational education, legal services, snow and ice removal, and election line items.
After a close 86-80 vote, Town Meeting adjourned at 10:20 pm and will continue next Monday, May 10, at 7:30 pm.