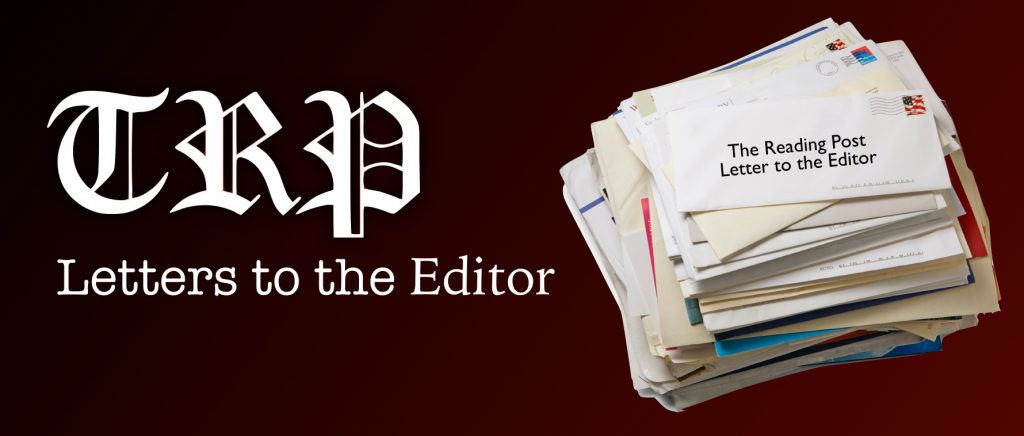 The Reading Post accepts Letters to the Editor. All letters must be signed. The Reading Post reserves the right to edit or not publish any letters received. Letters do not represent the views or opinions of the Post. editor@thereadingpost.com
---
Dear Fellow Reading Community Members,
We are writing to ask that you join us in voting for Geoffrey Coram for Reading's School Committee.
We had the pleasure of meeting Geoffrey in early 2016 when we came together to form a municipal ballot question committee called "Yes for Reading" – a committee whose purpose was to advocate in favor of the override. Geoffrey took on the role of treasurer of that committee.
We had the chance to work with Geoffrey a second time on the board of the second incarnation of "Yes For Reading," when he served as treasurer and a super volunteer once again.
It was clear in both those experiences that Geoffrey is a hard worker, intelligent, and a true team player.
Both of the campaigns were stressful and time-consuming. But Geoffrey always rose to the occasion to advocate for our schools and community in whatever way he was needed beyond the role of treasurer.    
He is one of those people you want on your team because you know he is trustworthy, reliable, meticulous, and has the best interests of the team at heart.
Geoffrey is unassuming and modest, but his depth and breadth of experience, beyond Yes For Reading, speaks volumes about his desire to serve the entire school community. For example, he has been PTO treasurer for Birch Meadow, Coolidge, and RMHS, has served as a budget parent, has volunteered for the RMHS Drama program, and is a Town Meeting Member so that he can vote on the school budget. He cares deeply for our schools and gives back with his time and talent.
We believe that Geoffrey will bring a conscientious and thoughtful approach to School Committee, and will seek to achieve what is best for our students and staff.
Again, please join us in voting for Geoffrey Coram for School Committee on April 6. Thank you!
Sincerely, 
Kate Grant, Lothrop Road
Jen Hillery, High Street
Reading Residents and Volunteers