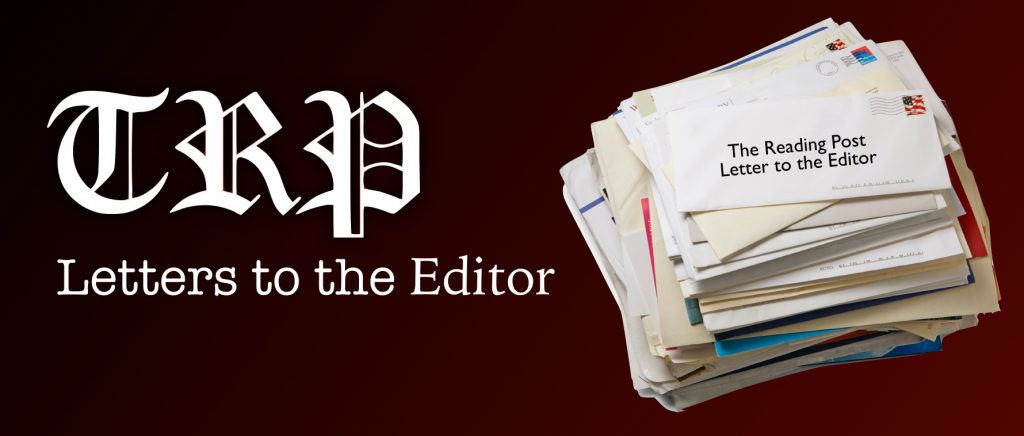 The Reading Post accepts Letters to the Editor. All letters must be signed. The Reading Post reserves the right to edit or not publish any letters received. Letters do not represent the views or opinions of the Post. editor@thereadingpost.com
---
Dear Editor,
My family and I were walking back from my parent's house on a late Sunday afternoon. The neighborhood is familiar to my wife and I because we have called it home for three decades. I'm a lifelong Reading resident (with the exception of college and a few years post-college work). I grew up on Whitehall Lane. My wife grew up on Heather Drive. We are raising our three-year-old son on Oak Street. I met my wife in second grade at Joshua Eaton. This is our forever town.
Before we stepped into our house, I noticed a flier tucked underneath my doormat. As I scanned its contents and looked at the corresponding website, I became disheartened, and my heart sank. A local activist group passed out fliers endorsing candidates on this year's Town Election ballot. I was not upset at the lack of endorsement. The group has every right to endorse candidates of their choosing. The issue is a lack of clarity and outreach.
I'm running for Town Meeting in precinct four. It's my first time running for any office. I never even ran for student government. A letter that I read penned by former President Obama changed my mind. His message: Local government matters. Electing a President usually (sans pandemic) does not have a direct impact on your day-to-day. But a locally elected official certainly can. The local level is where change happens. Local government is supposed to be the opposite of DC. This should not be an arena for divisiveness, pettiness, or political partisanship. It should be a space to come together to find common ground. Government should and must function best at the local level. If it does, positive change will follow.
As mentioned above, I'm not upset that I did not appear in the endorsed column. I'm a new name to Reading politics, and I fully expected an uphill road. I'm willing to travel that road and handle all of the trials and tribulations that come with it. I am upset that the local group posted their endorsements without full transparency. On the site, they wrote:
"It is important to note that of the 61 non-endorsed candidates, there are five that did not fall into the groupings below. I either do not know them, or there are other candidates I support more in their contest."
The group did not name the "unknowns" and instead only listed out reasons why not to support the non-endorsed candidates. I was lumped into a grouping that was an unfair characterization of my beliefs. It was an egregious oversight. I wish Reading POP Huddle reached out to me to understand my viewpoints. I'm actually in full alignment on the issues they raised. At the very least, POP should have listed out the candidates they do not know. Just like local government, their significant error now has a direct impact on me. My neighbors could form preconceived notions about me.
The typical human response is to quit. And it's a shame. We should embrace new voices. New ideas and perspectives should be encouraged. This is how change happens! New candidates should not feel discouraged from serving their town.
I'm not running away. This is my forever town.
David McIsaac
94 Oak Street