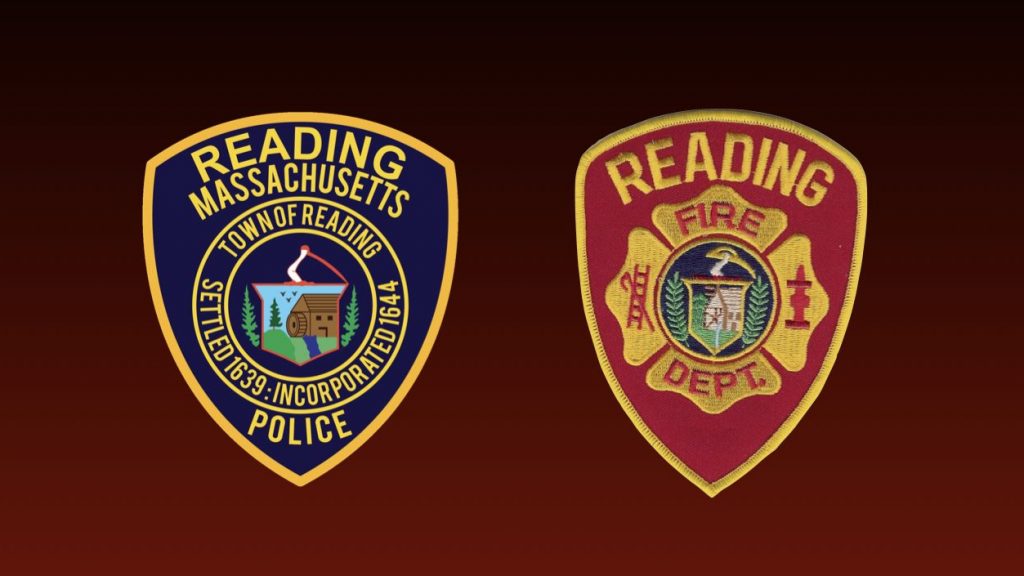 Reading, MA — Excerpts from the Reading Police and Fire Log:
Thursday, February 18, 2021
7:37am – Commercial Alarm at Harnden Street Business.
9:35am – Winslow Street Resident Reports Bank Fraud.
10:27am – Lift Assist for Archstone Circle Resident.
10:51am – Investigation of Minor Two-Vehicle Crash in Burbank YMCA Parking Lot.
2:10pm – Possible Traffic Light Malfunction at Summer Avenue and Main Street.
2:57pm – Woburn Street Resident Reports Hacked Wayfair Account.
5:11pm – Wire Down Across Green Street.
9:16pm – Water Flow Alarm Issue on Jacob Way.
9:45pm – Disabled Vehicle on Bay State Road.
Friday, February 19, 2021
5:30am – Officer Checks on Suspicious Running Vehicle in Salem Street Driveway.
7:43am – Follow-up Phone call with Lowell Street Resident.
10:27am – Lift Assist for Forest Street Resident.
11:31am – Longfellow Road Resident Reports Fraudulent Unemployment Claim.
12:16pm – Bancroft Avenue Resident Reports Credit Card Fraud.
1:34pm – Erratic Vehicle Operation Reported on Pleasant Street.
1:41pm – South Street Resident Reports Receiving and Cashing a Scam Check.
1:41pm – Lift Assist for Colburn Road Resident.
2:52pm – Officer Assists with Birthday Parade on Pleasant Street.
3:52pm – Assistance Rendered to South Street Resident Regarding Parental Living Situation.
4:43pm – Investigation of Two-Vehicle Crash on West Street.
5:03pm – Investigation of Vehicle into Curb on Salem Street.
8:48pm – Complaint Regarding Person Sleeping in Van in Salem Street Parking Lot.
9:03pm – Complaint Regarding Vehicles Parked on Both Sides of King Street.
9:51pm – Complaint Regarding Loud Music in Elderberry Lane Area.
9:55pm – Disabled Vehicle at Walkers Brook Drive Business.
10:05pm – Vehicle Stuck in Snow in the Middle of County Road.
10:42pm – Winslow Road Resident Reports Two Dogs Missing.
Saturday, February 20, 2021
1:00am – Commercial Alarm at Main Street Business.
2:20am – Report of Small Fire on Top of a Light Pole on Range Road.
9:38am – Private Investigator in Fairchild Drive Area.
10:52am – Report of Suspicious Person Out of Control in Vehicle at Salem Street Business.
12:00pm – Complaint Regarding Several Dozen Vehicles Parked on Ash Street Causing a Hazard.
1:51pm – Low Hanging Cable Line on Hopkins Street.
1:53pm – Disabled Vehicle on John Street.
2:33pm – Person Stuck in Elevator at Washington Street Building.
2:54pm – Audubon Road Resident Reports Altered Check.
2:54pm – Report of Two-Vehicle Crash on Haverhill Street Rotary.
4:10pm – Main Street Business Reports Witnessing a Hit & Run in Parking Lot.
5:40pm – Report of Possible Water Leak in Road on James Road.
7:36pm – Commercial Alarm at Main Street Business.
11:35pm – Report that Stop Sign has Been Knocked Down at Parker Street and Pleasant Street.
Sunday, February 21, 2021
1:57am – Lift Assist for Martin Road Resident.
11:03am – Ongoing Water Issue on James Road Reported.
12:12pm – Lift Assist for Main Street Resident.
1:12pm – License Plate Found on High Street Sidewalk.
1:29pm – Report of Water Coming Up from Holly Road.
1:50pm – Complaint Regarding Vehicle Operator who Appears Intoxicated on Union Street.
1:52pm – Officer Assists with Birthday Parade on Fremont Street.
3:03pm – Commercial Alarm at Walkers Brook Drive Business.
3:21pm – Lenetta Lane Resident Reports Unauthorized Charges on Credit Card.
3:31pm – Investigation of Minor Vehicle Crash in Main Street Parking Lot.
3:33pm – Officer Standing By for RMLD to Remove Tree Limb from Wire on Haverhill Street.
4:18pm – Track Road Resident Reports Money Stolen Through PayPal.
4:26pm – Report of Traffic Light Facing Wrong Way at Main Street and Salem Street.
5:04pm – Officer Out with Disabled Vehicle on Mill Street.
ARREST: One Suspect for OUI, Open Container of Alcohol in Vehicle, Operating an
Uninsured Vehicle.