March 8, 1962 – February 13, 2021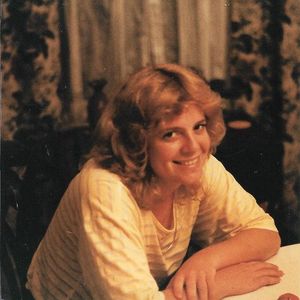 Linda A. (McCarthy) Avron oF Reading, passed away on February 13, 2021, Age 58.
Loving Mother of Michael Bellofatto of Poughkeepsie, New York, and Chelsea Avron of Macungie, Pennsylvania. Beloved Sister of Brian McCarthy of Medford and cherished daughter of Paul and Lorraine McCarthy of Reading.

Linda graduated from Reading High in 1980 and received a Bachelor of Science from Westfield State in 1985. Her life's journey took her to Virginia, North Carolina, Mid Hudson River Valley in New York, and Pennsylvania where she worked and raised her two children before returning to Reading.
Linda AKA (Mom, Ma, Mommy, LaLa, Galoopa. and Tee-Tee) made so many good friends wherever she lived. As the years went by, she lovingly welcomed into her family Brian's partner Debbie (Deborah Carroll of Reading), Michael's partner Domi (Dominique Filangeri) of Poughkeepsie, and Chelsea's partner Robert Henggeler of Ambler, Pennsylvania.
The greatest joy in Linda's life was being with her family. She had so much of her love to give but sadly, she left us too soon.
In addition to her immediate family, she leaves her Aunts Elizabeth Stellato of Medford, Christine McCarthy Matayabas of Melrose, Janet McCarthy of Brentwood, California, MaryAnn and Uncle Edmund McCarthy of Glastonbury, Connecticut and Uncles Jim Myers of Brentwood, California and Phillip McCarthy of Peabody cousins David, Cynthia, Michelle, Jeff, Karen, Lisa, Jim, John, and Tim.
In lieu of flowers please donate to the American Heart Association, Gift Processing Center, PO BOX 78851, Phoenix, AZ, 85062-8851.
At the request of the family all services will be private.