August 27, 1957 – January 21, 2021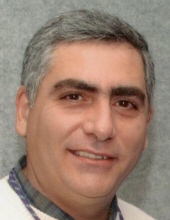 Gerald C. Solimini, age 63 of Reading, formerly of the North End, died peacefully at his home, with his family at his side, on Thursday, January 21, 2021. He was the husband of Rose (Fici) Solimini, with whom he shared 37 years of marriage. Raised in the North End of Boston, he was the son of Iris "LaLa" (Cirignano) Solimini of Wakefield and the late Frank "Sully" Solimini.
He attended St. Anthony Elementary School and was a graduate of Christopher Columbus High School, class of 1975. He earned a Bachelor's Degree from Suffolk University in 1979. He has lived in Reading since 1983. Until his retirement in 2017, Gerald had worked as the Director of Corporate IT for Raytheon for 15 years. He had previously worked for Wang Laboratories from 1980-2002. He was an avid supporter of many charities and enjoyed traveling, different foods, most especially, spending time with his family.
In addition to his wife and his mother, he is survived by a son Gerald F. Solimini and his wife Helenia of Woburn, a daughter Kristina DiNicola and her husband Andrew of Billerica, a grandson Riley Vincenzo Solimini, a sister Carla Solimini of Wakefield, a sister-in-law Lucille Giso and her husband Richard of Peabody, a sister-in-law Dee Dee Fici of Lynnfield, a nephew Richard M. Giso of Lynn, and 3 nieces Melissa Giso of Saugus, Tessa Jones and her husband Brent of Iowa, and Cara Silvia and her husband Michael of North Reading.
Due to the current restrictions imposed during the pandemic services, including a Funeral Mass at St. Athanasius Church and burial at Wood End Cemetery in Reading, will be private. In lieu of flowers please make a donation to Care Dimensions Hospice, 75 Sylvan St. Suite B-102 Danvers, MA 01923, Lahey Hospital and Medical Center, Burlington, or to a charity of your choice. Guestbook at solimine.com