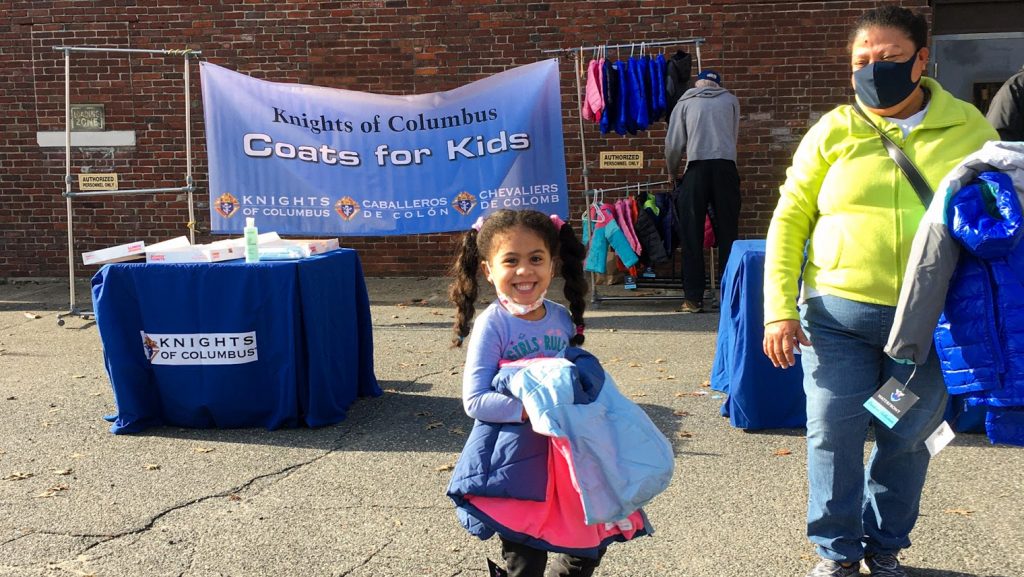 Reading, MA – The Reading Knights of Columbus Council 1031 has become known for its charitable donations and fundraisers. With many people in Massachusetts facing economic hardship due to the COVID-19 pandemic, this year was no exception.
"We had two Coats for Kids drives this year. The first one was at St. Agnes in Reading on November 7th, and the second one was on November 21st at the Sisu Center at Lawrence Prospera in Lawrence," said Grand Knight, Bob Baynes.
The Coats for Kids initiative is part of a larger program held through the national branch of the Knights of Columbus, which works with a distributor to purchase new, heavy winter coats at a subsidized price of around $25 per coat. Individual branches then raise money to buy these coats and distribute them to their community members in need.
"We started gearing up for this by raising money in September and October, and then as the donations came in, we started ordering coats. The Council donated $500 to the drive, and then we reached out to individual members to ask if they might be able to help us match through a GoFundMe page, which raised around $1,425. Then we created a community-wide GoFundMe page, which was shared on social media to spread the word, and from that, we raised another $1,125. So all told, we were able to raise a little over $3,000 for the drive," said Baynes.
These funds were then used to purchase 132 new winter coats for children and teens in need. Working with members of the Society of Saint Vincent DePaul, the Reading Knights of Columbus set up a donation center at St. Agnes on November 7th, working to help parents find a coat that fits their child.
"We give away coats that fit everyone from toddlers to teens, but the teen coats can also fit adults as well. The target I would say is for kids and teens, but we would never turn someone away who wants a coat," said Baynes.
At the end of the donation day in Reading, however, the Knights found that they had only been able to distribute around 37 coats. This made them wonder if other communities in the area might also need coats as winter draws nearer.
"One of Saint Vincent DePaul members works at the Sisu Center in Lawrence, which works with needy and troubled kids. The Knights of Columbus already have contacts within the Knights at Lazarus House. So through Lazarus House and the Sisu Center, we put word out that we would be giving out coats," said Baynes.
Working with the Sisu Center, the Reading Knights of Columbus opened the doors of the coat drive at 9 am. By 10:30 am, they were out, having distributed all 95 coats that they had brought with them.
"Our goal was to make sure that we met the need here in Reading, but when we recognized a greater need in Lawrence, we decided to try and meet some of that as well," said Baynes.