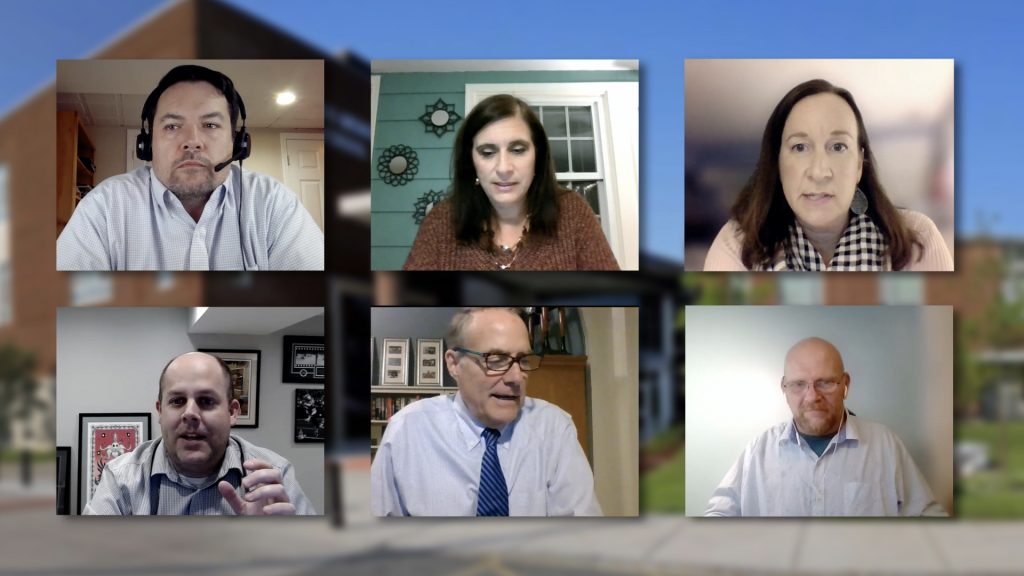 Reading, MA — The School Committee voted 6-0 to approve the District Improvement Plan on Thursday, November 19. The three-year plan, which was presented in draft form on November 5, has an essential strategy to continue to improve hybrid learning and setting benchmarks in the current school year, while seeking to improve on those benchmarks in years two and three. The plan sets specific goals related to increasing literacy, equity, and diversity in the district.
In year one, the district will seek to maintain ninety percent engagement in hybrid learning, complete curriculum guides, begin five-year curriculum and special education review cycles, and set the baseline for increased standards to measure future growth. The "Portrait of the Graduate" work will also be completed in time for the Reading Memorial High School accreditation visit in April of 2021.
Year two sets the goal of a two percent increase in state and local assessments over 2020-2021 and a two percent increase in learning environment scores on the PRIDE and MCAS surveys. The school security capital project will be completed in 2021 as well. There is also a goal to increase the percentage of teacher interviewees who are persons of color by ten percent in 2020-2021, fifteen percent in 2021-2022, and twenty percent in 2022-2023. Superintendent John Doherty did share that some of the goals related to hiring would likely need to be tweaked as a new Human Resources director is folded into the mix in December. The plan also sets a goal of a 2.5% increase in the overall percentage of student participation in AP exams and a five percent increase in students of color participating in AP exams.
Year three goals seek to continue growth with five percent achievement increase in assessment and student learning environment scores over year one. Decisions regarding elementary space will be completed by 2023 as well. The district plans to set a goal of ninety percent retention of teachers of color. There is also a goal of a ten percent decrease in the achievement gap.
Doherty informed the committee that slight adjustments might have to be made if the COVID-19 situation continues to affect the 2021-2022 school year and that goals related to hybrid and distance learning will be adjusted based on the trajectory of the pandemic. He also explained that the hiring of a special education literacy coach, related to the twelfth item in goal number two, also is a budget issue for the committee to consider in the upcoming budget cycle. Members Tom Wise and John Parks took the opportunity to express full support for the idea.
The committee spent considerable time on the first reading of an update to the policy on Teaching Controversial Issues. The subject had previously been raised by member Carla Nazzaro due to concerns that those who hold minority views on political and social matters may be unduly silenced in class as a result of their opinions.
Parks and members Shawn Brandt and Erin Gaffen struggled with the lack of a definition for the term "controversial", Gaffen expressing that she believes that even the policy's name is too vague. "This feels very stifling," Gaffen stated suggested.
Concern was also shared over creating a balance between encouraging academic freedom in classroom discussions and a teacher's first amendment rights of expression. The first reading was suspended until two committee members, Brandt, and Nazzaro, could meet with Doherty to determine appropriate changes that will make the entire committee comfortable.
Director of Health Services Mary Giuliana gave an update regarding COVID-19 infections and procedures in the schools. While sixteen high school students, two middle school students, two elementary students, and three staff members have tested positive for the virus, Giuliana was clear that none of these cases had been transmitted while in school. Various cohorts and groups have been quarantined to prevent the spread of the disease. All recommended cleaning measures have been taken to curtail the spread of the virus in the school buildings. "We feel the things we have put in place have really paid off," Giuliana stated.
Math and Science Curriculum Coordinator Heather Leonard shared that the process is underway for a new K-6 math curriculum. The current curriculum has been in place since 2012 and will no longer be updated by the publisher. Leonard explained that since there were updates to the state standards in 2017, the need to update provides an opportunity for a "real critical analysis" of the math curriculum. A decision on the issue will be made in the spring, with a three-year rollout of the new curriculum likely.
The committee voted 6-0 to adjust the Fiscal Year 2021 school department budget based upon action by Town Meeting last week to approve an additional $120,000 for COVID-19 related expenses.
The School Committee adjourned at 10:50 pm.