Reading, MA — Reading Rotary's third Fall Street Faire Event of 2020, "Where's Rotary This Week?", started on October 29 with Rotarians Sheila Clarke and Gregg Johnson visiting two local businesses to surprise their customers.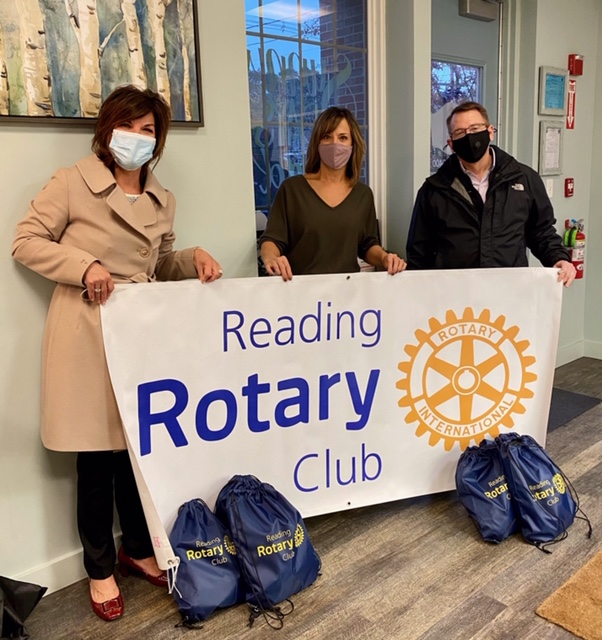 Rotary appeared at Cup Cake City and The Tin Bucket with goodie bags containing gift cards and swag last Thursday.
"Where's Rotary This Week?" is a promotion where members of Reading Rotary will be popping up at various local businesses between Oct. 29 and Nov. 19 to celebrate shopping local and promote fun in our Town. The business locations are NOT be announced ahead of time. So be on the watch for Rotarians bearing gifts. Event Co-Chair Sheila Clarke said: "Our goal with "Where's Rotary" is to encourage the lucky shoppers to come back and keep shopping and dining locally. Our local businesses are so wonderful and are always ready to help out community groups like Rotary. Now they can use our support. We're having so much fun with the surprise giveaways, and we hope others do, too."
The giveaways are compliments of the following generous sponsors (to date): Lee Kimball; M&H Interiors; Sartell Electrical Services; Jeanne Borawski; Dracut Window and Door; David Traniello, Esquire; Douglass, Edgerley & Bessom Funeral Home; and Timothy J. Kelley, Attorney at Law
We are still accepting sponsors! Your generous donation will allow us to purchase gift cards and run this event. For details on the benefits of sponsorship, please readingmarotary@gmail.com or visit the Reading Fall Street Faire website at fallstreetfaire.com.