Reading, MA — The Town of Reading announces that it is updating the 2013 Open Space and Recreation Plan (OSRP). The OSRP is a tool the Town uses to maintain the benefits of open space and recreational resources and help make important decisions about future open space and recreation opportunities. The plan must be current and have state approval in order for the Town to remain eligible for state grant and reimbursement programs, which can be used for such projects as creating new parks or acquiring lands with critical habitat.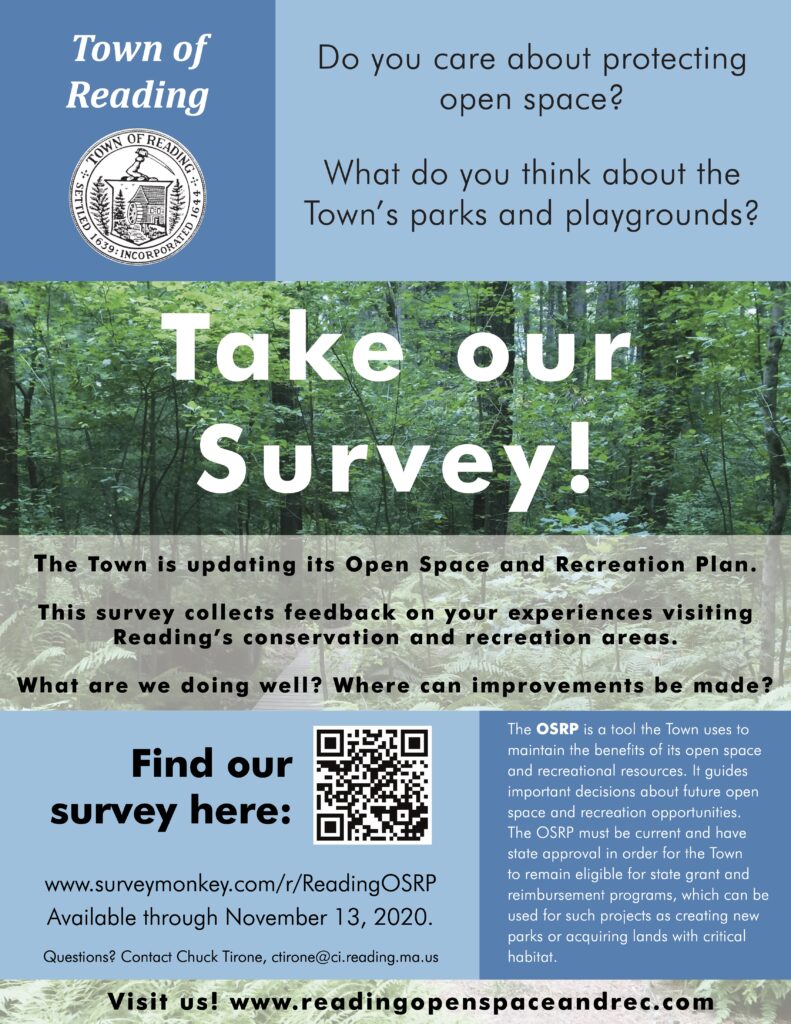 It is very important that there is public input into this process. In the coming months, the Town invites residents to participate in several activities to help understand community needs and concerns around these resources. Due to continued restrictions on public gatherings, these events will be primarily virtual. The first is an online community survey available through November 13, 2020. The survey collects feedback on experiences visiting Reading's conservation and recreation areas and participating in the Town's recreation programs. It also asks how these experiences could be improved. Residents can also express ideas about new open space and/or recreation opportunities needed most in Town. The survey will be followed by a virtual public workshop later this fall. 
Overall, the OSRP update process includes reviewing inventories of environmental resources and open space and recreational areas, evaluating current goals and objectives, and revisiting community needs to prepare an updated action plan. This effort is being led by a working group of Town staff in coordination with municipal committees and boards.
Please visit readingopenspaceandrec.com to stay current on events and project updates. If you have any questions or would like additional information about the Reading OSRP or the update process, please contact Chuck Tirone Conservation Administrator.