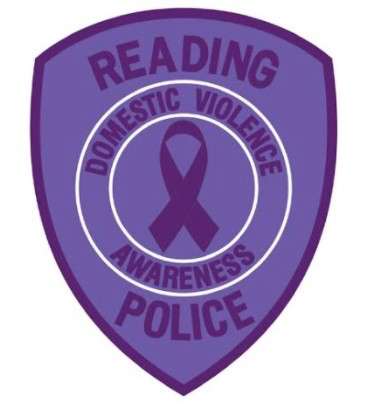 Reading, MA — Chief David Clark is pleased to announce the Reading Police Department is partnering with a local organization to raise money to help support domestic violence survivors in honor of Domestic Violence Awareness month.
The Reading Police Department is partnering with RESPOND, Inc., a local domestic violence prevention group, to sell custom Reading Police domestic violence awareness patches during the month of October.
"We are proud to once again partner with RESPOND to help support and raise awareness about this incredibly important issue," Chief Clark said. "The sale of these patches will help to fund vital resources to help survivors both in our community and beyond access the services and resources they need."
The patches are $10 each, and all will go directly to RESPOND to help fund services such as purchasing clothing, school supplies, and medications for families, or to help at-risk survivors change their locks so that they can remain safely at home.
Anyone who would like to purchase the patch should mail a check for $10 made out to the RESPOND, Inc., along with a self-addressed, stamped envelope to the Reading Police Department, 15 Union St., Reading, MA 01867 (attn: CSO Kristen O'Shaughnessy).
"We're grateful to have the Reading Police Department as part of our Law Enforcement Partnerships program," said Heather Lonks Minty, the director of Philanthropy and Engagement for Respond, INC. "By partnering with the Reading Police Department, we are able to take proactive measures to reach survivors and initiate services as opposed to waiting for survivors to find us when survival is the primary focus. Reading residents should be proud to live in a town that takes domestic violence seriously and is actively working to eliminate the obstacles that prevent victims from finding safety and support."
"Opportunities like this are a great way to raise awareness and make a significant difference in the lives of domestic violence survivors," Community Service Officer Kristen O'Shaughnessy said. "We're proud to help contribute to the cause and support the incredibly vital work RESPOND does to aid community members in need."
For more information, call 781-942-6761 or email Community Service Officer O'Shaughnessy at KOShaughnessy@ci.reading.ma.us.
About RESPOND:
A pioneer in the movement to end domestic violence, RESPOND is New England's first domestic violence agency and the second oldest in the nation. RESPOND's work began in the early 1970s, when four women from Somerville, MA started a grassroots effort to support victims of domestic violence by opening their own homes as safe havens for women fleeing abuse. In 1974, these "founding mothers" formed RESPOND, an organization that continues to provide life-saving shelter and housing support, safety planning, training, and educational programs 46 years on. RESPOND's programs and services focus on domestic violence prevention, intervention, and education. All of RESPOND's services are 100% confidential and free of charge.
For more information about RESPOND, please visit their website