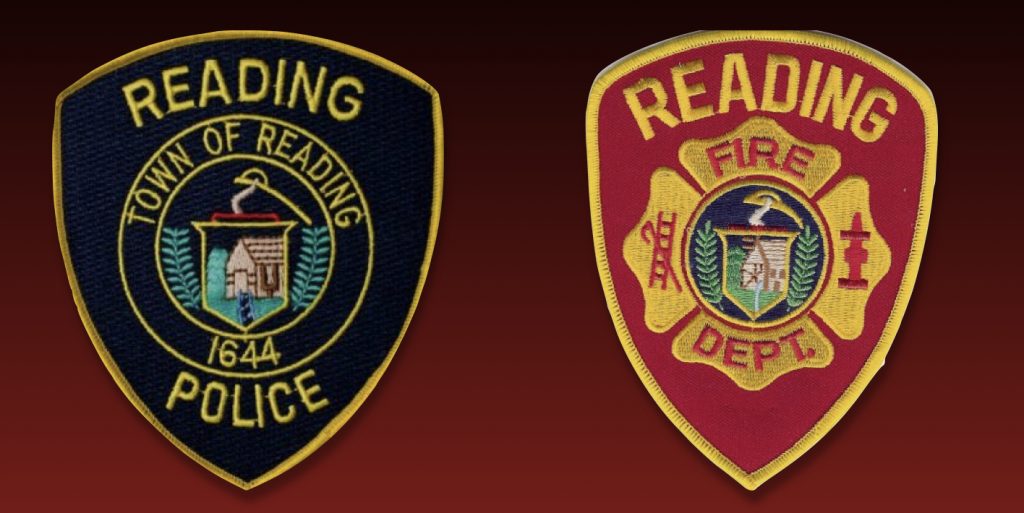 Reading, MA — Below are highlights from the Reading Police & Fire Log
Thursday, August 13, 2020
2:11am – Sunnyside Avenue Resident Reports Injured Dog in Area.
8:00am – Parking Enforcement on Gould Street.
8:42am – Detail Officer Reports Erratic Vehicle.
9:36am – Suspicious Person Reported at Parker Middle School.
10:55am – Officer Assists with Birthday Parade on Prescott Avenue.
11:46am – Kingston Street Resident Reports Fraudulent Use of Amazon Account.
3:49pm – Report of Nails Spilled onto Roadway on Chute Street.
4:02pm – Suspicious Person Yelling in Cemetery.
5:24pm – As a Result of Traffic Stop on Salem Street, Suspect Arrested on Outstanding Warrant.
5:25pm – Assistance Rendered to Resident with Keys Locked in Vehicle on General Way.
11:42pm – Complaint of Individuals Arguing in the Street on Prescott Street.
Friday, August 14, 2020
2:07am – Fire Alarm Activation at Summer Avenue Residence.
10:03am – Complaint of Car Alarm Sounding Since Early Morning on Franklin Street.
10:18am – Detai Officer Reports Large Pipe in Roadway on Main Street.
11:18am – Report of Items Taken from Unlocked Vehicle on Walkers Brook Drive.
1:22pm – Lynn Village Way Resident Reports Fraudulent Unemployment Claim.
1:38pm – Complaint of Youth on Dirtbike Speeding Up and Down Wakefield Street.
8:16pm – Report of Unknown House Alarm Sounding in West Street Area.
8:23pm – Commercial Alarm at Walkers Brook Drive Business.
8:32pm – Complaint of Outside Burning on Lewis Street.
10:34pm – Text-a-Tip Complaint of Loud House Party on Chequesette Road.
Saturday, August 15, 2020
12:26am – Lost Credit Card Turned in at Station.
12:30am – Report of Damage to Hallway at Washington Street Residence.
10:40am – Report of Dog Wandering in West Street Area.
11:10am – Complaint Regarding Political Sign on Town Property on Woburn Street.
1:11pm – Fire Alarm Sounding at Susan Drive Residence.
1:42pm – Complaint of Disturbance by Dog Barking.
3:17pm – Investigation of Minor Crash on Franklin Street.
4:28pm – Report of Suspicious Vehicle Parked Near Railroad Tracks.
6:37pm – Report of Two Dogs Running to Haverhill Street.
6:47pm – Lift Assist for West Street Resident.
8:12pm – Alarm Sounding at Joseph Way Pumping Station.
8:44pm – Complaint of Youths Shouting and Being Loud at Sturges Park.
9:09pm – West Street Resident Reports Fireworks Sounding in Area.
10:47pm – Commercial Alarm at West Street Business.
11:05pm – Report of Suspicious Vehicle Parked on Franklin Street with Lights On.
11:19pm – Main Street Resident Complains of Loud Music Playing.
Sunday, August 16, 2020
9:09am – Red Gate Lane Resident Reports Injured Dog in Yard.
1:13pm – Putnam Road Resident Complains that Political Sign in Neighbor's Yard Violates Town By-Laws.
1:49pm – Investigation of Two Car Crash on Main Street.
2:44pm – Assistance Rendered to Customer at Main Street Business Who Cannot Locate Car.
3:52pm – Bancroft Avenue Resident Reports Vehicle Parked on Street for Two to Three Weeks.
3:55pm – South Street Resident Reports Small Packages Left Inside House.
4:53pm – Individual in Lobby Reports Stolen Cell Phone.
5:12pm – Report of Possible Intoxicated Driver in General Way Parking Lot.
6:46pm – Motor Vehicle Repossession Order Received.
9:07pm – Elliot Street Resident Reports Outdoor Lights Damaged on Friday.
9:19pm – Report of Youths Gathering at Parker Middle School.
10:31pm – Mutual Aid Given for North Reading PD Traffic Stop on Main Street.