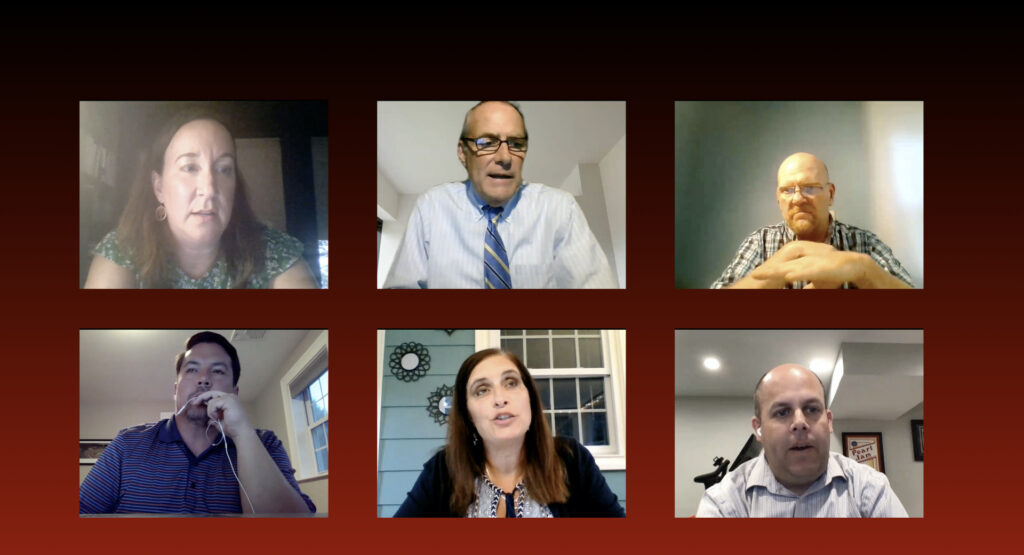 Reading, MA — The School Committee voted 6-0 to approve Superintendent John Doherty's proposal for reopening schools at its August 6 meeting. Doherty's proposal, outlined in a written statement earlier this week, referred to a "phased-in hybrid approach" that would bring cohorts of students back to school in a phased approach rather than an all-at-once approach. Students in the RISE pre-school, those with disabilities in special programs, and other students determined to be at risk would be coming to school in-person every day except Fridays. All students will begin school with remote learning until it is their week to begin the in-person portion of hybrid learning. Parents will have the option for their student to stay in a remote learning model if they so choose.
In proposed the phased-in hybrid model plan, students will be split into two cohorts, A and B. During the first week of school, the week of September 15, all general education students will be remote learners except for grade six cohort B. During the week of September 22 all general education students will be remote except for grade 6 cohort A and grades k-2 cohort A. This phasing continues until a pattern of one week of remote learning is followed by one week of in-person learning occurs for all cohorts. In the proposed schedule, grades 3-5 cohort A and the grades 9-10 cohort will not have in-person learning until the week of October 5, and the grades 11-12 cohort will not be in-person until October 12.
Students and staff who are in school will be required to wear masks, maintain physical distancing and inter-group contact between shorts will be as minimal as possible. Parents will be asked to screen their students for symptoms of COVID-19 prior to school each day. Hand washing routines for students and staff will also be required.
In regards to building ventilation, "All of our [HVAC] equipment meets or exceeds the manufacturer and state standards for the correct number of air exchanges with outside air. In addition, MERV-13 filters will be installed in all of our univentilators and changed on a regular basis." Doherty's plan explained. MERV-13 filters are designed to filter SARS-COVID virus sized particles. All filters will be changed each week. CDC guidelines for cleaning and disinfecting schools will be followed, additional cleaning will be done on Fridays when no students and teachers will be in the buildings.
"It's the best of the imperfect models." Doherty shared.
The committee voted 6-0 to amend the plan slightly, giving Doherty guidance to adjust the model based on the "phase" of reopening to which the state is currently adhering. "We're still nimble if something changes." Chair Chuck Robinson added. The Department of Elementary and Secondary Education is expected to give guidance on metrics for shifting plans by the end of next week.
Multiple emails were read to the committee as public comment, all of which ran the gamut of opinions on the plan. In a letter to the committee, published by the Reading Post, the Reading Teachers Association expressed its concerns with the plan. The letter states that during "in-person" learning much of the time will be spent looking at a screen as the teacher presents from another classroom and that much time will be spent reinforcing protocols regarding safety. The letter also expresses concern for special education teachers and others who would be "in-person" full-time.
The letter calls for remote learning to begin the year, with a transition to a hybrid model once public health data indicates it can be done safely. These data points include a declining number of cases in Massachusetts, a rate of transmission below 1%, and effective contact tracing mechanisms. The letter concludes, "As educators, we always tell our students one of our most important jobs is to keep them safe, in all manners of the word. Never has that sentiment been more real than it is now."
In response to the diversity of opinion, member Thomas Wise stated, "We have to make the best decision we can with the information available to us right now." Doherty shared that "every district is in this boat" when sharing about balancing the diverse needs of families, students, and staff. "I'm suggesting the phase-in approach so we can do it right," Doherty explained.
When questioned about how the extended school year classes have been received this summer Assistant Superintendent for Teaching and Learning Chris Kelley suggested that "it was a positive experience for students who were able to come to in-person learning this summer."
There were also questions regarding the method of phasing students into the in-person portion of the model. Doherty explained that especially on the high school level the unknowns of how many students will opt for full remote learning as well as how many teachers will need to take medical leave make scheduling and possible hiring challenging. He was clear that remote learning for all high school students will begin on September 15.
Member John Parks indicated the belief that the phased approach was the only way to have a hybrid model. "It's the right tempo, it's the right pace," Parks confirmed. Member Shawn Brandt added, "The phased-in is the only way I am comfortable with the hybrid at this point."
The committee also voted on a revised school calendar for the year. The school year for all students is scheduled to begin on September 15.
The School Committee adjourned at 10:30 pm.