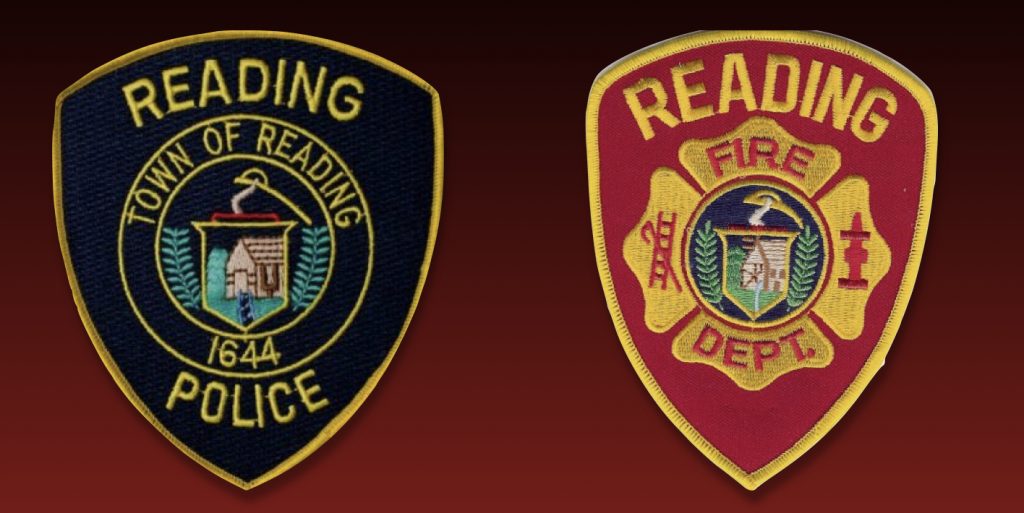 Reading, MA — Below are highlights from the Reading Police & Fire Log
Monday, July 20, 2020
12:25am – Commercial Burglar Alarm at Ash Street Business.
5:57am – Power Line Reported Down and in the Road on Gilmore Avenue,
9:27am – Commercial Alarm at Ash Street Location.
11:28am – Assistance to Pond Meadow Drive Resident with a Heart Block.
12:40pm – Report of Traffic Lights not Cycling Properly at Main Street and Franklin Street.
1:09pm – Call for Fireworks Disposal on Thorndike Street.
1:13pm – Two Car Crash on Main Street Investigated.
2:47pm – Officer Passes Information to Ash Street Family.
3:00pm – Officer Assists with Birthday Parade on Walnut Street.
3:00pm – Harold Street Resident Reports Smoke from Light Fixture in Garage.
5:19pm – Billerica PD Requests Contact with Elderberry Lane Resident.
Tuesday, July 21, 2020
12:47am – Smoke Detector Activated at Augustus Court Residence.
8:08am – Main Street Business Reports Shoplifters.
8:13am – Report of Person Stuck in Woburn Street Elevator.
8:59am – Verbal Warning for Red Light Violation Issued on Birch Meadow Drive.
9:46am – Investigation of Vehicle Striking Light Pole in West Street Parking Lot.
10:48am – Investigation of Two Car Crash at Main Street and Green Street.
10:59am – Sick Or Injured Rabbit on Side of Road on West Street.
1:45pm – Report of Traffic Lights not Cycling Properly at Main Street and Franklin Street.
1:50pm – Lift Assist for Summer Avenue Resident after Fall.
2:46pm – Investigation of Possible Hit and Run in General Way Parking Lot.
3:23pm – Wallet Found on Union Street.
4:17pm – Report of Hit and Run on Walkers Brook Drive.
4:19pm – Grove Street Resident Reports Identity Theft.
4:31pm – Report of Vehicle Backing into Telephone Pole on John Street.
8:54pm – Report of Lost Wallet and Keys at Morton Field.
10:15pm – Possible Missing Person Reported on Frank Tanner Drive.
11:48pm – Report of Possible Reckless Operation on Carnation Circle.
Wednesday, July 22, 2020
3:00am – Cruiser Transport from Wilmington to Reading.
8:03am – Lift Assist for Elderberry Lane Resident.
8:44am – Report of Water Valve Leak on Selfridge Road Hydrant.
11:54am – Investigation of Minor Vehicle Crash on Ash Street.
12:05pm – Verbal Warning for Speed Issued on Washington Street.
8:52pm – Suspicious Person Approaching Vehicles in General Way Parking Lot.
8:53pm – Credit Card Found on Walkers Brook Drive Sidewalk.