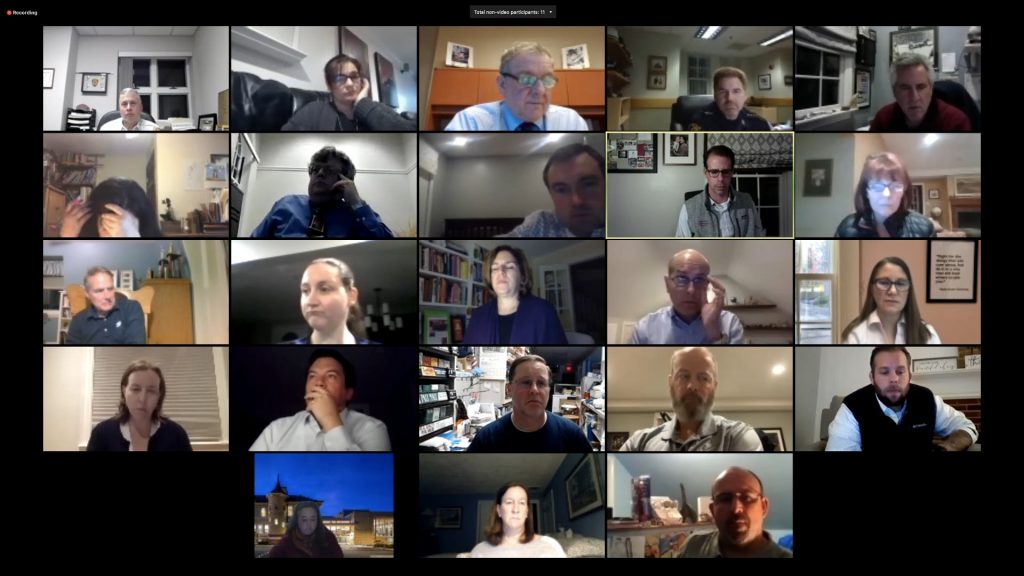 Reading, MA — Town Manager Robert LeLacheur outlined newly-determined shortfalls in expected revenues for the Fiscal Year 2021 budget to the Finance Committee (FinCom) on May 12. These expected shortfalls are a result of the effects the COVID-19 situation has had on the local and state economies. LeLacheur expects revenues to be $2.4 million lower than previously reported in March. Of this shortfall, $1.5 million is a reduction of expected state aid. The town has also expended $225,000 on COVID-19 related expenses including the purchase of Personal Protective Equipment for the town. LeLacheur also stated that his "best guess" is that $1 million of the shortfall will be felt beyond FY 2021. "Hopefully the [projected] 10% reduction in state aid is worse than what happens," LeLacheur commented.
To meet the shortfall, LeLacheur, along with Superintendent of Schools John Doherty, presented revised FY 2021 budgets to the Finance Committee for its endorsement. It was proposed that the operations budgets be reduced by $450,000, which will eliminate several currently vacant positions. It includes a 1% pay reduction for non-represented personnel on both the town and school sides but does not include any layoffs of current employees. It also reduces capital expenditures by $930,000 while adding $500K from the town's free cash reserves.
Included in the cuts are $28,000 in the unanticipated repairs line item in the Facilities Department, $10,000 in library materials, and professional development across all town departments. LeLacheur explained that it was unsure what professional development might even look like in the days ahead, so the cuts seemed reasonable.
LeLacheur did stress that all cuts that have been proposed could be restored if the revenue numbers are better than projections. "The best thing we can do is put in something that is flexible and buys some time," LeLacheur commented while stressing that the projections could be incorrect.
Doherty explained possible cuts in the school department budget. Included is the reduction of the additional HR/Payroll specialist and $179,000 from the regular day budget line, including cuts to curriculum, technology replacements, professional development, and one classroom teacher. Doherty stressed that the teacher position is currently vacant and that as a result of lower kindergarten enrollment, the lost teacher position should not affect the class size. There is also, on average, a 5% reduction in the building-based budgets for the schools. Doherty continued to explain that enrollment changes have also created a $160,000 shortfall in offsets, which were accounted for in the school department cuts. He stressed that all bargained agreements, including raises, will be honored.
Doherty also clarified that reduced costs in the FY2020 budget have allowed principals to order some curriculum now, helping reduce the strain. He used the example of some of the science curriculum which is "sitting unused in boxes" at the schools because the schools are shut down and would be able to be used next year and thus do not need to be purchased in FY2021.
Several participants questioned making cuts, while the town has approximately $14 million in reserves. "It's a rainy day fund." School Committee chair Chuck Robinson stated. "Well, it's raining!"
LeLacheur counseled against using reserves to pay for personnel as the continued use was unsustainable. He also pointed to upcoming capital projects for which the reserve funds might be used. He also warned that the revenue picture could be worse than predicted, and the town might have to dip into reserves just to keep this proposed budget. "Everything we talked about tonight is not going to happen," LeLacheur suggested. "It's going to be different."
FinCom decided to continue its discussion and likely vote on Monday, May 18 at 7:00 pm. This would allow for the time for the budget to be printed and distributed to town meeting members two weeks prior to the expected June 15 date of Town Meeting.
FinCom adjourned at 10:45 pm.