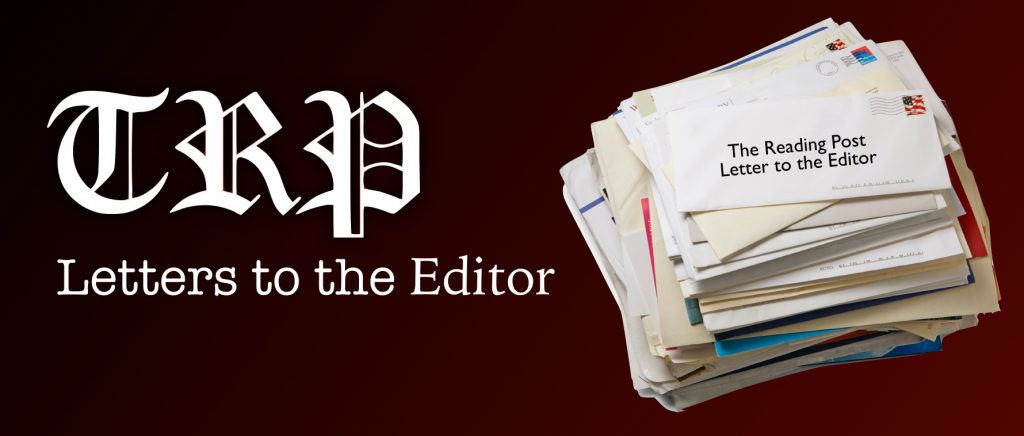 The Reading Post accepts Letters to the Editor. All letters must be signed. The Reading Post reserves the right to edit or not publish any letters received. Letters do not represent the views or opinions of the Post. editor@thereadingpost.com
---
Dear Fellow Citizens of Reading,
As I stand on the threshold of the next leg of my volunteerism journey in Reading, it is even more important than ever that I speak my opinion as a citizen. I have seen and felt the power of our town leaders and know that we need positive people with experience who will bring their skills to the table to collaborate in confronting, researching, and resolving challenges in the best way possible for our entire school district and town as a whole. We need people who take the high ground, looking for ways to talk face-to-face with those who disagree. We need people who will set aside differences and their Individual political agenda in order to truly listen to all sides of a story.
In my opinion as a citizen; as a volunteer; as one who has worked closely with the Select Board, and as one who is retiring from the School Committee after 6 roller coaster years, the leaders we need for School Committee are: MEGAN FIDLER-CAREY, ERIN GAFFEN, AND SHAWN BRANDT.
The leaders we need for Select Board are KAREN HERRICK AND ANDREW FRIEDMANN.
MEGAN FIDLER-CAREY is the educator we need because of who she is personally and professionally – she is a passionate life-long learner, educator, and advocate for the whole child, all families, and our community. Professionally, she has worked in other districts with other superintendents, school committees, and staff building relationships and connecting people to address challenges and plan programs. In Reading, she has volunteered on Town Meeting, for the Reading Cultural Council, Reading Education Foundation, Reading Embraces Diversity, and so much more. Megan will be positive and open-minded, do her homework, and advocate in the best interests of our students, their families, and our town. I am sure of it. Please join me in casting your vote for Megan Fidler-Carey on March 3rd!
ERIN GAFFEN is someone I have been itching to entice to the School Committee for years. She has been an educator of special needs students who took on roles of increasing responsibility, landing her as vice principal. She has been a budget parent and ardent supporter of attaining the funds we need to educate our students and support our teachers, while respecting the financial restraints of our citizens. She has been president of the Women's League, raising much needed funds to support organizations across our town. Erin is aware of the challenges ahead of our school committee and brings to the table a calm voice, an open-mind, and a collaborative organized nature. Erin Gaffen will be a positive and essential addition to our School Committee. She has my vote on March 3rd!
SHAWN BRANDT is running for the 1 year seat on the School Committee. Professionally, he brings people together to creatively and collaboratively solve problems without easy solutions. This skill will be an asset to our schools which face funding shortfalls and policy challenges on a regular basis. His time on the Finance Committee combined with his level headed and thoughtful advocacy for truth on-line and in person will contribute greatly to nurturing a rapport with the public, improve communication, and supporting our staff who often faced with insurmountable challenges. Please place your vote for Shawn Brandt on March 3rd!
KAREN HERRICK'S level-headed questions and contributions on the Finance Committee as well as her knowledge of our town as a small business owner and realtor equip her to be a perfect candidate for the Select Board. Her devotion to our community is evident through her work on different town committees, Town Meeting, and with RMLD. Her knowledge about and commitment to our environment alongside finding affordable and sustainable energy solutions is what we need going forward as we discuss our town's school space issues and our need for a more viable Senior/ Community Center. Please join me in electing Karen Herrick to the Select Board on Tuesday, March 3rd.
ANDREW FRIEDMANN is a person of valor who despite political pressure researches the issues, talks to the stakeholders, and does not hesitate to fight for the solutions and people that he believes in. That is partially what triggered his mistake at the Select Board Meeting of February 11th. The ruthless attack and public shaming of his colleague triggered him to speak what he was feeling at the moment. Just as quickly, he realized that in so doing, he had hurt the people whom he has advocated steadfastly for in the past. He did not shrink away from his mistake. Instead he apologized – in person – I witnessed this. He also apologized in private. He took time out of his work and family life to personally approach the police, fire, and first responders whom he had unintentionally offended. Who of us has not spoken out in a moment of weakness and anger? How many of us have experienced the misfortune of doing that as a hardworking public volunteer on television? I can attest to how intimidating it is to be on camera. Please take the time to get to know Andy – who he is, what he works for, all that he stands for – and you too will cast your vote for him on March 3rd. Please vote for his record of supporting the police, advocating for all of our citizens, and making decisions that benefit the long-term best interest of our whole town.
In addition, there is something else YOU can do! The other people we need to elect are for Town Meeting. If there are slots open in your precinct, we need each of YOU! If you did not pull papers and want your voice heard, please tell your friends and colleagues to write you in. Your voice in public is important. So many salient opinions are shared on Social Media, however, the truth gets lost in the threads. We need to talk to each other face-to-face. Please join me at Town Meeting and share your voice for the good of our community!
Remember to ask for two ballots on Tuesday, March 3rd – one for national and one for local candidates. Regardless of whether you agree with my recommendations, please vote!
With Best Regards,
Linda Snow Dockser
Beaver Road