Disney's THE LITTLE MERMAID JR.
Playing at the Walter S. Parker Middle School in Reading, MA
Reading, MA — Disney's THE LITTLE MERMAID JR. is playing at Parker Middle School on Thursday, March 12 through Saturday, March 14. The 60-minute musical, designed for middle-school aged performers, is based on the 2008 Broadway production and the 1989 animated feature film. The Parker Middle School Drama Club cast is led by Director Stephen MacDonald, Musical Director Jenny DiMuzio and Choreographer Nancy Katz Stone. When asked about the upcoming show, MacDonald reported that "With over 100 students working together to create the world of Disney's 'The Little Mermaid Jr.', audiences of all ages will enjoy this classic story of love, acceptance, and self-discovery. Come and join us for our student-focused production featuring colorful and imaginative costumes, scenery, props and more."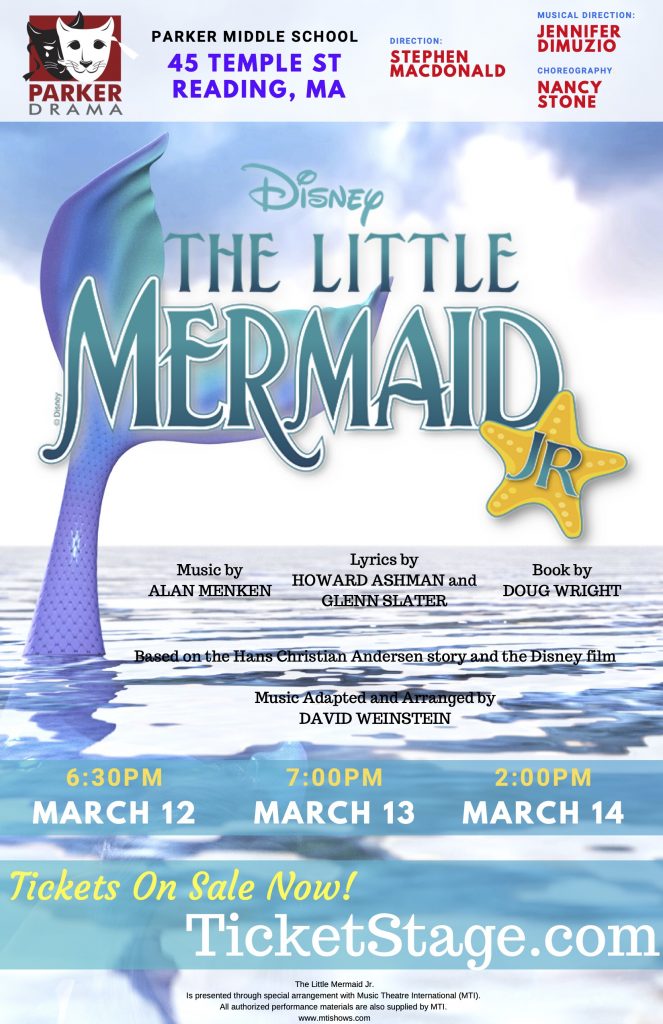 This classic Disney title contains all of the songs from the Academy Award® winning animated feature film as well as three new songs from the Broadway show. THE LITTLE MERMAID JR. takes place in a magical kingdom beneath the sea, where an adventurous young mermaid named Ariel longs to leave her ocean home to live in the world above. But first, she'll have to defy her father, the king of the sea, escape the clutches of an evil sea witch and convince a prince that she's the girl with the perfect voice.
Performances of Disney's THE LITTLE MERMAID JR. are open to the public at Parker Middle School in Reading on Thursday, March 12 at 6:30 pm, Friday, March 13 at 7 pm, and Saturday, March 14 at 2 pm. Tickets, priced at $10-12, are available at Ticketstage.com and will also be for sale at the door.