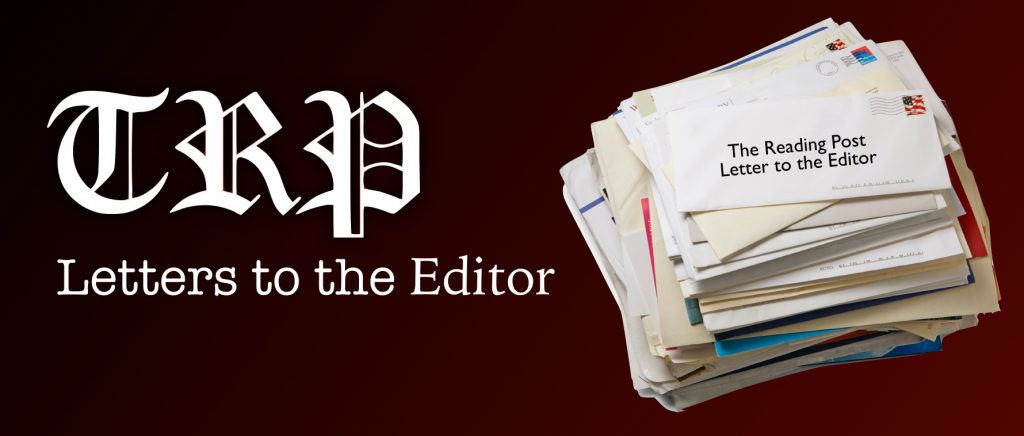 The Reading Post accepts Letters to the Editor. All letters must be signed. The Reading Post reserves the right to edit or not publish any letters received. Letters do not represent the views or opinions of the Post. editor@thereadingpost.com
---
With the holidays coming right around the corner and the weather is progressively getting worse, with conditions like snow and ice, the idea of keeping the town and loved ones safe is on everyone's mind. No one wants to wake up to a phone call explaining a tragedy that has happened to someone they care about. Action needs to be taken to ensure that everyone arrives home safely.
When traveling west on route 129 from Reading town center toward Wilmington, at the intersection of Lowell Street, Grove Street, and Willow Street, taking a left turn from Lowell onto Willow can be very tricky. This intersection is one of the main streets in Reading, leading to downtown, to an elementary school, middle school, high school, and other recreational places used by both adults and children. With many new drivers and children as passengers, I believe this is a problem that requires action.
There is currently a traditional red, yellow, and green traffic light at this intersection. When needing to turn left from Lowell onto Willow, drivers have two choices when the light turns green – either shoot out left before the other cars come straight at you, or the driver must wait until the light turns yellow and need to dash out before it turns red. Neither is a safe option. It would be preferred that the driver does not make a choice – they just follow the direction of a green "left turn arrow only". The addition of this "left turn arrow only" signal will allow for safer turns at this intersection and better flow from the backup caused by not being able to make left turns. It is important to note that it may cause frustration for other drivers, as it may be a cause for backup on Willow and Grove as the light signal may be longer. But isn't the wait worth saving lives?
Studies from the National Highway Traffic Safety Administration show that 36 percent of all automobile accidents happen at intersections. More than 480,000 of those crashes involve drivers turning left. The most common reasons listed in the study for left-turn crashes are: Obstructed view while turning. Inadequate surveillance (driving into blind spots). Misjudgment of the other driver's speed. Miscalculating the distance or "gap" across the intersection. Illegal maneuvers, such as failure to signal or failure to yield to the right-of-way. Most of these reasons could be prevented or lessened with the addition of a "left turn arrow only" signal.
No one wants to see or feel the impact of a member of our community or a loved one involved in an accident, and adding this left-turn arrow will just be another way to help prevent that from happening. Without this change in lights, the state of this street will stay the same causing danger, while also keeping traffic levels the same.
I am suggesting a type of left-turn signal that will be most appealing to be implemented. Left turn signals provide the usual green arrow which is usually followed by the normal yellow arrow; but with protective/permissive left-turn signals, after the yellow arrow has terminated, drivers are now faced with a circular green signal. During the display of the circular green signal, left turns can be made when there are adequate gaps in opposing traffic to complete the turn safely. This helps minimize delays by allowing vehicles to turn after opposing traffic has cleared.
By not having the circular red, drivers do not have to sit and wait to turn left when there is no opposing traffic. The signal still provides a green left-turn arrow during rush hours when traffic is heavy; but during off-peak hours, left-turning vehicles are not delayed by a circular red.
After expressing these views in a facebook group with members of the town, the majority of responses had agreed, calling it dangerous, relieved that others had finally noticed, even when having experience as a driver still believed it to be unsafe. One, in particular, had noted that they did not find it to be an issue until they had a teen driver, noticing how many close calls she had been involved in.
According to the Worcester Ma traffic control department, the cost to put in a traffic signal can be anywhere from $150,000 to $250,000, but as it is justified it should be looked at as an investment. There is no price tag on life.
With the website seeclickfix.com, you can leave complaints about traffic signals and other issues throughout the town. The Reading Developmental Review Team is also easily accessible with meetings typically held on Wednesdays. I urge readers to get involved with this cause because when something does come from these dangerous lights, it will already be too late.
Meaghan Martello