TONIGHT ON THE COMMON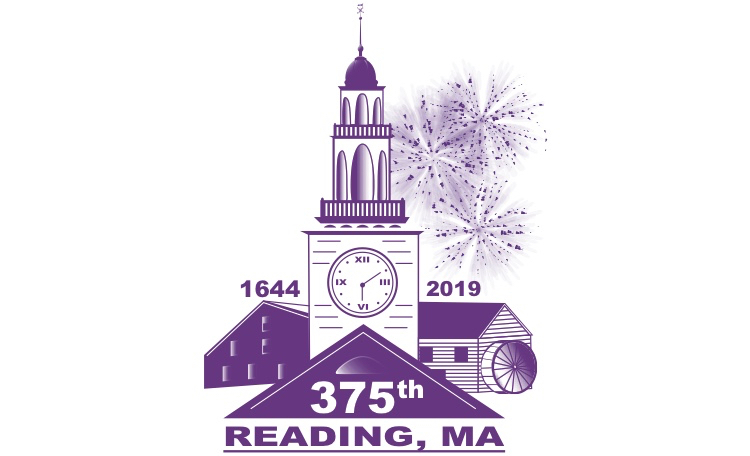 Head down to the Reading Town Common at 6:45 TODAY FRIDAY, MAY 31, for Reading 375 Opening Ceremonies. You won't want to be late!
Hear the ringing of the church bells in the pattern of 1-6-4-4 to symbolize the year Reading was founded

See the procession of Pipe and Drum and the Reading Police Honor Guard

Join in a community singing of My Country Tis of Thee

Enjoy a performance by the Reading Clergy Choir

See a brand new production with images of Reading Town Anniversary Celebrations from modern times back to the 1800s on a JUMBOTRON

Join in on the countdown.

 

3 – 2 – 1…and the trees on the Common will illuminate, the confetti will fly, and the two-week celebration of Reading will officially begin! 
And that's not nearly all. Once the official ceremonies on the Common have wrapped up, downtown Reading is celebrating Opening Night with special events, discounts, and fun celebrations available to anyone wearing a Reading 375 t-shirt or anniversary pin. Reading 375 t-shirts cost $20 and are available at Reading Trophy and Shirt and RCTV Studios, both on Main Street. Reading 375 anniversary pins cost $3.75 and are available at RCTV Studios, Whitelam Books, the Reading Cooperative Bank, and the Town Clerk's Office at Town Hall. Reading 375 t-shirts and pins will also be available for purchase the night of the event under the purple Reading 375 tent on the Common. 
All participating venues will be marked with purple balloons. YOU MUST BE WEARING YOUR READING 375 T-SHIRT OR BUTTON TO PARTICIPATE IN ANY OF THESE EVENTS OR PROMOTIONS. One t-shirt or pin per family is sufficient. 
Discounts Available ALL DAY on Friday, May 31 (during normal business hours)
Tin Bucket – Enjoy 15% off your purchase

Haute Seconds – Enjoy 50% off winter items; 20% off all other

Nella's Pizza – Enjoy 10% off your food order

Caffe Nero – Get a TRIPLE stamp on your loyalty card for all drinks made at the bar

Biltmore and Main – Stop in and order the "Reading 375" – a specialty purple cocktail

Venetian Moon – Order the Reading martini flight, which comes with a trivia challenge; Live music in the evening

Bunratty Tavern – Enjoy 10% off your food purchase; Live music in the evening
Events BEFORE Opening Ceremonies on the Common
Fitness within – Get in shape for opening night!

 

Enjoy a free Boot Camp at 6:30 AM, 5:45 PM, or 6:30 PM

Whitelam Books – bring those little ones out for Story Time at 6:30. A great way to spend a few minutes before heading over to the Common

Reading 375 Tent on the Common – Get 375 Celebration information and buy your t-shirt and buttons here
Events AFTER Opening Ceremonies on the Common (beginning at approximately 7:30 PM)
Mane 565 (ON THE COMMON) – Get into the Reading 375 spirit with purple hair extensions and chalking

Music Street (ON THE COMMON) – Enjoy some great live music

CB Stuffer (ON THE COMMON) – Try a chocolate sample

Reading 375 Tent (ON THE COMMON) – Get Reading 375 information, and buy your Reading 375 t-shirt or pins here

Old South Church – Contra Dancing and Photo Booth

First Congregational Church – Make your own sundaes

First Baptist Church – Make your own s'mores

Whitelam Books – Story Time at 7:30

Tin Bucket – Enjoy live music by CBTween

Northeast School of Ballet – Dance demonstration at 8:00

Church of the Good Shepherd – Organ music every ½ hour; special organ and violin performance at 8:30

Pamplemousse – Wine tasting

Northern Bank – Giveaways, waters, and snacks

Subway – Enjoy 10% off your food order and $4.99 subs (7:30 – closing)
Overflow event parking is available at the train depot. Grab your kids, your spouse, and your neighbors and head to the Common TONIGHT for this once-in-a-generation event. 
Roaming Reading
Join in on a two-week long app-based scavenger hunt sponsored by Reading Cooperative Bank in honor of Reading 375. Download the free app to your phone, and start tackling the fun challenges beginning TODAY May 31. Reading Cooperative Bank is providing $1,500 in prizes! For full details and rules, see reading375.com.
A Concert for Reading
A Concert for Reading will take place tomorrow, Saturday, June 1 at 3:00 at the William E. Endslow Performing Arts Center at Reading Memorial High School. Produced and hosted by William E. Endslow, the concert features
the Reading Community Singers under the direction of Beth Mosier

the Reading Symphony Orchestra under the direction of George Ogata

RMHS and Syracuse University graduate and New York City Performer Stephen Gordon

RHMS and Salem State University Dance Major Graduate Lyndsey McGovern

Brother and sister folk-pop-Irish act Caitlin and Patrick Beckman

An amazing band representing the BeatHeart Foundation
Tickets are free, but a ticket is necessary for entrance to the concert. While most available tickets have already been picked up, we will have a limited quantity available at the door. First come, first served.
For a full list of all the Reading 375 events happening from May 31 – June 15, please go to reading375.com.
About Reading 375: Reading 375 is a non-profit, volunteer driven organization whose goal is to bring our community together to celebrate Reading's 375th anniversary in 2019. Events will occur over a two-week period, from May 31 – June 15, and will include local artists and musicians, architecture unique to Reading, and fun community gatherings. The Reading 375 Steering Committee hopes to create a town-wide celebration of Reading's rich history and exciting future. To learn more and stay informed, like and follow Reading 375 on Facebook, Twitter, and Instagram.