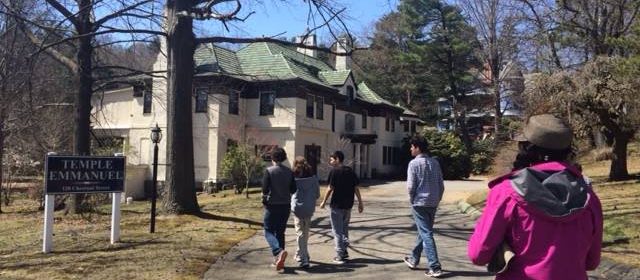 Temple Emmanuel is celebrating the Jewish holiday of Chanukah with several events this December. Families are invited to join the congregation during this festive season. 
The eight days of Chanukah begin on Sunday evening, Dec. 1 this year and end at sunset on December 9th. 
*Saturday, Dec. 1: Wakefield's Downtown Holiday Stroll will include an afternoon Chanukah Sing-A-Long-exact time and place will be posted on Stroll's program. 
*Sunday, Dec. 2 at 10:00 am: Sisterhood Chanukah Brunch-Meeting. Donations of socks, scarfs, and mitten are appreciated. 
*Sunday, Dec. 2 at 5:00 pm: Wakefield Common Menorah Lighting for the First Night of Chanukah
*Friday, Dec. 7 at 7:30 pm: Chanukah Shabbat service with Rabbi Greg Hersh
*Saturday, Dec. 8 at 9:30 am: Tot Chanukah Shabbat with Rabbi Greg
*Sunday, Dec. 9 at 5:00 pm: Chanukah Celebration with songs, games, latkes, and more. Bring your menorah for a special lighting. 
Can we have even more candles sparkling than last year's celebration? 
Temple Emmanuel is a member of the Jewish Reconstructionist Communities, Deeply Rooted, Boldly Relevant. We are an inclusive community with a modern, progressive approach to Jewish life that integrates a deep respect for tradition with the insights and ideas of contemporary social and spiritual life. Rabbi Gregory Hersh is our religious and educational leader. Temple Emmanuel is located at 120 Chestnut Street, Wakefield, MA 01880. For more information: www.WakefieldTemple.org, Facebook.com Emmanuel of Wakefield, or 781-245-1886.