Reading, MA — Deputy Chief David Clark is pleased to announce that the Reading Police Department will host a viewing of The Clothesline Project in honor of Domestic Violence Awareness Month.
Reading Police, in partnership with the local domestic violence resource organization RESPOND, will host The Clothesline Project on Oct. 29 from 8 a.m. to noon and on Oct. 30 from noon-4 p.m. The Clothesline Project shines a light on the issue of domestic violence and empowers survivors to tell their personal stories.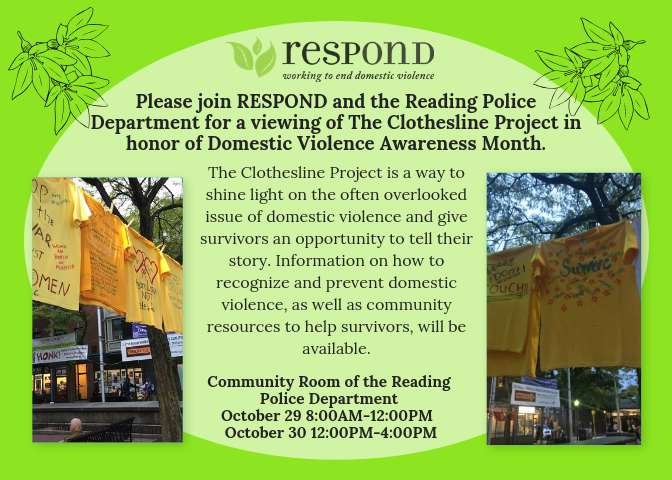 The event will also feature information on how to recognize and prevent domestic violence, as well as community resources.
"We're glad to be able to draw attention to such a vitally important topic," Deputy Chief Clark said. "This event will both provide an outlet for survivors of domestic violence to share their experiences, and give our community direct access to critical resources and support if they're in need."
For over 40 years RESPOND has provided life-saving shelter, a crisis hotline, support services, training, and education to more than 100,000 members of the community. Services are free, confidential, and available to all survivors of domestic abuse —women, men, teens, and children.
As part of its efforts to address domestic violence in the region, RESPOND obtained a grant funded by the Victims of Crime Act (VOCA) to embed a domestic violence advocate within the Reading and Woburn Police Departments.
Sammy Salkin joined the two police departments in July to serve as an independent, dedicated resource for victims of domestic violence, strengthen relationships with the police and support the departments with these challenging cases. Her role allows her to function as a liaison between RESPOND and the two departments.
Since joining the Reading Police Department, she has been an engaged advocate for domestic violence victims and played a vital role in coordinating the exhibition of The Clothesline Project in Reading next week.
"We at RESPOND are very excited to have been able to expand our services into Reading and Woburn. This new partnership gives us the opportunity to reach out to survivors after their initial report and offer them crucial and confidential safety options," Salkin said. "We are looking forward to the Clothesline Project display next week and are very appreciative of our partnerships with the Reading and Woburn police."