Reading Embraces Diversity and the Town of Reading invite Residents to Come Together in Solidarity with the Jewish Community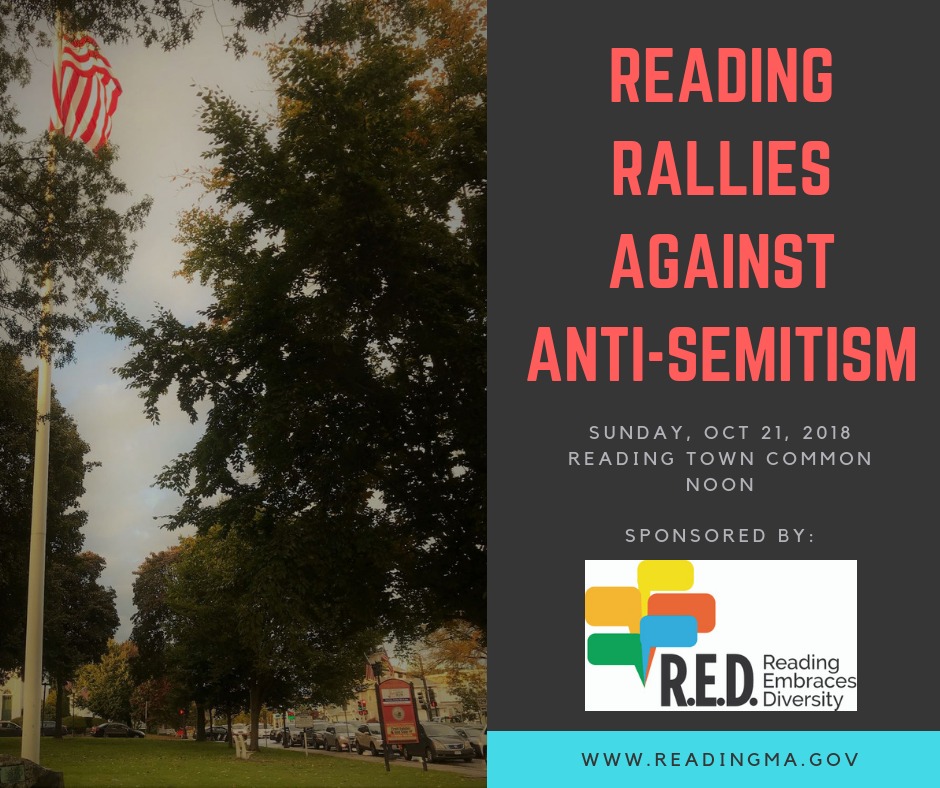 Reading, MA –On Sunday, October 21, at 12 noon, the Reading community will gather on the Reading Town Common in solidarity with the Jewish community to stand in opposition to anti-Semitism following the most recent discovery of anti-Semitic graffiti and vandalism in Reading. The rally should last about an hour.
"We thought it important for the community to come together as a whole in response to these acts of hate to support our Jewish neighbors," explained Jamie Michaels, a founding member of Reading Embraces Diversity (RED).
The Reading Select Board voted unanimously at their meeting on the evening of October 16, 2018, to sponsor the rally together with Reading Embraces Diversity.
"The Town of Reading is pleased to join RED in promoting this event," affirmed Bob LeLacheur. "We are saddened by these incidents and are committed to encouraging an inclusive community. Hate and anti-Semitism are antithetical to the values of our community. Our town departments continue to work collaboratively with public safety and the Reading Public Schools in promoting an inclusive community and in responding to and denouncing these acts of hate. We are grateful for an excellent partnership with the Anti-Defamation League, which has been a wonderful resource for the Town."
"The Reading Police Department remains committed to the safety of all people and works daily to combat hate and vandalism wherever they are encountered," said Deputy Chief David Clark. "Our men and women in uniform support the work of the HRAC, RED, the School Department, and the Anti-Defamation League to educate the community and foment tolerance, acceptance, and inclusion for all."
"Reading Public Schools thanks RED and other town organizations for their efforts to raise awareness and compassion throughout the entirety of the Town through this rally on Sunday," said School Superintendent Dr. John Doherty. "Our exceptional staff and our student body will continue to foster a safe and inclusive environment for all students and families throughout the district."
"HRAC has been discussing these issues at their meetings and agrees that an event of this nature is a solid display of support for the Jewish Community from the whole town," said Chair of the Human Relations Advisory Committee Heather McLean.
Sunday's rally will include a musical program, remarks from members of the Jewish community and elected officials, and words from Dr. Anna Ornstein, a Holocaust survivor and professor of child psychiatry who has been a good friend to the Reading community and the Reading Public Schools.