Select Board issues public statement condemning anti-Semitic vandalism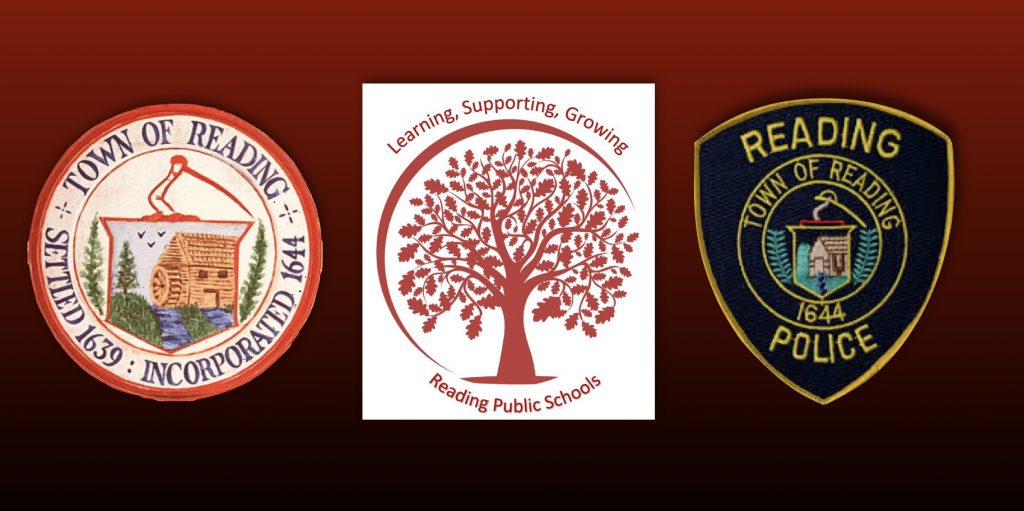 Reading, MA –- Town Manager Robert W. LeLacheur, Jr., Superintendent of Reading Public Schools Dr. John F. Doherty, and Reading Police Chief Mark D. Segalla announce recent swift actions taken by local officials in response to anti-Semitic graffiti found at a middle school last week.
On Tuesday, June 12, at 7:50 am a student discovered a swastika and an anti-Semitic slur drawn in black permanent marker on a brick inside a vestibule in the Parker Middle School lobby. The School Resource Officer collected evidence and notified Facilities Department personnel, who removed the graffiti within 15 minutes.
Tuesday's incident comes more than a year after two similar incidents at Reading Memorial High School in May 2017. More than a dozen incidents have occurred at district schools, as well as one at the Reading Public Library in October 2017. These incidents remain under investigation.
"We are asking for the public's help in identifying the person or persons responsible for these hateful acts of vandalism," said Chief Segalla.
Anyone with knowledge of any act of anti-Semitic graffiti is encouraged to call the Police Department's non-emergency line at 781-944-1212. Alternatively, anyone may text an anonymous tip to the Reading Police Department or report one through the town website.
Communication efforts within the school community quickly followed Tuesday's incident, beginning with an email from Parker Middle School Principal Richele Shankland notifying parents of the graffiti, the many steps taken by administration and teachers, and asking parents to talk to their children about the programs at the school. She later sent out another statement in her Sunday newsletter.
Superintendent Doherty also sent out a statement in his Saturday newsletter and spoke about the matter at the School Committee meeting on Monday, June 18.
"We continue to be disheartened and saddened by these events in our schools and troubled that this hate continues to exist in our community," wrote Superintendent Doherty. "Although the events continue, we need to continue to do the work necessary to educate our students and community about the importance of fostering a safe and inclusive environment for all students. This will continue to be the focus for our schools. We also encourage families to engage in conversation about these important topics."
Measures the schools have taken to foster an atmosphere of inclusion and acceptance include a robust core values program, A World of Difference student leaders, advisory lessons, student-led assemblies, Dr. Ornstein's visits to all three secondary schools and curriculum-based activities.
Further, the town continues to utilize the significant resources of the New England Chapter of the Anti-Defamation League as well as collaborate with local clergy and organizations such as Reading Embraces Diversity (RED) and The Human Relations Advisory Committee (HRAC).
"The people in our departments, schools, and public safety work tremendously well together to create and sustain an atmosphere of acceptance for all," said Town Manager LeLacheur. "These incidents are not the norm in Reading, nor do they reflect the vibrant, inclusive community for everyone who lives, works, and visits our town."
At the June 19 meeting of the Reading Select Board, members unanimously adopted the following statement denouncing these incidents drafted by Andy Friedmann.
"The Select Board acknowledges that many Jewish people in the Reading community do not feel safe in their own town due to recurring anti-Semitic incidents, more than 10 in the past 12 months, ranging from swastikas to very threatening language such as "Gas the Jews." The Select Board condemns the escalating occurrences of anti-Semitic vandalism that have defaced places in Reading, including our schools and public library. We recognize the deep impact these disturbing crimes have on our children, friends, and neighbors. The Board commits to increase its efforts to combat these repetitive acts of hate."
"The Reading Police Department is committed to the safety of all people regardless of race, religion, gender, age, or any other demographic," said Chief Segalla. "We work every day to combat hate and hateful speech across the community. We continue to vigorously investigate these terrible acts and intend to prosecute the offenders to the fullest extent of the law."
More information on reporting an anonymous tip to Reading Police:
Text a Tip by texting the keyword READINGPD and a message to 847411 (tip411).
The Town website (READINGMA.gov) has more information about anonymous tips, including an anonymous reporting form, through this link: Reading Police Anonymous Tips