Members of the Reading School Committee, Faculty, Fellow Administrators, Distinguished Guests, Community Members, but most importantly, members of the Class of 2018 and their proud families and friends, it is with great pride that I address you today as you complete your graduation requirements for the Reading Public Schools. Today marks my 9th graduation as Superintendent and during those nine years, I am proud to say that each class has made their own unique positive impact on this school. The Class of 2018 is no different. You have achieved as students, engineers, scientists, athletes, musicians, actors and actresses, and artists. You have earned our congratulations and recognition. You have worked hard and now you are ready to make your own imprint on the world.
By completing your graduation requirements and receiving your Reading Memorial High School diploma today, you have finished a very important first leg of your journey. The road ahead will be both exciting and challenging, with many different paths that you can choose, obstacles that you will face, and detours that you will navigate. For my remarks today, I would like to share with you four different road signs that you may encounter. These signs are meant to guide you throughout your journey and hopefully, help you make a positive impact on this world.
The first road sign is the stop sign. Stop to hug and thank your parents, grandparents, relatives, friends, and anyone else who has helped you complete today's milestone. And please…do it in person and not by emoji on snapchat, facebook, Instagram, twitter, text, email or any other electronic means. These important people have provided you with support, boundaries and their love. They have educated you and prepared you for this very moment so that you can now take the next steps. They have an abundance of memories which they have stored in their hearts and minds for days like today.
They remember your firsts; such as the first day of kindergarten and the first time that you read a book. They remembered every new school year and took pictures along the way. This year's first day of school may have been particularly difficult because it was your last first day of school before high school graduation. They also remember when you began participating in your first activities. It may have been dance, scouts, music, or sports, followed by your first recital, your first badge ceremony, your first art show, your first concert or your first game. These same people have also been there for your setbacks and disappointments, ones they wished you did not have to experience, but they were there for you, providing guidance, advice, comfort, and sometimes just a shoulder to cry on.
Your families have volunteered their time at many of your events and supported your fundraising efforts. Some have sold refreshments and raffle tickets, others have coached your teams, and probably all have driven you back and forth from one activity to another. They were there for many parts of your school life attending parent-teacher conferences, PTO meetings, and keeping track of your progress. Then there was this year, when all of these milestones that had been going on for years, became your lasts; your last game, your last dance recital, your last concert, your last performance, and your last day of high school. All of these times, whether it was a first or a last, have provided both you and your family with so many wonderful memories. Each experience should prove to you that your years of hard work combined with their years of support and guidance have been worth the effort and time. They have done their best to coach, nurture, challenge, and encourage you to believe in yourself and in your abilities. The role they will now play in your lives may change, but they will always be an important part of your lives and as they step back a bit, they will continue to provide the guidance and support you will need.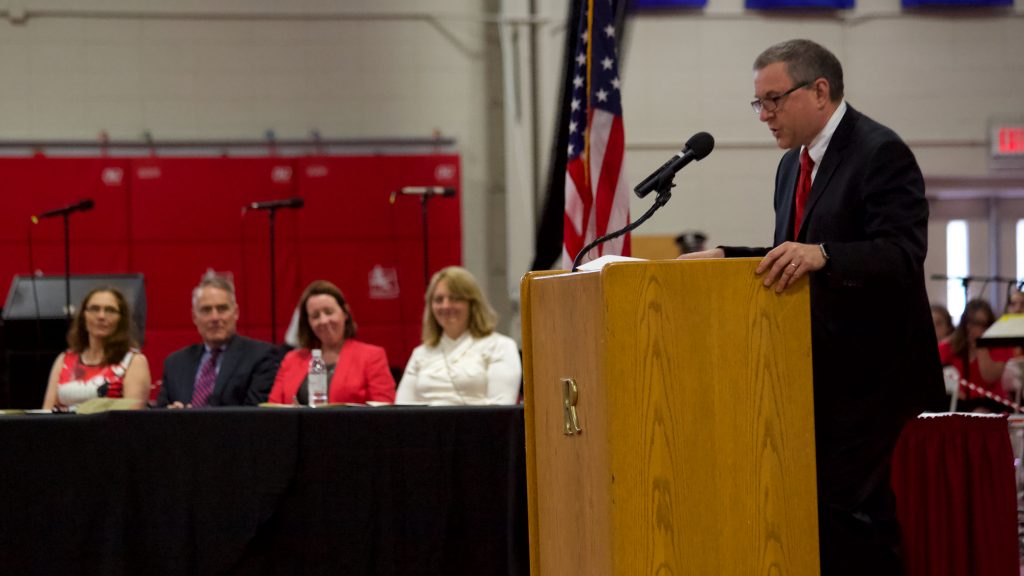 My second road sign for you along the journey is to go slow, proceed with caution and to take the time over the next several days to express your thanks and gratitude to all of the teachers, staff, coaches, advisors, and administrators who most inspired you and who have made your journey a bit easier. This is an outstanding group of people who care deeply about your well-being and have dedicated their lives to educate you. Receiving this thanks and gratitude from you would be very inspiring to them and well received. This is their calling and their mission and their motivation has always been to do the best that they can to support you. We have all enjoyed teaching you and learning from you. It is teaching students like you that inspired us to become educators in the first place and this inspiration keeps our fires burning to educate future students.
Class of 2018, at this time, I would like you to take a moment, stand, and give a round of applause to your families, your friends, and your teachers.
The next road sign ahead is merge…merge your perspectives and treat each other with respect. Former First Lady Barbara Bush, who passed away recently, said: "Never lose sight of the fact that the most important yardstick of your success will be how you treat other people." How we treat each other, both in person and on social media, will determine the future success of our society, and most importantly, the success of this great community.
To that end, I am both inspired and impressed with what you, your classmates, and your teachers have done to symbolize this important point. One powerful example happened two short weeks ago, when our school community, led by the RMHS Student Council, came together with the Unity Project on the front lawn of Reading Memorial High School. This community art project is designed to highlight all the ways that we are the same, even amidst our differences. The project consists of 32 posts, each post has an identifier such as, "I'm a parent or I speak English as a second language or I identify as LGBTQ or I have been adopted or I like cats or I like the arts, and so on. To symbolize this unity, participants tied pink yarn to posts that reflect their identities. This yarn represents our school, our town, and the world we reside in, and the colorful web we created shows our unified community. Each string intertwines with others' to create a web of interconnectedness. In the end, we see that we are all connected by something, and it's our diversity that builds a strong and vibrant community.
Your Senior Student Council Officers, Lilly Kurker, Molly Keane, Mia Lamboff and Cat Neville have been leaders on this project. Their purpose was very simple, yet powerful…to create hope for healing and a greater sense of unity in our school, town, and country. On the opening night of the project, they stated,
"…Over the past year, we have witnessed many divides politically, socially, and culturally, not only in our country but also in our town. With this in mind, we as a community need to come together and be reminded that we need to embrace, celebrate, and understand these differences. With the simple act of connecting yarn, The Unity Project helps convey the idea that although we are different, we are all connected. The Unity project will help us symbolize and celebrate diversity….We believe that it's possible for this Unity project to be the start of a discussion about how exactly to embrace differences, not a concluding message."
Your class has given many other examples of how to embrace differences and use them as strengths to build a better community. Here are a few. Talia McNamara and Olivia Blumenshine, have been working on an independent study this semester, which involves telling the stories of members of the Boston-area refugee community. They've conducted interviews with several different people from all walks of life, and have created biographical stories and painted portraits of the people they worked with. Their powerful work has been on display in the Reading Public Library. Zach Nazzaro has overcome tremendous physical obstacles which resulted from an injury he sustained in middle school. He underwent multiple surgeries and then required years of physical therapy to ease the tremendous pain which resulted from a nerve condition. He has demonstrated admirable persistence and determination to land where he is today. Zach will attend the University of New England to pursue health sciences. Gabe Ortiz has persevered through very difficult circumstances. In his time at RMHS, Gabe has worked hard in school and at his job at Brooksby Village, a retirement home in Peabody. He is a role model to his younger siblings and will continue to pursue his education while studying Accounting at North Shore Community College. Shannon Parks is a member of the Reading Memorial High School Girls Track Team and Girls Soccer team and has won numerous awards for her accomplishments. Shannon, who has a learning disability, has a great work ethic and is an excellent role model for the younger girls on the team. She is always willing to help others in a positive way and leads by example. She is an enthusiastic member of the Chorus and has brought her love of music to the next generation at Kid Sing where she helped to provide training and organize concerts and other musical productions. This experience has furthered her interest in working with children in the future.
I am also proud to say that we have two members of the Class of 2018 who have joined our armed forces. Jorge Ferrieros and Shane Costello have already left to join the United States Marines and they are currently training at Parris Island. Jorge and Shane, thank you for defending our country and doing such important work. We wish you a safe journey and Godspeed.
The students that I have highlighted are only a few of the many examples of the Class of 2018 who are unsung heroes among us. It reaffirms my belief that our future is in very good hands.
The final road sign is the exit sign. Each exit represents possibilities…a new path, a new opportunity, a new journey, a new dream. Choose the exit that you want, dream big and keep chasing those dreams, no matter how big or impossible they may seem. Sometimes chasing your dreams may not always be easy. Often, others may not believe in the exit that you have chosen and you may have to travel along a path by yourself or with a small group. That's ok. As the poet Walt Whitman says, "Do not go where the path may lead, go instead where there is no path and leave a trail." Try an exit where your dreams can become a reality, where you can learn and grow, and where it is ok to question the status quo. Take an exit where someday you will say, I am glad I chose this path, instead of taking an exit where you will be saying, I wish I chose another path. Remember, it is not about the destination that you reach, but the journey that you take along the way.
It is my hope that these four road signs, stop, slow, merge, and exit will help you navigate along your own personal journeys. To conclude my remarks this afternoon, I want to share with you a personal story. Four short years ago, my oldest daughter, Erin sat where you are as a member of the RMHS Class of 2014. Over the last four years, she has continued her own personal journey in higher education and two weeks ago, she reached her next milestone by graduating with a Bachelor of Science Degree from Hofstra University. As part of his graduation remarks, Hofstra University President Stuart Rabinowitz gave his wishes for the graduates.  I would like to echo those same wishes to you, the Reading Memorial High School Class of 2018.
I wish each of you all of the success that you think you need. I wish you the tenacity, the courage, and the good fortune to someday find life's work about what you feel passionate about rather than settling for one that neither challenges nor fulfills you.
I wish you a sense of satisfaction and self-worth that comes from using some of your talents and some of your energy to help others who are in need. I wish you the wisdom to not forgo the love of family and friends in some relentless pursuit of material success. I wish you the perspective to forgive yourself and learn from the mistakes which are inevitable. I wish you to have the strength to never give up because by not giving up, you will always have a chance to accomplish whatever you want to do in life.
Finally, and probably the most difficult, I wish that you not become so preoccupied with achieving some cherished goal on some far away day that somehow you fail to appreciate each and every day of your life.
Class of 2018, we look forward to seeing where your journey will take you, and how each of you will make a difference. We are very proud of you and we will be rooting for you. On behalf of your parents, family, educators, and the entire Reading Community, I congratulate you on your graduation. I wish you good fortune, happiness, and much success on your journey ahead.
Thank you.