State of the Town Address: Barry Berman Acting Chair Reading Select Board April 26, 2018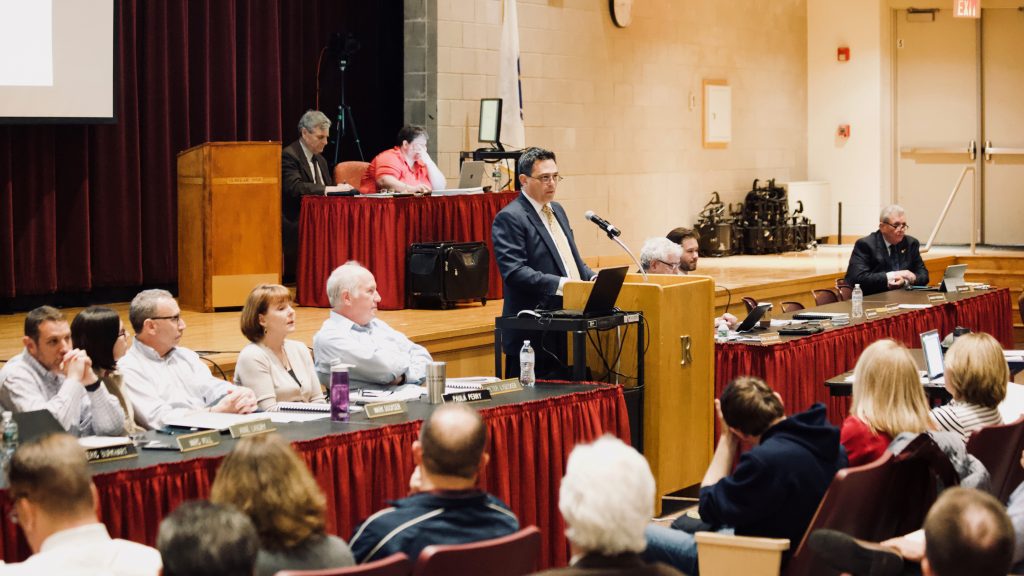 Good Evening and thank you to Town Manager Bob LeLacheur, Superintendent Dr. John Doherty, members of the Reading School Committee, town and school staff, Town Meeting members, my colleagues on the Board, and neighbors here in the hall and watching at home on RCTV.
It is my honor to deliver, the first ever state of the town address as chair of the Reading Select Board.
Before I summarize the events of the past year and outline the challenges and opportunities of this coming year, I want to recognize some new and returning faces to our town government family. Congratulations to Andrew Grimes and Alice Collins who return as Library Trustees. Congratulations also to Dave Hennessy and John Stempeck who will continue to serve on the Light Board, and Elaine Webb who is going back to the School Committee. And how can we forget you Mr. Moderator? There is an entire generation in Reading who has never known anyone but Alan Foulds as Town Meeting moderator.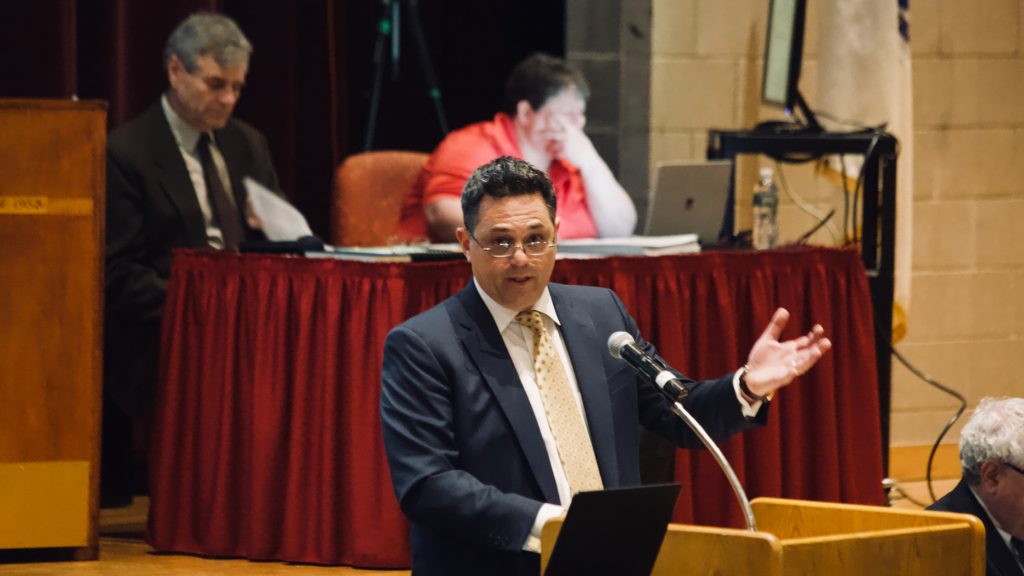 We are also blessed to welcome the energy and talents of those elected for the first time. Monette Verrier will join the Library Trustees, and Sherri VandenAkker, who was appointed in the middle of this past budget season to replace Dr. Gary Nihan, was elected in her own right and will take her seat on the School Committee.
I also want to welcome a new colleague to my Board. Vanessa Alvarado. Besides bringing down significantly the average age of this Board, Vanessa brings a unique perspective to this Board. A keen intellect, and a firm understanding of the budget from your service on Fin Com, you represent a large segment of volunteers this town and the only one on this Board who does school drop off, hop on the train to work, comes home and makes dinner before coming to the meeting. But more importantly you listen, you ask questions, and you are open-minded. That is a valuable skill set, and I am confident you will make us better. I am delighted to be able to work with you. Welcome, Vanessa.
And finally, I want to welcome the new members of this body. Whether you are here the old fashioned way by getting your name on the ballot, or, if you waged a write-in campaign, we are thrilled you are here. I hope you know what you signed up for!
To all of the women and men who have agreed to serve, I say a heartfelt thank you from a grateful town. Your neighbors have entrusted you to act in good faith and to work diligently in the best interests of the town of Reading. I am confident you will do just that.
And while we welcome new and returning colleagues, it is also important to acknowledge and thank an old friend. Let me take a moment to say a special thank you to John Arena who graced the Board of Selectmen for two terms. I served with John both here on the Selectmen, and on Finance Committee. He has served this town with distinction for many years, in a myriad of volunteer positions- including coaching. He has a first-rate intellect and his ability to synthesize complex data into understandable nuggets was a valuable attribute. We all owe John a debt of gratitude. No one should doubt his commitment and love for the Town of Reading. Thank you, John.
Friends, I started thinking about giving this address three weeks ago. If I had to describe then the state of the town in one word, I would say we were fatigued. This has been a long and grueling 12-18 months. Both overrides and the corresponding budget cycles were exhausting endeavors that dominated the body politic since the summer of 2016. But this year we have also endured a major fire which left dozens of our neighbors homeless, two bomb threats, and a natural gas failure which left dozens with no heat on the coldest nights of the year. The recent proliferation of racist and anti-Semitic graffiti has challenged us to engage in community wide discussions as we ponder proper responses and question what it means to be an open and welcoming community.
But after some much-needed rest and contemplation, I stand before you tonight re-energized and never more confident in our ability to ensure not only our fiscal stability but our civic pride as a town that is the envy of all who observe.
Some may think that the passage of the override was the only significant issue we undertook last year. It certainly seemed like it, especially the last four months. But we were busy elsewhere:
We implemented the first year of senior tax relief. 182 households received on average a 30% reduction in their property tax bill.

 

This was paid for by homeowners and owners of commercial property. We expect participation to increase next year, as the word gets out. We remain committed to doing all we can to allow those seniors who helped build this town, age in place if they so choose.
We completed our housing production plan. We will continue to strive to reach our legal and moral obligation of 10% affordability of our housing stock.

 

No less than five large projects have moved through the permitting stage through CPDC and the ZBA, and are ready to put shovels in the ground this year. Our efforts have been rewarded by the state as we have been given a safe harbor from 40b development until February of 2019. Only a handful other towns in the Commonwealth have been granted such a waiver. This allows us to control the scope, design, and implantation of high-density housing, and increase our leverage over developers who want to build here.
In October we hosted an Economic Development Summit at the Library with Secretary of Housing and Economic Development Jay Ash as the featured speaker. There, we introduced Reading to the development community, and let the world know in no uncertain terms that Reading was Open for business.

 

Over 75 people attended, including a number of developers,

 

as we showcased the town as a place worthy of investment.

  

We completed our emergency management training and building security study.

 

As we know from recent events we can never prepare or train enough.

 

Building security will be an on-going topic going forward. The schools will be hosting a community-wide school safety forum on May 23rd, and building security will be a major part of our capital budget going forward.

We have completed a good chunk of revamping the Selectmen's operating policies. This is important as the public has a right to expect from its highest elected board, predictable and transparent operations, especially in the wake of what some have called a trust gap.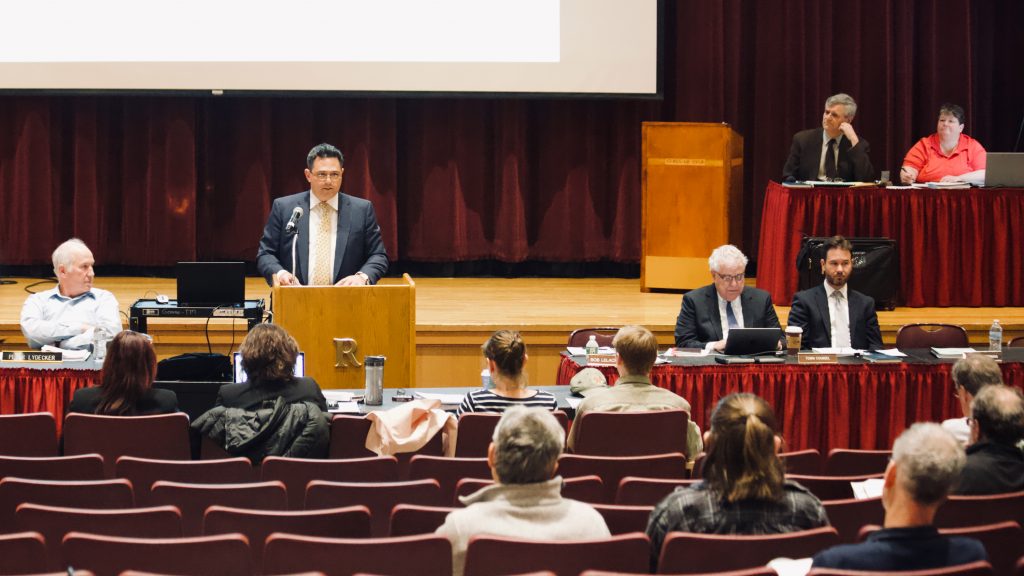 So let's talk about the override. What will it do? What won't it do? And what did we learn? You, the voters of Reading underwent an intense number of months of digesting data, attending community meetings, reading and writing millions of social media posts and letters to the editor, speaking, cajoling, persuading and maybe even arguing with your neighbors. We undertook individual and collective soul-searching about the town we want to live in. We came out in record numbers for a municipal election (43%) and overwhelmingly decided to invest in our town, our schools and ourselves. While relieved, we must be mindful and respectful of our neighbors who did not vote in favor. Living among us are folks who will struggle with this extra burden. We need to help those need it. 
We are all by now familiar with what the passage of the override will help us achieve, and later this evening in the budget presentations we will hear this in great detail. Now that our fiscal health and ability to deliver basic services is assured for the next few years, the town and the schools can focus on a more robust agenda for the future. The tenor of this meeting and this address would be so much different without your efforts.
While we all have breathed a collective sigh of relief, the passage of the override is not a panacea. The town is not suddenly flush with cash. As you recall, the Town Manager and the Superintendent together proposed level service budgets that required about $5.0m of additions. These did not include other nice-to-haves. It only included what in their mind was needed to get us to level service. At a marathon meeting on January 30, we settled on $4.15M as the figure that accomplished the most with the best chance of passing. The need for future operating overrides is still here. Nothing about the results on April 3rd makes the annual challenges and structural deficits inherent in Prop 2.5 disappear. When revenue is capped and costs are not, at some point the reset button needs to be hit if you want to avoid drastic cuts. That has not changed. Our budgets will always be stressed. It is important to set these expectations.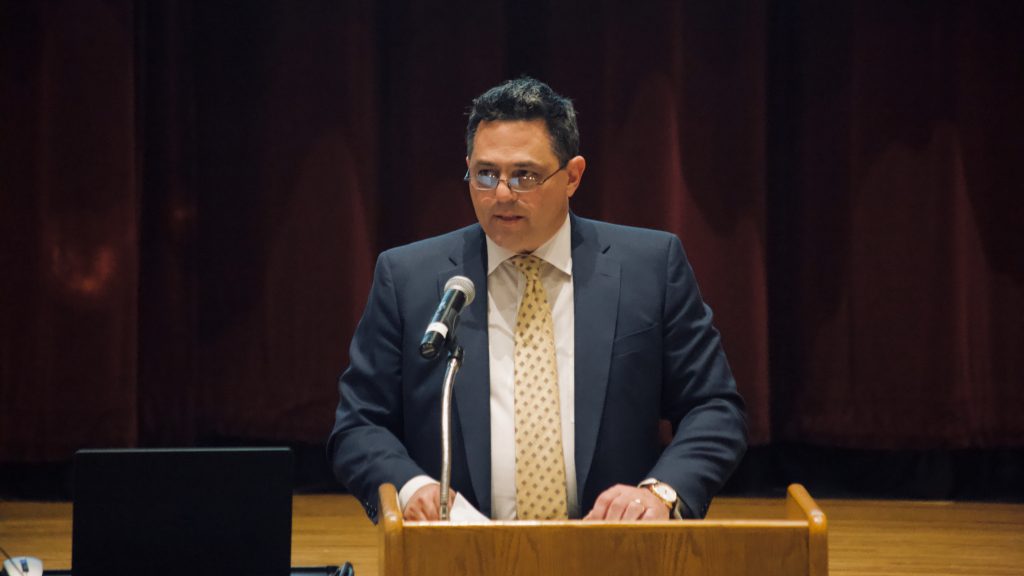 There are many lessons learned from this endeavor that I believe will have a lasting impact on how government operates not only on future overrides but on all key decisions facing the town in the future. Here are three.
Don't assume. Just ASK! During override 1, we perhaps made decisions in a bubble. After hearing loud and clear that we did it wrong, we went back and asked, what did we do wrong? The Selectman's survey was a critical component of getting to yes in April. There, 2200 respondents laid out the blueprint for success.

 

In it, you told us what was needed to turn the necessary number of no voters into yes voters, and then, more importantly, we listened.

 

You said: make it smaller, show us where the money is going, show us where you cut, and tell us about other revenue.

 

We also endured some pointed and perhaps deserved feedback in the comments section.

 

You didn't hold back. Stinging? Perhaps. Necessary? Yes.
An Engaged Community is a better community. It was not surprising to me that 43% of the electorate turned out to vote. People never stopped caring about the town they live in. But most times they are satisfied to relegate the decisions to others.

 

But when a neighbor knocks on your door, or invites you to a coffee, or engages you on the soccer field, you will listen more. We as the elected leaders have a limited reach. You, the citizens, are far more adept at telling the story, making the case, and reaching your neighbors.

 

You were clearly invested.
Don't make assumptions about your neighbors. Perhaps during Override 1, assumptions may have been made by the voters. "Only the elderly vote" or that "only folks with school-age children care about schools", "if you voted no you are selfish". "The newcomers want to drive us out". I heard them all. The biggest takeaway for me as an elected official is that I firmly believe that when you lay bare all the facts for everyone to see, show all the numbers, and tell the whole story, even if you know it is something people don't want to hear and may generate anger, voters will listen and make the right decisions. It's not for us to tell you what kind of town government you should have.

 

Waiting fifteen years to pass an override because we were fearful of the outcome has had devastating consequences.

 

We have all heard the term trust gap.

 

Maybe part of that gap is we didn't trust you to make the right decisions.

 

Hopefully, this campaign will fundamentally change the way town government interacts with you, the voters, and you, with us.
So What Now?
There are a slew of issues coming before us in the next months which will require action and attention. Among these are, meeting with the housing authority to discuss preserving affordable housing, work with the Board of Health on a pesticides policy, review and adopt town wide personnel policies, discuss a public process for the Oakland Road property, continue contract negotiations with Comcast and Verizon, establishing a new master plan, and town manager goals for the next year, and finalizing plans for the water tower. But I want to focus on a couple of major issues which will fill our agenda this year.
Economic Development and New Growth
Expansion of the 40R smart growth district to include much of the downtown has and will continue to have a profound impact on the face downtown, and the health of our downtown business community. Thank you to Assistant Town Manager Jean Delios, her staff, and volunteer boards for years of planning and now overseeing five major projects that will break ground in around the downtown in the next 12-18 months.
The Postmark Square 40R; the Gould Street 40R, the Sunoco 40R in addition to the 40b at Lincoln which has broken ground and the 40B reuse at St Agnes collectively will add over $100M of private investment and over 200 new households within walking distance of the commuter rail and our downtown merchants. That's 200 new customers for Nick's dry cleaners, the Hitching Post, Pamplemousse, and Professors Market. New wayfinding signs which culminated from a grant
Community Development Director Julie Mercier wrote will help create a sense of place and arrival and make the businesses at Main and Have a destination rather than something you zoom past on your way to Stoneham or North Reading. All of the 40R projects will also include commercial and retail space, including restaurants, and outdoor seating, giving life during the day to downtown, when most of us leave town to go to work. The Sunoco project will also add three on-street parking spaces.
This growth, while exciting and providing opportunities will not come without its challenges. The impacts of construction, as well as the presence of high-density housing spilling into residential neighborhoods, need to be carefully managed. The Select Board is committed to making these new neighbors, good neighbors. Similarly, we are also committed to ensuring the proposed 40B at Lakeview and Eaton is properly sized and that neighbors' concerns and input are heard before the project is approved. We will also engage in a downtown parking study, taking into account the new housing units which will be built.
This new growth is imperative if we are to increase the percentage of our commercial tax base, currently the lowest among our peer communities. It will also give the override some legs. Currently, we budget about $550,000 of new growth annually. With known pipeline projects, our new growth figure will approach $1.0m during the next few years. This will hopefully sustain the override you so generously voted. Not all this growth is net. There will be added costs to service new residents and projects. But the net will be very positive relative to single-family housing growth. The lion's share of the new housing is one and two bedrooms, targeted for millennials. We are in the process of hiring a new Economic Development Director to replace Andrew Corona who left when his wife was transferred to a new job. Andrew left us in a good place. Reading is now on the radar of the development community. His replacement will have as task one coordinating all the moving pieces of the potential DPW garage project.
Volunteerism, Collaboration, and Civic Discourse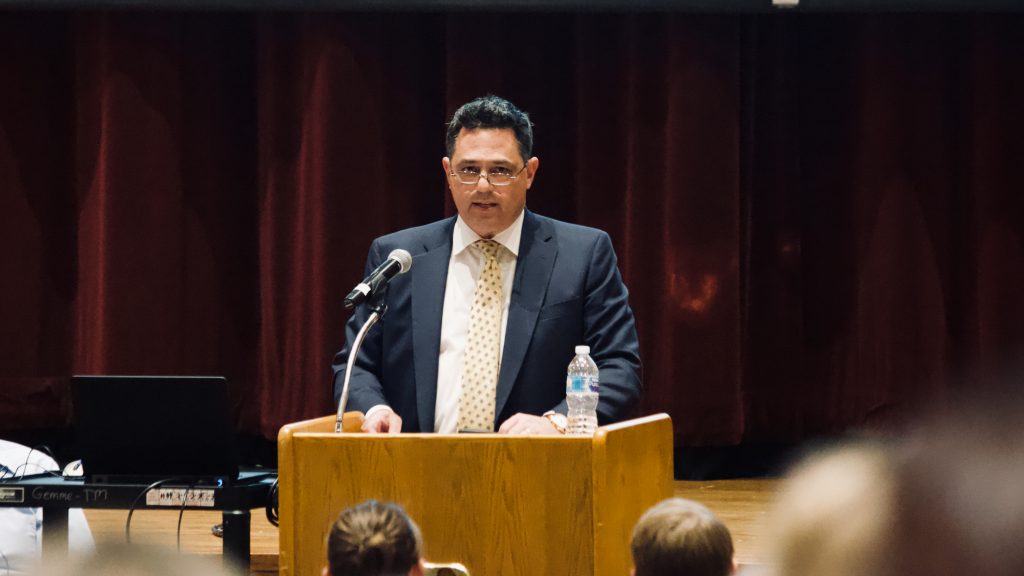 The last topic I want to touch on addresses, not the "what" but the "how", and really defines the essence of how we should operate a modern day local government. Broadly speaking I call this volunteerism, collaboration, and civic discourse.
In my travels, I am often approached by citizens who say, "The town should do more of this", or the town should do "less of that". What is the town? "Who is the town?" Look up at this podium. There are twenty odd folks sitting up here, and only two draw a salary from the taxpayers. The "town" is us. The "town" is you. Reading has always enjoyed a robust volunteer spirit. There are over 40 volunteer boards or commissions consisting of over 150 volunteers appointed by our Board. There are countless other volunteer organizations working for the benefit of our town. 
One of the benefits of the override campaign is that it uncovered a new generation of leaders many of whom got involved for the first time. The Mom I canvassed with is also an investment banker. The retiree holding a sign was also a former exec at an engineering firm. The point is, there are really talented and invested people living in town who have never been asked. And we are going to need all of you. You don't need an advanced degree, just a commitment and a love of service. I am asking you to consider putting your skills and commitment to work, as we look to fill the myriad positions on town boards.
The issues we face in town are complicated and many of our resources are limited. Driving to Boston Saturday night for dinner, I counted no less than 15 construction cranes from the Zakim Bridge to the Seaport. Business is booming in Boston as we enter the eight years of an economic recovery but our partners in the federal and state government have not shared the largess. Reading's share of The Governor's local aid budget increased a scant 1.8%. While I would welcome Betsy DeVos or Charlie Baker to join us tonight, I would like it better if they brought a check. Not likely. For better or worse, we are on our own.
It means we have to do things differently now. Boards and Committees used to working in silos are going to have to come together. We all know the Senior Center and the Killiam School need either massive renovations or to be rebuilt. We will be challenged to do both. Is a possible solution one multi-generational facility that serves both populations? If so, the Select Board and the School Committee will need to work together like they never have before. Imagine a campaign where seniors and parents of school-age children work hand in hand on the same project.
We all are grateful to the RMLD, not only for the reliable, low-cost energy delivered in a customer friendly way but for the almost $2.5M dividend it pays to the town each year. But we heard Monday that RMLD, in an age of conservation, is selling less power, while their fixed costs are increasing. How can the Select Board and the RMLD work together to assist RMLD to develop other sources of revenue, thus not only protecting our dividend but enhancing our economic development efforts as a town with the lowest electric rates in the region?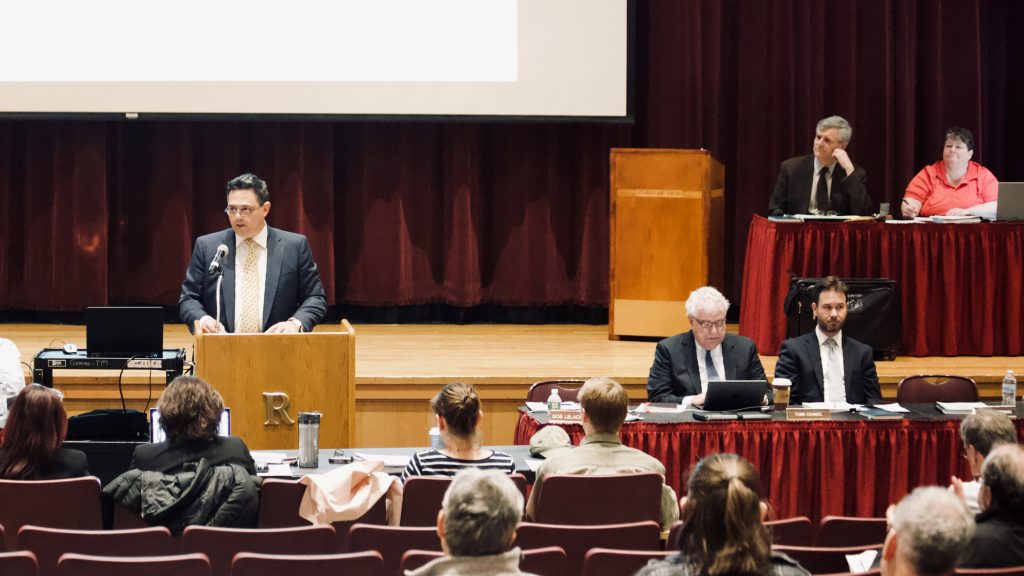 I think you get the point. To thrive we are going to have to do business differently. We must pay more than lip service to the notion of working together. We are going to have to think out of the box. The Select Board has no monopoly on how to get this done. The" ideas window" is now open. We will work with each and all of you to come up with innovative and creative ways to move ahead. I know there are tremendous talent and commitment within the 01867. Please come forward and apply for one of the many open positions we will advertise shortly, or join one of the dozens of other civic groups working in town. If you don't know exactly what you want to apply for, send in a resume anyway. We will find a spot for you.
Some people have suggested that our local civic discourse has deteriorated over the last couple of election cycles and that we have devolved into factions. Maybe that is true, but I don't think that's who we are. I believe all of us have the best interest of the town of Reading in our hearts and minds. But maybe we don't trust that our neighbor does also. The override showed us that people who don't always agree will work together on a project that is in the best interest of the town. If we get people working together trust will slowly build, and we will be better for it. To quote President Kennedy: "Civility is not a weakness." In the meantime, put down your device, and talk to your neighbor face to face. You will find you have a lot in common.
Thank you all very much for your love and commitment to the Town of Reading. I am tremendously proud and excited about what lays ahead for us. 
Now let's get to work.