State Representative Candidates for 30th Middlesex District Compete for open seat currently held by Jim Dwyer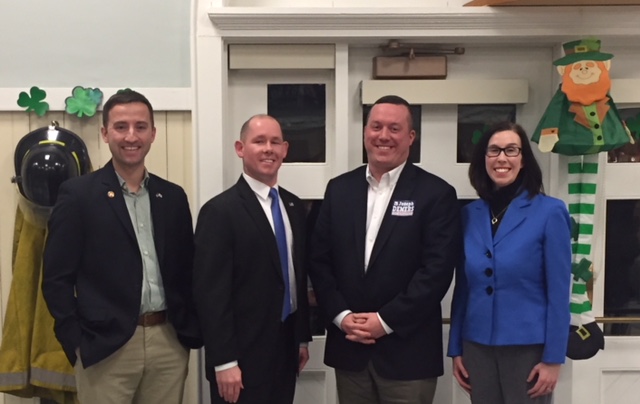 A candidates' forum sponsored by the Reading Democratic Town Committees, held on March 1, 2018, proved to be a historic night as all four candidates for the open state representative seat in the 30th Middlesex District were in attendance. The district comprised of Precincts 2-5 of Reading and Wards 2-6 of Woburn has an open seat due to the retirement of incumbent Representative Jim Dwyer. These well qualified candidates included Joe Demers (Woburn), Richard Haggerty (Woburn), Anne Johnson Landry (Reading), and Darryn Remillard (Woburn).
Each candidate was given the opportunity to provide an overview of their candidacy and share key issues and concerns followed by question and answers from an engaged audience. Topics included fighting the opioid epidemic, Chapter 70 funding for education, expanding opportunities for affordable health care and the crisis facing public transportation.
Robin Decker, Reading Democratic Town Committee member commented that, "Reading and Woburn residents are extremely fortunate to have such an impressive and talented field of Democrats for State Representative to fill Jim's seat." As all candidates shared their commitment to knock on doors in Reading and Woburn between now and the State Primary, Tuesday, September 4t , there will be ample opportunity to meet these candidates in the months ahead. "We expect to have each of the candidates back so that there will be more opportunities for interaction as we make this important decision", said Reading Democratic Town Committee Chair, Meghan Young.