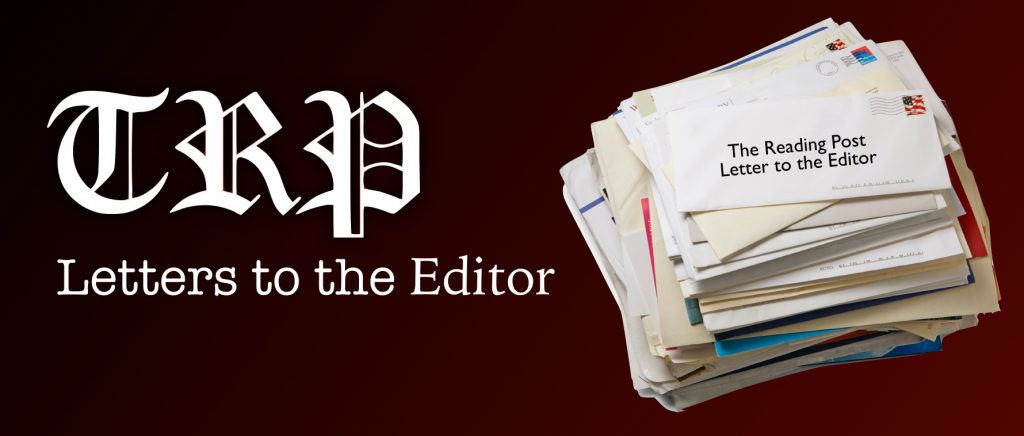 The Reading Post accepts Letters to the Editor. All letters must be signed. The Reading Post reserves the right to edit or not publish any letters received. Letters do not represent the views or opinions of the Post. editor@thereadingpost.com
---
To the Editor,
My wife and I selected Reading, MA roughly three years ago as the community where we wanted to live and raise our family. We looked for two years at the various communities we could choose from and after a lot of looking and evaluating, we selected Reading. However, having now been part of the community for almost three years, I realize we are at a crossroads and need to pass this override.
The various committees, town management and groups have helped get the word out about the necessity for this override and have provided the mountain of data that supports it. We have also seen how most other communities around us have also passed this same sort of override to keep up with the needs of their towns.
Our municipal leaders have stated their need for additional resources to keep pace with the services we have come to expect and need from them (note: not new services). Our first responders and town services have done all they can to cut costs over a number of years, but they are now at the point that they can no longer make any more cuts without impacting service.
Our seniors are a valuable part of our community. We have been able to pass relief efforts for them on an individual level, but must continue to provide the support and resources they need. They have given to the town over their lives and we must all now do our part to support them.
Our schools have been one of the areas that has been hit the hardest over the last several years. If this override isn't passed, 26 teacher positions and 18 staff positions will have been eliminated since 2014. When the superintendent states that the current budget he and the staff put forward to the school committee is not good for students, we need to listen. It isn't for lack of effort or planning on their part, but rather due to an overall lack of resources to work with and budget. Reading schools are in the bottom 10% of per pupil spend in the state. They have cut so much in the past that the latest round of cuts will have a tremendous negative impact directly on our students.
There are a number of examples to list which speak to the severity of the situation, but one that stood out to me was cutting foreign language in the middle schools. If this override isn't passed, we would be the only school system in our peer group that doesn't offer students the opportunity to take foreign language. Educators have shown how this not only impacts this subject but the overall development of the students in other subject areas as well. This is just one of a number of examples of how desperately the schools need this override.
The state law Proposition 2 1/2 was created in 1982. So many things have changed since then and this outdated law needs to be amended. Part of this amendment is passing overrides periodically to reset the tax base communities need to run. We have been long overdue for such an override. On average, towns in Massachusetts pass an override every 8 years. Our last override for Reading was in 2003, nearly double the state average.
To be clear, I am conservative when it comes to taxes. I believe the town management and leaders have a fiduciary duty to their towns to manage the budget efficiently. However, I believe it is the community that must provide those leaders the right resources (and revenues) to get the job done successfully.
Let's vote to keep Reading the Community we all know and love. Please vote Yes for Reading on April 3rd.
Brian Berg
Red Gate Lane