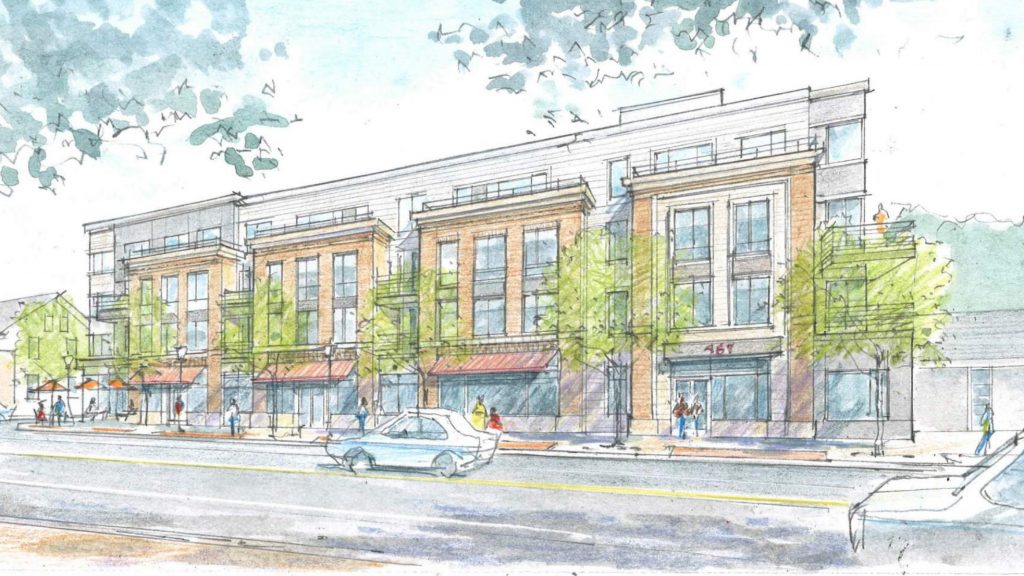 Reading, MA — The Community Planning and Development Commission (CPDC) had a second site plan review for a proposed 40R mixed-use building at 467 Main Street. The site is 18,000 square feet at the current location of the Sunoco gas station. The developer, Boghos Properties, LLC, proposes a building with 2,500 square feet of retail space on the first floor and three floors containing a total of thirty-one residential apartments.
Several changes have been made to the project including moving the door to the garage, allowing cars entering the garage to queue on the property instead of on Green Street. The parking garage has been reconfigured to allow for four additional spaces more than the originally proposed 35 spaces. The apartment levels have been reconfigured to increase the total number of apartments to 31 with 15 being one-bedroom apartments and 16 being two-bedroom apartments. There are now recessed balconies on the rear of the building and more visible brick on the north-facing facade. There will also be room for three on-street parking spaces in front of the retail space.
CPDC continued to have questions regarding traffic flow and congestion around the new building while admitting that the new development would have minimal impact on an already poor traffic situation on Main Street. The public hearing is continued to 9:00 PM on January 22 when a decision on approval of the project is expected.
CPDC, by a vote of 3-0, also approved a site plan for reconfiguring the customer parking lot at the Reading Municipal Light Department (RMLD) building on Ash Street. The plan includes public charging stations for electric vehicles that would be paid for by a grant that the RMLD hopes to procure. By a vote of 3-0, CPDC also approved minor site plan adjustments to a new building at 258-262 Main Street. The changes were primarily caused by requirements from the Massachusetts Department of Transportation that stormwater is managed on the site itself. The original site plan was approved in January 2016. The developer expects to break ground on the building this spring.
The commission ended with a discussion regarding proposed zoning bylaw amendments to be presented to Town Meeting in April. The proposed changes primarily deal with areas where different zones are adjacent to each other. There will be a public hearing regarding the proposed changes on January 22.
CPDC adjourned at 10:30 PM.